Have some fun this winter by skating at the many ice rinks the Stevens Point Area has to offer! Whether you're looking for a place to play hockey, somewhere to work on your spins, or are just a beginner, you'll find a place to skate. We've compiled this list of local rinks when you're ready to hit the ice!
Note: Outdoor ice rinks are available when conditions exist.
K.B. Willett
K.B. Willett Ice Arena is an indoor rink in the Stevens Point Area that offers public skating hours at select dates and times and is the home to the SPASH Panthers and UWSP Men's Hockey teams. Admission is $4.00 and skates are available for rental ($4.00). Willett has multiple convenient parking lots in addition to street parking.
Address: 1000 Minnesota Ave, Stevens Point
Operating Hours
Parking: Multiple parking lots available as well as street parking
Admission: $4.00
Rentals available
Note: Ice Hawks Arena is another indoor rink in the Stevens Point Area, but does not currently offer public skating.
Goerke Park
Just a short way away from K.B. Willett is this outdoor rink that is great for both free skating as well as some pick-up hockey games. Goerke Park offers a lighted rink until 9:00 p.m., weather permitting. The Warming House, operated by Northward Peddle and Paddle, is adjacent to the rink and has restrooms in addition to skate rentals and concessions. Skate rentals are available ($4.00 for kids, $6.00 for adults). Current hours for The Warming House are available on their Facebook page. There are multiple parking areas in close proximity to the rink.
Address: 1100 Minnesota Ave, Stevens Point
Hours:
Parking: Multiple parking lots available
Warming house & rentals available

@aml_photo_
Emerson Park
This city park in the middle of Stevens Point takes on a whole different feel come winter. Gone are the pick-up basketball and kickball games because once the air starts to chill you can expect Emerson Park to have their open ice skating rink back in action. This outdoor and unlit rink has plenty of space for all of your jumps and spins, as well as for those who are more inclined to stay grounded while skating. There is plenty of street parking around the park on Ellis St. and East Ave.
Address: 1416 E Avenue, Stevens Point
Hours: Follows the regular park hours of sunrise-11:00 p.m.
Parking: Street parking is available on Ellis St. and East Ave.
Iverson Park
Iverson's Winter Sports Area includes more than its sledding hills and toboggan runs! Outside of the Warming Lodge is a lighted open rink for recreational skating. The Warming Lodge is open with restrooms when staffed. Normal park hours are from sunrise until 11:00 p.m. Staff is on-site at select times on weekends. There is plenty of parking in a lot right next to the rink at the Winter Sports Area at the top of the sledding hill, as well as one at the bottom. Just be sure to check the forecast before heading out, as the Winter Sports Area will close once the temperature/wind chill reaches or is forecasted to be -15 degrees.
Address: 4601 WI-66, Stevens Point
Parking: The parking lot for the Winter Sports Area is available off of Hillcrest Drive
Warming house (restroom use only)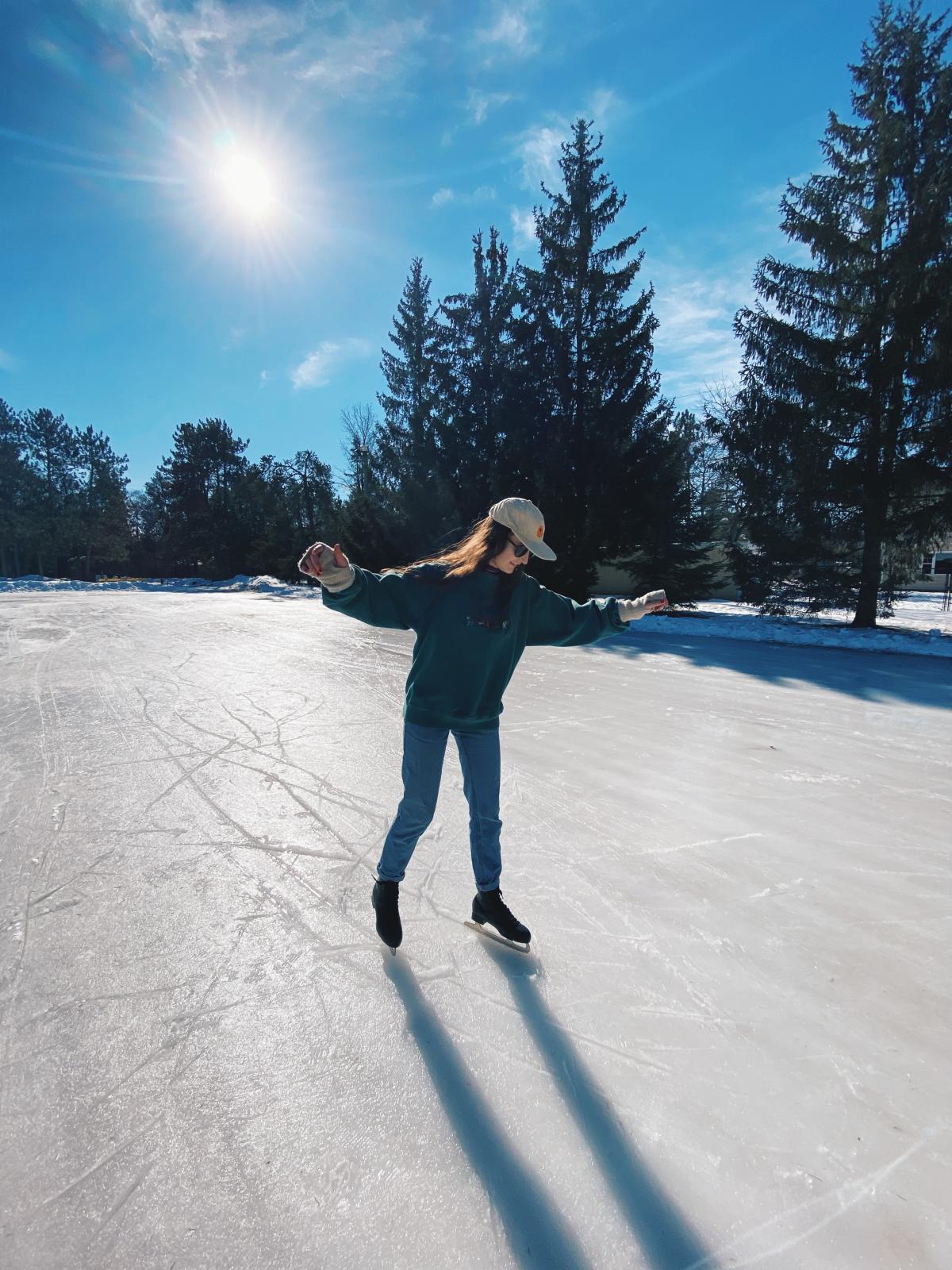 @bailyy_
 
East Oaks Park
Once the snow covers the slides and the monkey bars get icy, East Oaks Park features an outdoor skating rink throughout the winter months. Make use of what daylight is available because the rink does not have lights to illuminate it. This park on the eastern side of Stevens Point has an adjacent parking lot with plenty of spots near the ice rink.
Hours: Follows the regular park hours of sunrise-11:00 p.m.
Parking: This rink is served by a nearby parking lot
Downtown Square
Skating at The Square in Downtown Stevens Point lets you skate among the hustle and bustle of this part of the city. This rink is lit up by lights, including those of the towering Christmas tree during December. Parking is available throughout the downtown area including right around The Square. When you're done with skating there are always plenty of locations downtown for shopping and dining!
Address: 820 Main St, Stevens Point
Hours: Follows the regular park hours of sunrise-11:00 p.m.
Parking: There is parking available all throughout downtown.

@ellajeanjensen