Looking for a perfect cozy spot for a winter family getaway? Pack your bags and gather the family to enjoy quality time in a place you can have all to yourselves! From secluded country retreats filled with snowshoeing to charming historic homes with modern comforts - read on to learn more about options for the best places for a family holiday retreat in the Stevens Point Area. 

Claflin House 
Gather your family around the piano, fireplace crackling nearby, to sing carols together at the Claflin House. Filled with history and decorated for the season, along with local art, the home was originally built in 1875. It was fully restored to its original grandeur but with all modern amenities in 2016. The home can comfortably accommodate 10 guests, with four bedrooms and five and a half baths. You'll have the whole house to yourselves, including a sleeping cushion for Fido. This cozy home sits just blocks from downtown Stevens Point, which includes plenty of holiday charm, with lights and a Christmas tree on the square (surrounded by a small ice rink). You'll love the solarium upstairs – the perfect place to curl up with a book and a cup of hot cocoa!
Water Dragon Inn
The Water Dragon Inn* is one of the rentals available in the Stevens Point Area. The stone cottage is nestled among 5 acres along the shores of the McDill Pond (part of the Plover River) in the Village of Whiting. It offers a relaxing spa-like setting for an overnight stay - with beautiful indoor and outdoor spaces. Inside, you'll find three bedrooms with en-suite bathrooms, full kitchen, dining room, living room, fireplaces, and a sun porch - with room for up to 8 guests. The space even receives the holiday spirit, with decorations just in time for the holiday. Part of the Destination Wellness brand, and affiliated with the area's full-service Wellness Spa, they offer Stay & Spa package options for guests.

*Families are welcome as long as children are 13 and over.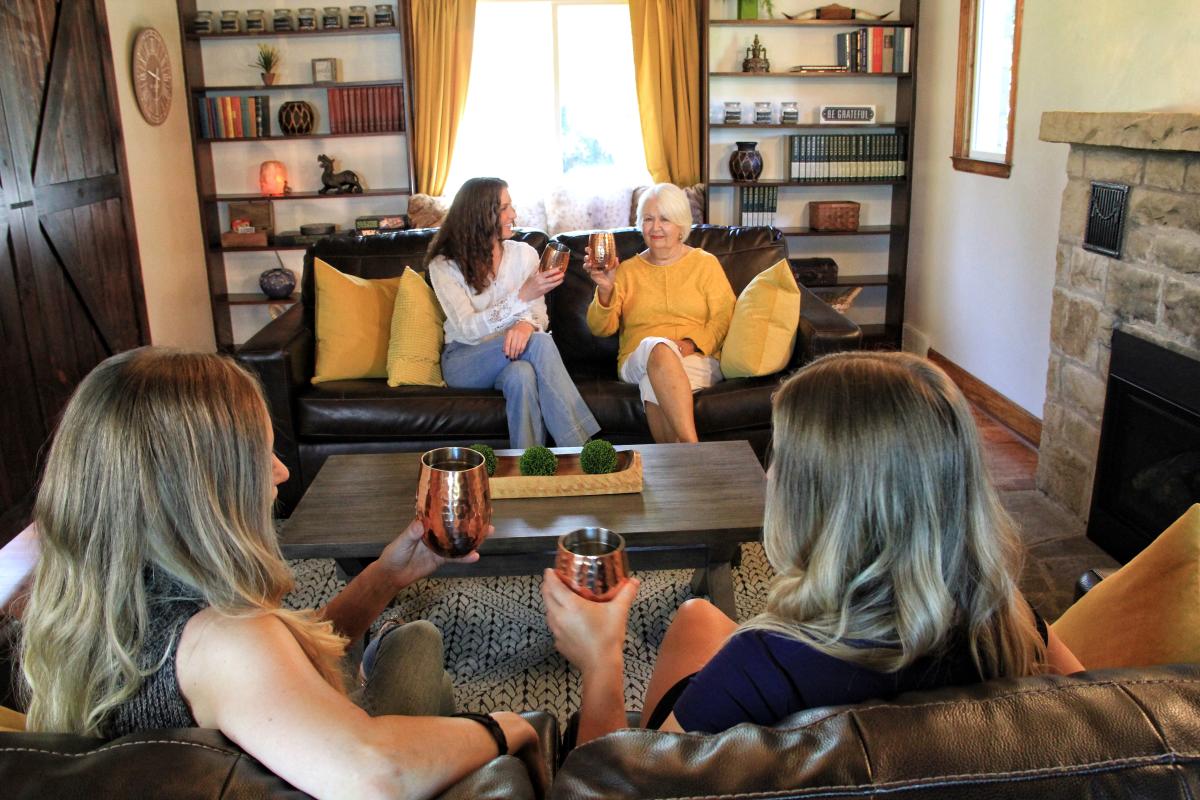 Tomorrow River Homestead
For a larger family, needing room to escape, you'll want to check out this non-traditional vacation rental. The Tomorrow River Homestead offers up plenty of space for families to connect – but still have a place to retreat, too. Offering five private rooms it can easily accommodate 12 guests. Inside the cozy and light-filled space, you'll find a large kitchen, three and a half bathrooms & two living rooms. The home is set on a 4.5-acre lot in the center of Nelsonville, where the Tomorrow River (a class A trout stream) winds, and the beautiful Nelsonville Sanctuary is within walking distance.
Amherst RiverDance Cabin
For a quiet country escape, check out the one-of-a-kind Amherst Riverdance Cabin along the shores of the Tomorrow River. This cabin is all about the details, including the hand-designed mosaic bathroom floor and tree staircase with the railings made with retired snowshoes. The cabin offers three bedrooms and a loft, with 2 full bathrooms, comfortably sleeping 8. You'll love the radiant heat and the gas fireplace, perfect for enjoying after snowshoeing. While it feels tucked away, you are just a short drive to Amherst, which makes it a perfect spot to venture out and sample some sips at Central Waters Brewing Company.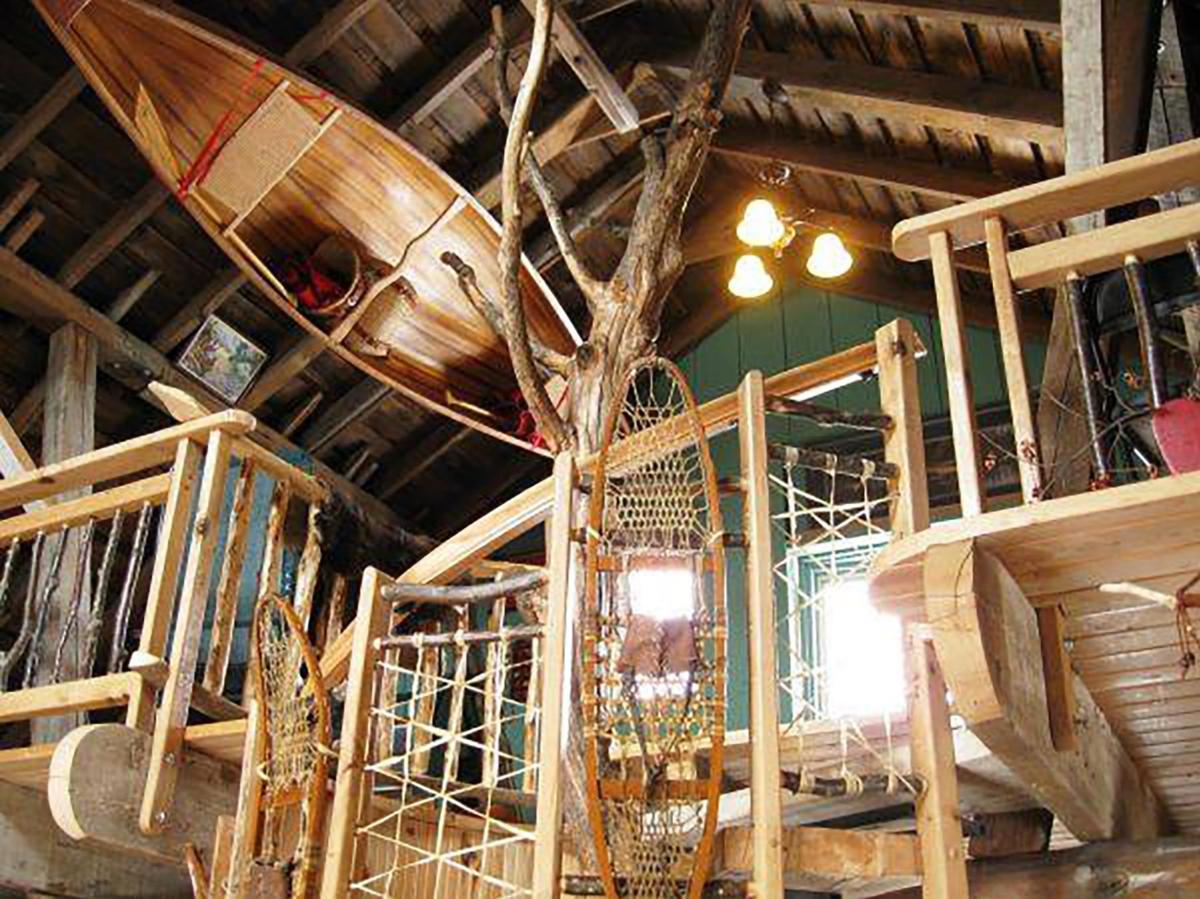 Artha Sustainable Living Center
For more secluded spots close to nature don't overlook the Artha Sustainable Living Center. Here you'll find a serene retreat tucked on 55-acres where you'll be able to relax in a renovated farmhouse. You can rent a room or the whole house – and breakfasts are included in the stay. The house has three bedrooms and two full bathrooms, in addition to plenty of space for the whole family to gather (including a fully stocked kitchen). The property utilizes renewable energy systems all year-round and includes a yoga studio on-site.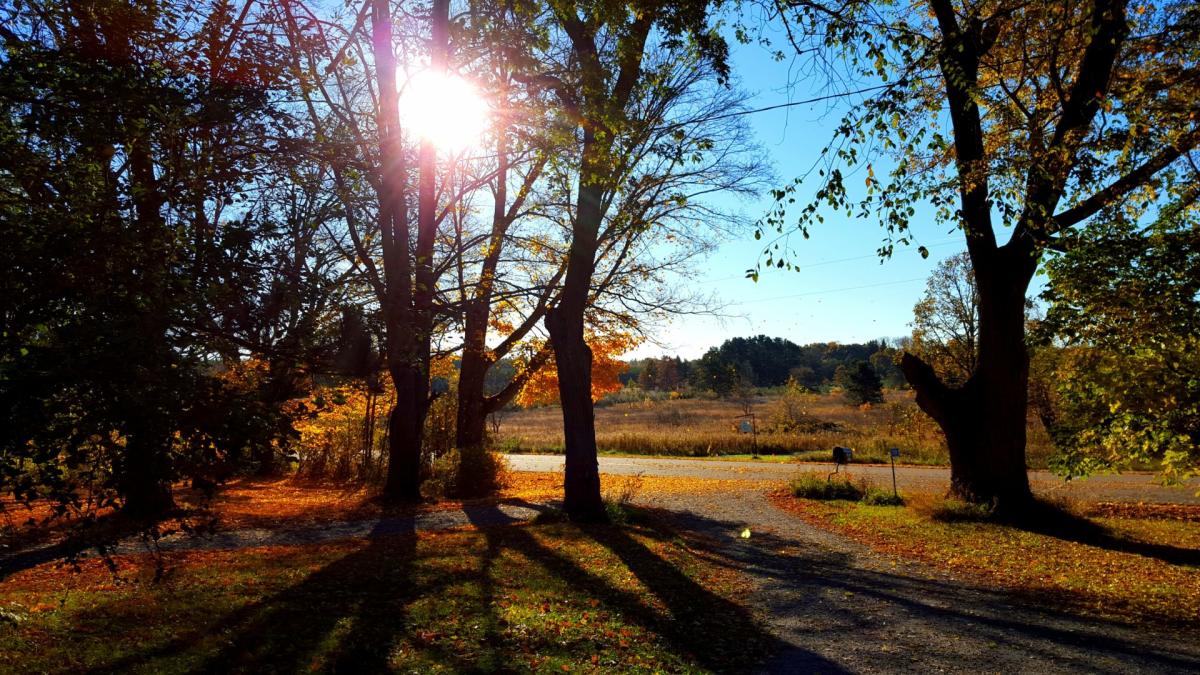 Want More?
Looking to plan your next getaway in the Stevens Point Area? Order a visitors guide, find more fun things to do, and scope out additional lodging options here.