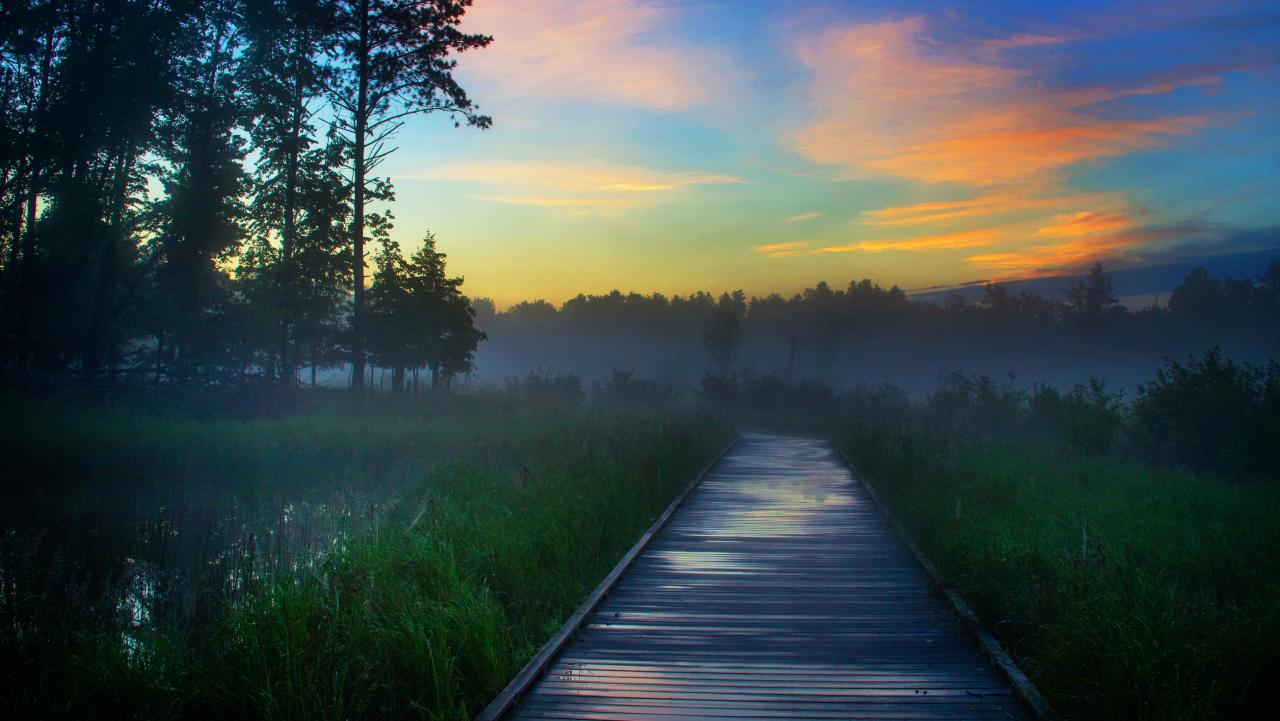 Not able to get out to wander through scenic and secluded spaces throughout the Stevens Point Area? Venture out from the comfort of your favorite spot with this handy virtual tour! From popular trails, including the Green Circle Trail and the Stevens Point Sculpture Park, to expansive natural areas and waterways like the Wisconsin River, enjoy beautiful photos from some of our favorite secluded spots. 
1. Green Circle Trail
This popular 27-mile hiking and biking trail that winds throughout Portage County is available year-round! The Green Circle Trail offers trail segments of various lengths and terrain, making it accessible for all ages and abilities. 
2. Sculpture Park
As part of the Green Circle Trail, the Stevens Point Sculpture Park is a half-mile loop that contains larger-than-life sculptures from local, regional, and national artists. 
3. Standing Rocks County Park
Standing Rocks County Park is the perfect combo of seclusion and action by containing a dog park, disc golf course, biking trails, skiing and snowshoeing trails, and more!
4. Schmeeckle Reserve
The Schmeeckle Reserve, on the University of Wisconsin-Stevens Point campus, offers 280-acres to explore the natural world with more than five miles of intertwining trails. On the reserve's southern edge, you'll find Lake Joanis, offering gorgeous water views along the mile-long Lake Loop!
5. George W. Mead Wildlife Area
Spanning more than three counties in central Wisconsin you'll find the George W. Mead Wildlife Area. The area is a haven for outdoor enthusiasts and offers over 33,000 acres of wetlands, forests, and grasslands to hike, forage, hunt and explore. 
6. Tomorrow River State Trail
This rails-to-trails icon provides 28-miles to explore, offering crushed limestone from the Village of Plover to Manawa. The Tomorrow River State Trail is open to bicyclists, hikers, horseback riders (adjacent trail), as well as snowmobiling and dog-sledding. 
7. Steinhaugen Recreation Area
Located in Custer, Steinhaugen Recreation Area is a 270-acre managed forest and nature preserve. As one of the newest parks in the region, it offers a variety of secluded and silent sports that are available, including hiking and snowshoeing when conditions allow. 
8. Wisconsin River
This working river is a staple in Wisconsin and the Stevens Point Area. Today, the Wisconsin River offers fishing, boating, sunset-seeking, and much more to water-dwellers and adventure-seekers. 
9. Iverson Park
One of the oldest and largest parks in Stevens Point, Iverson Park offers year-round fun. With the Green Circle Trail running right through the park, this park is a popular hiking spot, that also includes a large playground, picnic areas, a beach, shelters, gorgeous scenery, and more. 
10. Hartman Creek State Park
East of Stevens Point near Waupaca, Hartman Creek State Park offers various trails for hiking, biking, skiing, and snowshoeing, a sand beach and swimming area, equipment rentals, and more. 
Want more?
For more virtual touring, check out these videos about cuisine and the community, a perfect day on the water, a two-day tour of the Craft Collective, and local makers that call the Stevens Point Area home. Be sure to tag @StevensPointArea and use #StevensPointArea on your Instagram photos for a chance to be featured!