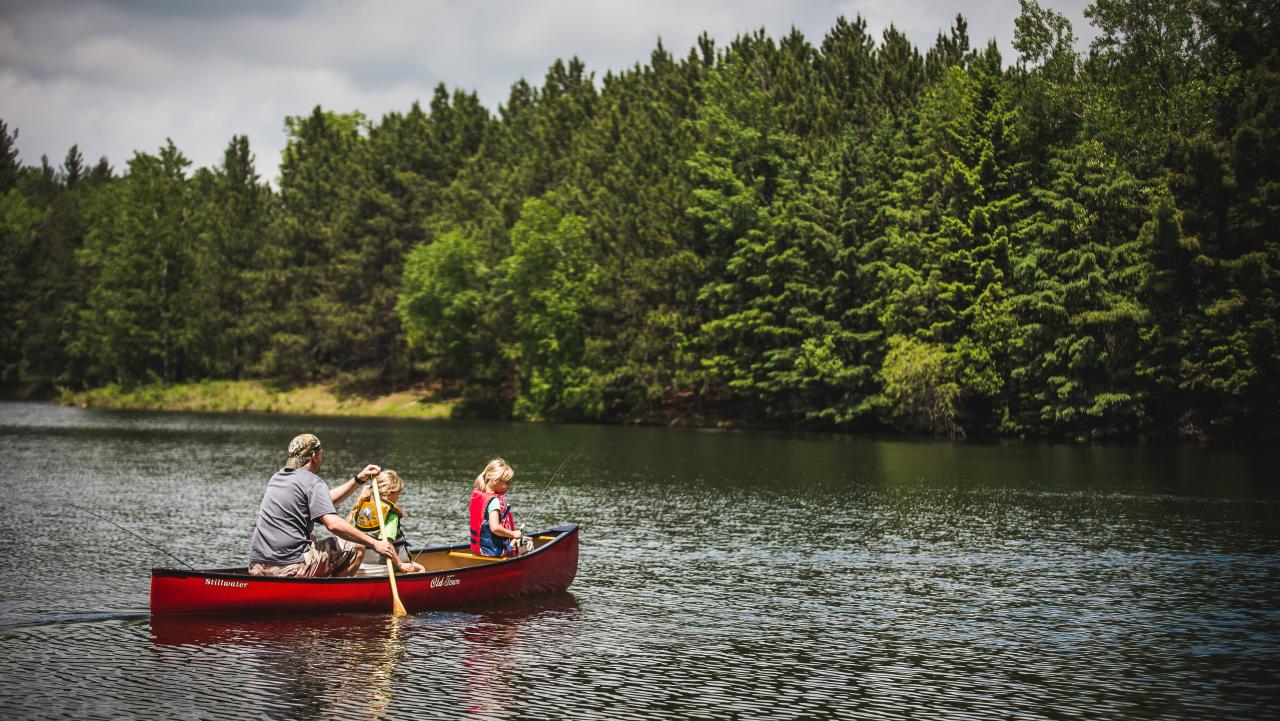 Looking for where you can rent canoes, kayaks, paddleboards, and other things for outdoor fun in the Stevens Point Area? We've compiled all the details for where to find outdoor equipment to complete your trip.
Before you head out, know that many places rent equipment on a first come first serve basis. To guarantee a fun water-filled day, we strongly recommend calling ahead.
Schmeeckle Outdoor Gear Rentals
2419 North Point Drive, Stevens Point, WI 54481 715-346-4992
Schmeeckle Outdoor Rentals, previously known as UWSP Intramurals and Outdoor Rentals, are now renting a selection of gear through the Schmeeckle Reserve! Here you'll find yard games, camping equipment, and much more available to rent. All canoe, kayak, and paddleboard rentals include paddles, personal flotation devices, and a boat packet with instructions on how to safely tie your boat to your vehicle to ensure you and your boat get to your water adventure safe and sound. You can take the rentals off-site for your adventures, too! 
Tiki Beach Bar & Grill
1126 County Road DB, Mosinee, WI 54455 715-341-2232
Tucked along the shores of Lake DuBay, an expansive 6,000+ acre impoundment of the Wisconsin River, Tiki Beach Bar & Grill is a great spot for water sport rentals, including kayaks and stand-up paddleboards. With lots of room to explore, you can stay close - or venture out a bit further if you are feeling more adventurous. 
DuBay Waters
1135 County Road DB, Mosinee, WI 54455 715-344-2626
If kayaking or paddleboarding isn't your idea of an adventure check out boat rentals from DuBay Waters. They offer pontoon rentals, where you can traverse Lake DuBay. Reserving a pontoon boat in advance is recommended, so make sure to call ahead. If you weren't born prior to 1989 and don't have a boater operation certificate ask to rent a pontoon boat that comes with a driver.
Bahamas Lounge
1766 County Road HH W, Stevens Point, WI 54481 715-295-0393
With shoreline frontage on the Wisconsin River flowage, you'll find a laid back spot serving food and renting equipment with Bahamas Lounge. Here you can rent kayaks and canoes for a day or by the weekend. Bahamas is a great starting point to explore the Wisconsin River including the backwaters and sloughs.
Rusty's Backwater Saloon
1715 West River Drive, Stevens Point, WI 54481 715-341-2490
Rusty's Backwater Saloon rents kayaks and canoes for the day on the Wisconsin River. If you are looking for more, Rusty's also rents pontoon boats, and will even provide a driver if needed based on availability. As always, it is best to call ahead to ensure pontoons and other rentals are available (and plan time for a iconic Bloody Mary, too).
Divepoint Scuba
944 Main Street, Stevens Point, WI 54481 715-344-3483
Divepoint Scuba offers 14.5 feet kayaks, 15 feet kayaks, and whitewater kayaks, (although you do need prior experience to rent out a whitewater kayak). Divepoint often offers weekend rental specials, where you can rent kayaks over the weekend. However, they aren't open on Sundays, so make sure you are able to return what you rented Monday morning!
Adventure Outfitters
N2480 Hartman Creek Road, Waupaca, WI 54981 715-513-0525
Interested in maui mats, paddle boats, or tandem bicycles? Adventure Outfitters, LLC located in Hartman Creek State Park has this and more. Here you can also rent kayaks, canoes, paddleboards, bikes, and pontoon pedal boats, or you can simply relax on the beach. If you are looking for more, call ahead and schedule a paddleboard or kayaking tour!
Northward Peddle & Paddle
Location in Iverson Park | 4201 Main St., Stevens Point  608-350-1335
Looking for more gear to get outdoors? Northward offers rentals for all types of outdoor activities, including kayaks, canoes, stand-up paddleboards, fat-tire bikes, and much more. You can book online through their website, or by calling to set up your reservations and ask questions. Locally, you'll find one of their outposts at Iverson Park, with kayaks and canoes. 
Want more?
Get inspired by this video of Alex, Ande, and Mattie the pup on their day on the Wisconsin River in the Stevens Point Area #LikeaLocal. Then, join the fun, for the chance to have your photo featured, use the hashtag #StevensPointArea, or tag us on Instagram. 
Day on the Water
Pack the cooler, launch the canoe, and hit the sandbars of the Wisconsin River with Ande, Alex and Mattie the pup, for a day on the water in the Stevens Point Area. Then, plan your perfect day on the water with the can't miss list. View More