Plan a trip on the water with our Paddle Guide, exploring the best spots to canoe and kayak in the Stevens Point Area. This time we're featuring the Tomorrow River. In each guide, you'll find details on what to expect, where to put-in and take-out, along with mileage and estimated time. All that's left to do is head out! 
Header image courtesy of 
@tomorrowriverhomestead
.   
Paddle Guide: Tomorrow River
By Timothy Bauer of
MilesPaddled.com
Trip Details
An endearingly narrow, intimate stream with crystal clear water, nice current, a couple of boulders to dodge, and a sense of quiet solitude, the Tomorrow is a must-paddle tucked away in the gentle hills of central Wisconsin.
Skill Level: Intermediate
Class Difficulty: Quietwater with riffles and some Class I rapids
Gradient: 2.7′ per mile
Put-In + Take-Out: County Q in Nelsonville/ Downtown Amherst, Buchholz Rd., County DD, or Cobbtown Rd.
Time Needed: 3-6 hours
Miles Paddled: 4-16 miles
Wildlife: Great blue herons, dragonflies, fish, deer, and muskrat.
Trip Description
Begin your adventure in Nelsonville. Stop to view the historic Rising Star Mill, one of four historical museums maintained by the Portage County Historical Society. The mill is open for special events throughout the year. This segment meanders through woods and fields. Four miles downstream in the Village of Amherst, be sure to follow Portage signs to avoid dam. Once you reach Amherst, stop for a stroll and lunch in the downtown district, complete with shops, restaurants and an art gallery. Continue on the Tomorrow River, suggested take-outs are at Highway T or Highway DD. Please note: during high water, submerged logs and swirling water can cause problems. During low water, rocks and shallows will be present.
Rising Star Mill is a Portage County Historical Society site, built in 1868 in the heart of Nelsonville.   
Alternative Trips
The most popular starting point to begin a trip on the Tomorrow-Waupaca is along the banks of the beautiful Rising Star mill in Nelsonville, where art exhibits and bluegrass concerts are held. But from here to the dam in Amherst makes for a 4.4-mile trip (a mile of which is the impounded flatwater pond behind the dam, which in the summertime is choked with weeds and makes for an unpleasant slog). Paddlers have two options for beginning upstream to make a longer outing on the water: at Highway 161 (aka Loberg Road) or County Highway Q (aka Rolling Hills Road). Furthermore, the pond can be skipped by taking out at Cate Park. In our opinion, this is the best section of the river upstream of the Amherst dam – from County Q to Cate Park, for a 5.5-mile trip that showcases its best features with the fewest nuisances. It makes for a delightful time outdoors that's neither too short nor too taxing.
Not a Paddler? Opt for a tube!
The Tomorrow River is also perfect for a gentle tube ride. The best tubing routes skip the pond. Put in at Otto Road and takeout at County Rd DD for a memorable ride.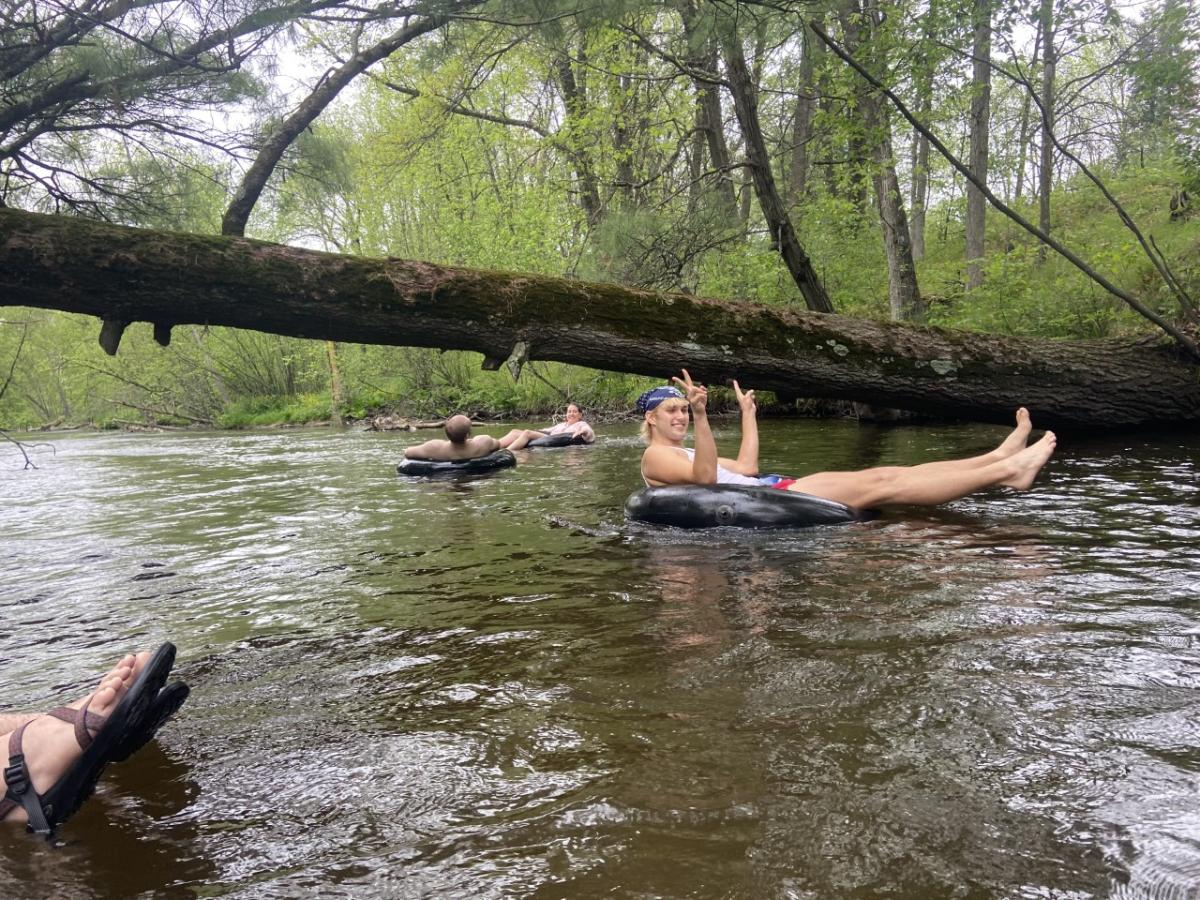 Want more?
Plan your own trip in the Stevens Point Area with the Pedal, Paddle & Hike Official Adventure Guide (view online), free print copies available by order. Find more fun on the water in the Stevens Point Area - from paddling to swimming and fishing to boating. Then, learn more about great paddling in the Stevens Point Area with MilesPaddled.