As the temperatures continue to rise, what sounds better than cooling off with an ice-cold beer? The Stevens Point area is spoiled, hosting some of Wisconsin's best breweries, and this summer is the time to sample beers from all of them!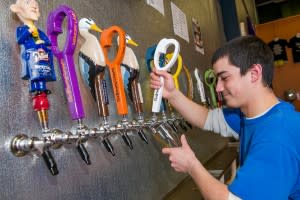 Here are some of the brews you should definitely sample. Try Central Waters' Belgian Blonde and Shine ON, two easy-drinking ales that are perfect for a hot summer day. Worthy samples from Plover's O'so Brewing Company include their zippy, light bodied The Big OTM and their German pilsner Memory Lane. Stevens Point's Point Brewery recently finished third at the U.S. Open Beer Championship, thanks to the success of three top-notch beers you should taste. Their Whole Hog Scotch Ale, Whole Hog Raspberry Saison and Nude Beach each earned best in show in their respective categories. And from Kozy Yak in Rosholt, sample their Rosholt Red Beer, IKE IPA and Oat Barn Cream Ale.
 
One of the best ways to sample new brews is by taking a brewery tour. Central Waters Brewing Company offers free tours every Friday and Saturday at 5pm, and their tap room is open from 3 to 9pm Friday and Saturday. Tour the O'so Brewing Company at 2, 3 or 4 pm Saturdays. Finally, Point Brewery recently opened up the brewery to tours again. Tours cost $3, which includes three beer or root beer samples, and are available by reservation Monday through Sunday at 11am, 12pm, 1pm, and 2pm.