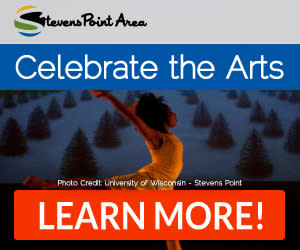 Spring may be taking a little long to get here, but the season's arts events are in full swing in the Stevens Point area. Here are a few suggestions on what to see and do this spring:
Through March 26, you can visit the Riverfront Arts Center in Stevens Point to see the "Emerging Artists" exhibit, which features nearly 100 works from local students in seventh through 12th grade.
 
Don't miss this month's installment of the Tomorrow River Concert Series at the Lettie Jensen Community Center in Amherst as Lee Murdock performs at 7 pm Saturday, March 15.
 
The Point Dance Ensemble, a pre-professional dance company for dancers ages 11 to 18, will present its 15th annual community performance at 7:30 pm Saturday, March 15, and 2 pm Sunday, March 16, at @1800 in Stevens Point. The performance features original music from local composers, including a special collaboration with the Very Young Composers of Central Wisconsin.
Find more of this spring's arts events here.