Looking for the perfect place to hammock in the Stevens Point Area? Whether you want a quiet place to read a book or shorelines with a stunning view, we've scouted out the best spots so you don't have to get tied up searching. Here are our recommended hangout spots to hammock in the Stevens Point Area! 
Header Photo Credit @kelseyzdz
Schmeeckle Reserve
Want to hammock with a good chance of spotting wildlife? Head out to Schmeeckle Reserve located on the UW-Stevens Point campus. Excellent hammock trees rest around the scenic shoreline of Lake Joanis within Schmeeckle Reserve. Be on the lookout for deer, duck, and other wildlife sightings!
Want More To Do? 
Where: 2419 North Point Dr, Stevens Point, WI 54481 Parking: Parking is available along Marie Drive south of Lake Joanis and in the parking lot at the Green Circle Trailhead adjacent to the Schmeeckle Reserve Visitor Center. Restrooms: The nearest public restrooms to Lake Joanis are located at the Green Circle Trailhead. Expect a 0.4 to 0.8-mile walk if you decide to hang out by the lake. Schmeeckle Reserve Visitor Center also has restrooms located inside. See Visitor Center hours for availability. 
Along the Wisconsin River
Dreamy hangout spots with great views of the Wisconsin River can be found at Pfiffner Pioneer Park, Bukolt Park, and Mead Park. Located near the Green Circle Trail, these parks make the perfect rest stop during a bike trip. 
 
Pfiffner Pioneer Park
If you enjoy live music, downtown life, or a nice breeze Pfiffner Park is the spot for you. Select from hammock trees that are great for a single hammock or bring your friends to create a triple-decker!
 
Want More To Do?
Sway to music on Wednesday or Thursday nights! On Wednesdays, you can enjoy City Band Concerts at the Pfiffner Bandshell or Notes at Night located in Downtown Stevens Point. On Thursday evenings the Levitt AMP summer concert series brings great music, food trucks, and kids' activities to the riverside on Thursday evenings. 
Explore murals, shops, and more in Downtown Stevens Point, which is just a 5-minute walk from Pfiffner Pioneer Park. 
Adventure up and down the river on the Green Circle Trail by foot or by bike. 
Where: 1100 Crosby Ave, Stevens Point, WI 54481 Parking: Free parking is available in the lots on Crosby Ave. adjacent to Water St. Crosby Ave. also has free street parking.  Restrooms: You'll find public restrooms next to the bandshell that are open April through October, 10am-11pm. 
Bukolt Park
Bukolt Park has great hammock trees growing east and west of the lagoon. Tie up your hammock on the west side for a better view of the Wisconsin River or seek out a peaceful spot under the towering pine trees east of the lagoon. 
 
Want More To Do? 
Watch the sunset across the Wisconsin River from your hammock! 
Access the water by boat at the Bukolt Park boat landing or fish from the handicap-accessible fishing dock. 
Hike part of the Green Circle Trail 
Where: 100 Bukolt Ave, Stevens Point, WI 54481 Parking: Bukolt Park offers free parking adjacent to the Stevens Point Skate Park and along Rachick Rd.  Restrooms: Public restrooms are available next to the boat launch at Bukolt Park. 
Mead Park
Looking for more recreational activities to take part in while out hammocking? Find a nice selection of hammocking trees and an abundance of recreational opportunities at Mead Park, located on the west side of the Wisconsin River.
 
Want More To Do?
Explore KASH Playground with the kids! This park is fun for all ages and mobilities.
Fish along the shoreline and swim in the Wisconsin River! A small swimming beach is located north of the park along W. River Dr. 
Bring your friends and enjoy some pickleball, basketball, sand volleyball, or disc golf on the 9-hole course at Mead Park.
Take a stroll up the river!  
Where: 1201 W Whitney St, Stevens Point, WI 54481 Parking: Mead Park has free parking available along W. Whitney St. and in a small lot south of the playground. There's also a small parking lot near the swimming beach, conveniently located for beach goers and trail walkers.  Restrooms: Public seasonal restrooms are open adjacent to KASH Playground and at the KASH Playground. 
Iverson Park
With over 100 acres of land that is scattered with great hammock trees, Iverson Park will soon become one of your favorite spots. Tranquil streams and stone bridges are situated around Iverson Park and offer picturesque views.
 
Want more to do? Iverson park has a large playground, swimming beach, picnic shelters, baseball diamond, a sand volleyball court, and many excellent photo opportunities!
Where: 4601 WI-66, Stevens Point, WI 54481 Parking: Iverson Park provides abundant parking in two large lots located within the park.  Restrooms: Public restrooms are located near the baseball diamond on the north side of the park. 
County Parks
Enjoy all of the beautiful county parks found throughout Portage County by setting up a hammock to lay back and take in the views. Spend the day relaxing in your hammock before venturing out to explore more of the parks offerings, from trails to waterfronts.
 
Sunset Lake Park
Sunset Lake Park is located on the 63 acre Sunset Lake located north of Amherst. Besides beautiful views Sunset Lake is known for its large swimming beach. Set up a hammock lakeside, and enjoy a relaxing day at the beautiful, crystal clear, Sunset Lake.
Want More To Do?
After relaxing in your hammock go for a swim and cool off at the large sandy beach.
Bring your paddle board or kayak and take advantage of the boat landing and paddle around before relaxing in your hammock.
Bring your fishing pole and spend some time fishing on Sunset Lake.
Hike the trail around Minister Lake, accessible across the street from Sunset Lake.
Where: 1092 Sunset Lake Road, Amherst Junction, WI. Parking: Parking is available at the Sunset Lake Park on Sunset lake Drive. Restrooms: Restrooms are located at the park by the shelter. Restrooms are open May 1st through October 31st.
Jordan Park
Located just 2 miles northeast of Stevens Point, Jordan Park has many great trees surrounding the beautiful Jordan Pond, an impoundment of the Plover River. Jordan Park also has a campground available for people looking to spend multiple days relaxing, with nature trails that cut through pines, wetlands, and an oak/maple forest.
Want More To Do?
Bring your fishing gear and spend time relaxing by fishing on the Jordan Pond, or the near by Plover River.
Bring along a kayak or paddle board and spend the day on the water before laying back in your hammock.
Go swimming at the Jordan Pond swimming beach on a hot day.
Bring your walking shoes and see all that Jordan Park has to offer by exploring the available nature trails.
Where: 5800 Jordan Road, Stevens Point, WI. Parking: Parking is available by the Jordan Campground and by the shelter. Restrooms: There are restrooms available near both parking locations. Restrooms are open May 1st through October 31st.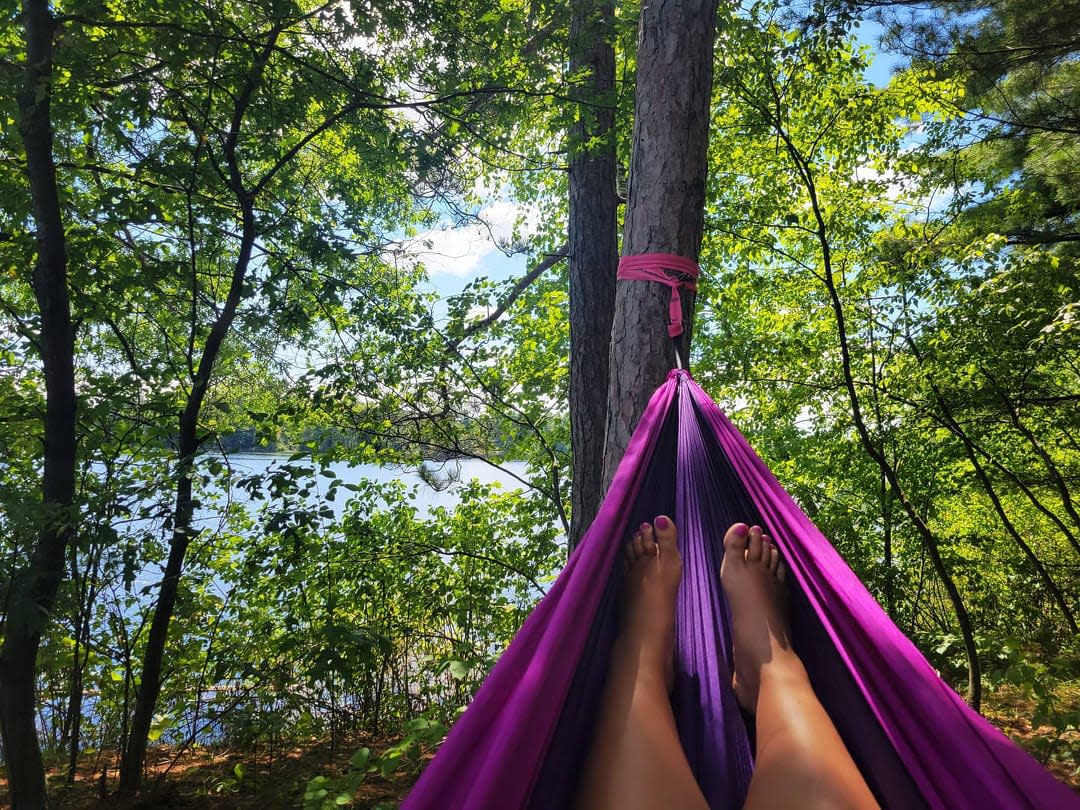 @bnelly29
Lake Emily
Located just east of Stevens Point, Lake Emily is an expansive county park on 143 acres. With many different locations available to hammock around Lake Emily, you'll find a perfect spot to lay back and relax. Besides the public park, trails, and beach, Lake Emily also has a campground available for people looking to relax for days at a time.
Want More To Do?
Extend your stay and book a campsite at the Lake Emily campground.
Bring your swimsuit and paddleboard to use while enjoying the Lake Emily beach.
Go beyond the trails within the park, and venture out on the Tomorrow River State Trail.
Have the kids? Don't miss the playground located on the north side of the lake by the beach.
Visit The Sustainers, a sculpture made by Mark Fisher.
Where: 3968 Park Drive, Amherst Junction, WI Parking: There is parking available by the beach on the north side of Lake Emily, by the boat launch on Lake Drive, by the fishing pier on Edgewater Drive, and by the picnic benches on South Lake Road. Restrooms: There are restrooms located by the beach and near the picnic area. Restrooms are open May 1st through October 31st.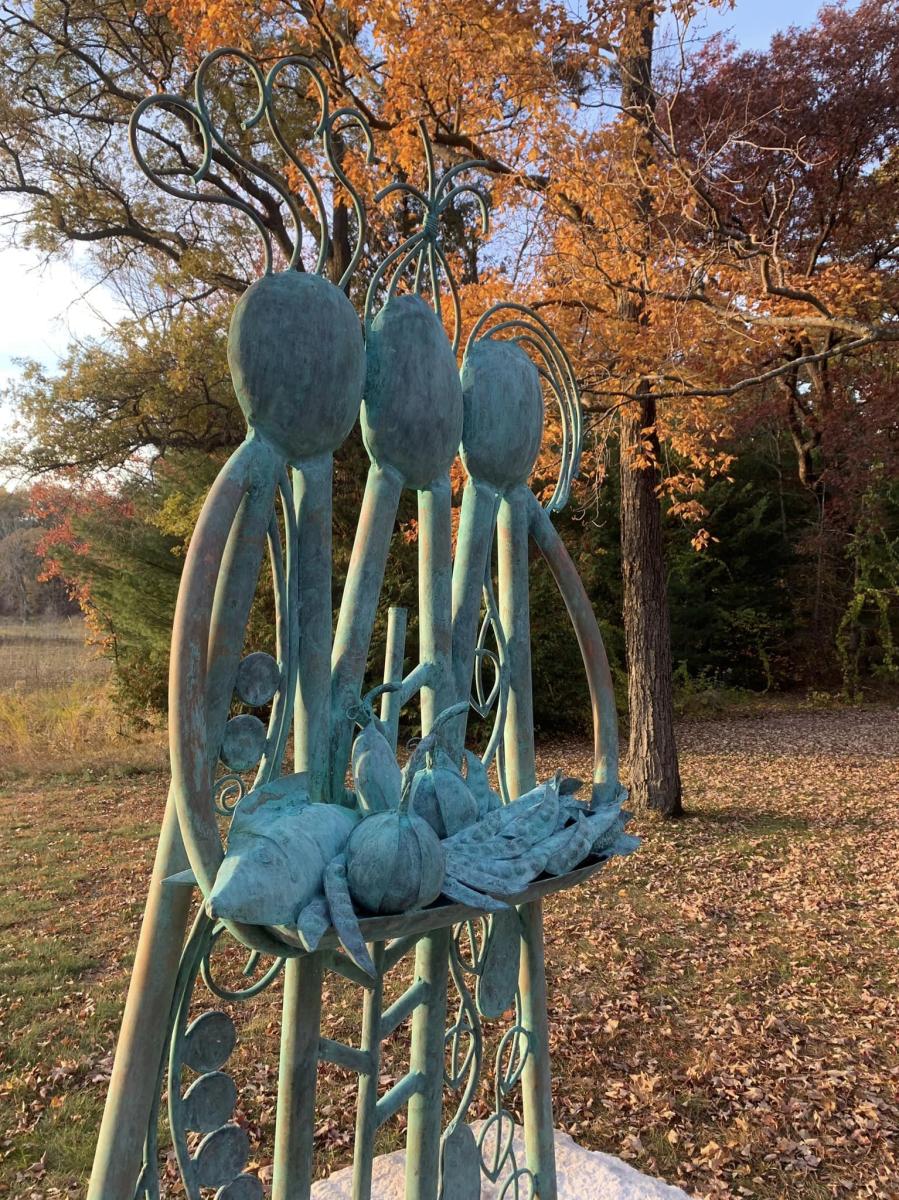 CREATE Portage County
Hammock Etiquette
keep the fun possible, and do your best to ensure hammocking access in the Stevens Point Area with these tips:
It is against the city and county ordinance to harm the trees!
Don't screw into the trees to secure your hammock.

Don't use to thin of a wire that could damage the tree.

Don't use trees that are to small to support your hammock. 

When hammocking make sure you leave the area clean and leave no traces of anyone having been there.