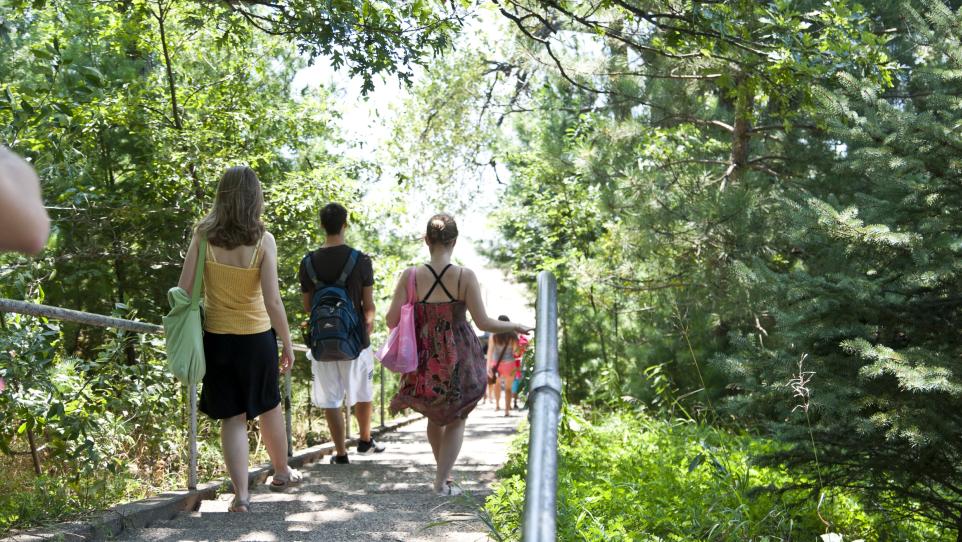 Jump into these fun summer spots to find the perfect place to beat the heat.
1. Sunset Lake Park
On a hot summer day, Sunset Lake Park is the perfect spot for swimming in Portage County.This 63 acre lake is incredibly clear and clean, which helps to make it a summertime favorite. The beautiful wide sand beach is a great place to relax and build sandcastles with the whole family, in addition to the available fishing and boat landing. Across the lake, you can even spot the Central Wisconsin Environmental Station. 

2. Iverson Park
Iverson Park is Stevens Point's oldest park and is loved by the community for its beautiful scenery. The beautiful beach area showcases the Plover River as it winds through the park. It is a great spot for families with young children with its shallow water and plenty of sand to explore and play. Iverson Park is also home to NatureTreks (offering canoe, kayak, and bike rentals). After you swim, keep an eye out for a variety of birds which can be found in the park or travel along the Green Circle Trail, which runs through Iverson Park.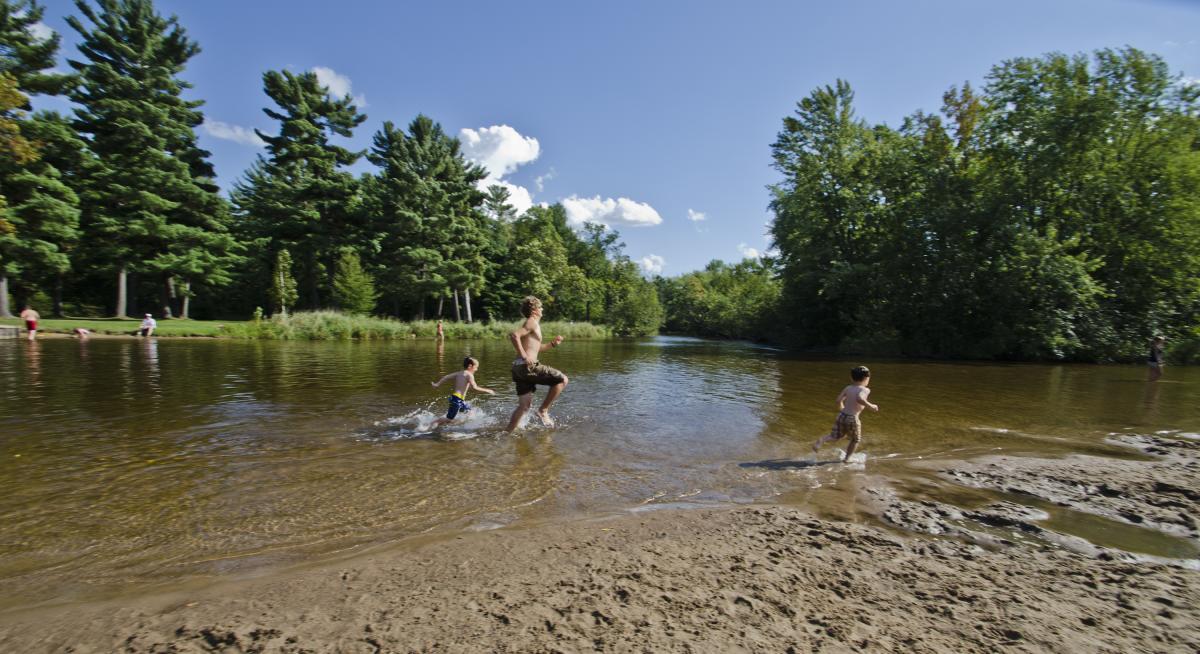 3. Jordan County Park
For a quiet and natural setting, try Jordan County Park Beach. Next to volleyball courts, campground, and outdoor grills, this beach is sure to be the perfect getaway spot, perfect for a picnic! Have the kids try out the playground equipment or explore the wild in the nature center that is open on Saturday. Or, make a weekend of it, and camp at the park to end the day roasting marshmallows. 
4. Lake Emily
For an opportunity to swim, motorboat, water-ski, or sail boat, head over to Lake Emily County Park. The lake stretches to 96 acres in size, which makes it big enough for everyone to have their own space. Lake Emily County Park is filled with nature trails, playground, campground, and a baseball field. The access to the swimming beach is a quick walk down the stairs or a grassy rolling trail that reveals a more rocky shore than other beaches in the Stevens Point Area. 
5. Bukolt Park
Dip your toe in the Wisconsin River using the beach just beyond the old bathing house at Bukolt Park. The shore is lined with stone steps and sand for easy access to the designated swimming area. And when you're done with your swim, this park has much more to offer the help fill your day. Take a walk along one of the five new fishing piers that were installed last summer in the lagoons. Bukolt Park also has a boat landing, access to the Green Circle Trail (which strolls south to Pfiffner Park along the water), a volleyball court, a skate park, and a picnic area.
6. Donald Copp's  Municipal Pool
If you've decided a beach setting isn't for you, Donald Copp's Municipal Pool in Stevens Point is a location complete with lifeguards and temperature controlled water. Feel the rush of adrenaline as you take a trip down the 162 foot blue slide or jump off one of the two diving boards. The municipal pool is also a great place for young children just starting to explore the water with a  zero depth wading pool. Insider Tip: The municipal swimming pool offers free swim sessions from 10am to noon on most weekends with the help of local sponsors in the Stevens Point Area.

(Headed out for fun? Be sure to check the pool's hours ahead of time, as they close in mid-August for the season.)  
Want more? Check out more swimming spots like: Collins County Park, Lake DuBay, Mead Park, Lake Pacawa, Wolf Lake, Hartman Creek