Looking for somewhere new to explore? Check out what's new on the Green Circle Trail, perfect for hiking and biking in the Stevens Point Area. Then, get out to enjoy the trail for yourself.

Header photo by @travis.haines  
Whiting Crossing Trail
On the region's most popular trails, the Green Circle, has opened the newest section of trail in the Village of Whiting. After three years of planning and work by the Green Circle Trail, the village of Whiting, and the state Department of Transporation, the 2.1-mile Whiting Crossing provides a greener, more aesthetic trail with enhanced safety.
Previously the Whiting Crossing segment followed Tommy's Turnpike and other streets through the village. The new segment now goes from Upper Whiting Park and through the Mainland Meadows (part of the Village of Whiting well field). The crossing of Post Road can be found at Elm Street, with a rapid flashing beacon to better assist bicyclists and pedestrians to safely travel across the road while traffic stops.
Where to find it: 
The Whiting Crossing Trail is the section from the intersection with County HH and McDill Trail on the east to the Plover River bridge at the edge of Upper Whiting Park on the west, where it connects to the Paper Mill segment. Learn more about the Whiting Crossing Trail here.
 
Parking is available at Upper Whiting Park or elsewhere along the trail. For a map and learn more information about the Green Circle Trail segments here.

Several individuals and organizations were instrumental in helping make this segment of the trail greener including Paul Stroik and Nic Schmeiser (village of Whiting), Matt Schnoover (Department of Natural Resources), Ray Reser (retired curator of archaeology, UW-Stevens Point Natural History Museum), Portage County Parks staff, Department of Transportation (for cooperation on the Post Road crossing), Preston Schleihs (Eagle Scout candidate who coordinated signage for a Whiting Park loop), Bushman Electric and Ladick Trucking. Additional support to help fund the project came from individuals and businesses who donate to the Green Circle.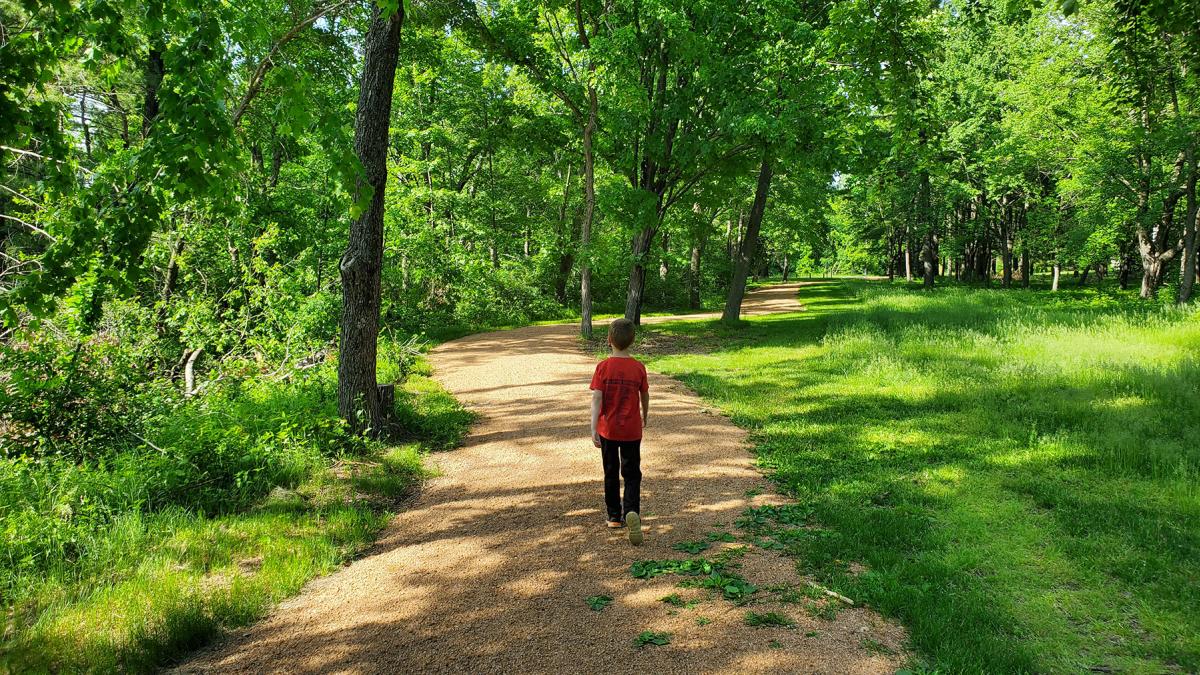 Photo by Jim Buchholz/Green Circle Trail  
Westside Loop - Temporary Closure
A portion of the Westside Loop, which runs on the west side of the Wisconsin River linking to Highway 66 (north) and County HH (south) will be temporarily closed August 3 - 5. During that time, please follow all detours (including following the River Pines Trail) to avoid the area, as high voltage poles are being replaced along the route.

Trailhead Construction
The Green Circle and the Schmeeckle Reserve are working on a new trailhead, that will offer an open-air shelter, gathering space, year-round restroom facility, and additional parking. Learn more about this project and the additions to the trail here.

Want More
Find out more spots worth exploring on the Green Circle Trail, from tasty spots to our kids' guide to the trail. Explore more trails worth a visit and discover the top spots for biking in the Stevens Point Area. Then, order a copy of the Pedal Paddle Hike Guide to plan your own outdoor adventure!
Looking for more spots to explore? Check out these scenic secluded spots in person, or virtually…