Plan a trip on the water with our Paddle Guide, exploring the best spots to canoe and kayak in the Stevens Point Area. This time we're featuring the lower Plover River ending at Iverson Park. In each guide, you'll find details on what to expect, where to put-in and take-out, along with mileage and estimated time. All that's left to do is head out! 

Paddle Guide: Lower Plover River
By Timothy Bauer of MilesPaddled.com

Trip Details
South of Highway 66 is the classic Jordan County Park to Iverson Park section, a favorite of locals that's just under 8 miles. Below Iverson Park (an absolute gem of a city park, by the way), the river backs up to a slow flowage called McDill Pond, created by yet another dam. Other salient features that would attract paddlers, include the Erickson Audubon Wildlife Area, sporadic osprey and cliff swallow nests, the Green Circle Trail, and Spring Slough.
Skill Level: Intermediate
Class Difficulty: Moving water with a lot of meandering around obstructions
Put-In/Take-Out: 5770 Hwy. 66, Stevens Point, WI 54482
Time Needed: 3 hours
Miles Paddled: 7.75 miles 
 

Trip Description
This popular trip (and the last section of moving water) begins and ends at quaint public parks. Along those two points paddlers will encounter virtually no signs of civilization until the end of the trip, instead being treated to a dazzling juxtaposition of pine trees, steep sand banks, and swampy bottomlands. An obstacle course of downed trees to maneuver around, under, or over in a steady current will pose the only hazards, making this trip more suitable for experienced paddlers. Check water levels with local outfitters to make sure the river isn't too high, which could pose problems with the tree obstructions. In springtime the banks are awash in a lush green of adorable (and edible) fiddlehead ferns.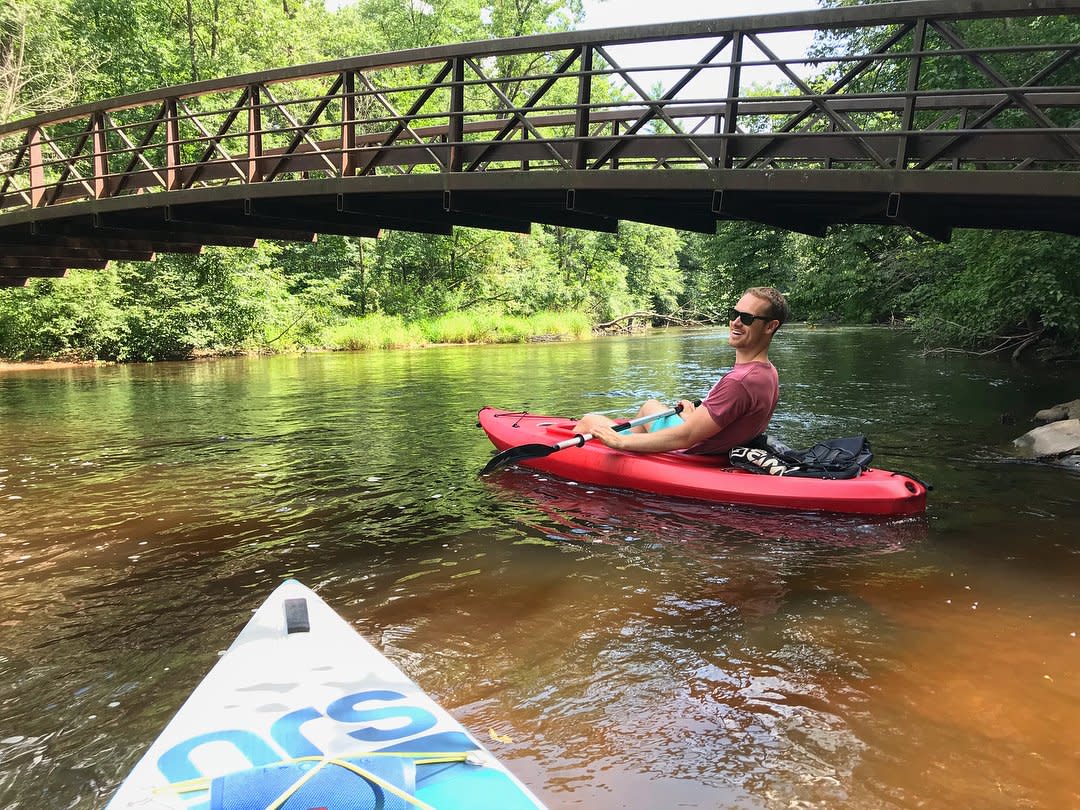 Photo Credit: @nature_guuurl  

As a shuttle route, park one car in Iverson Park off Highway 66 in Stevens Point. Then travel Highway 66 east to Jordan Park. Begin this route at the canoe ramp on the south side of Hwy 66 in Jordan Park (a handicap-accessible dock is available). The route will meander through generally flat water and is an excellent trip for bird watchers in June and July. Because of the wooded landscapes on either side of the river, it is an excellent way to view fall colors in the area. Once you have reached Iverson Park, enjoy a dip in the water near the swimming beach, or walk on a short segment on the Green Circle Trail that makes its way through the park.
 
Want More?
Find more fun on the water in the Stevens Point Area - from paddling to swimming and fishing to boating - and learn more about MilesPaddled. Then, plan your own trip in the Stevens Point Area with the Pedal, Paddle & Hike Guide (view online), or order a copy by mail.