Learn more about food in the Stevens Point Area, as restaurants vie for the top spot during the Curd Crown Showdown! Learn more about the match-ups, and use this as your guide to these delicious places that can only be found in central Wisconsin. Then, visit these cheese curds spots in the Stevens Point Area in person!
Guide to the Curd Crown Top 8
Top
 
THE TOP 8
Wondering what the match-ups will look like? Check out our breakdown to the top 8, going head-to-head in the Curd Crown Showdown. Want to join the fun? Help decide who will come out on top of the Curd Crown Showdown, by voting and be entered to win the Cheese-Stuffed prize package!
#1 - Guu's On Main
Head downtown and check out Guu's On Main's selection of epic cheese curd flavors like garlic ranch, cajun, or parmesan truffle. While you're there, you might also want to try their unique and delicious cheese curd burger! Guu's offers dine-in or take-out options. 
Address: 1140 Main St, Stevens Point, WI 54481
Website: Guu's on Main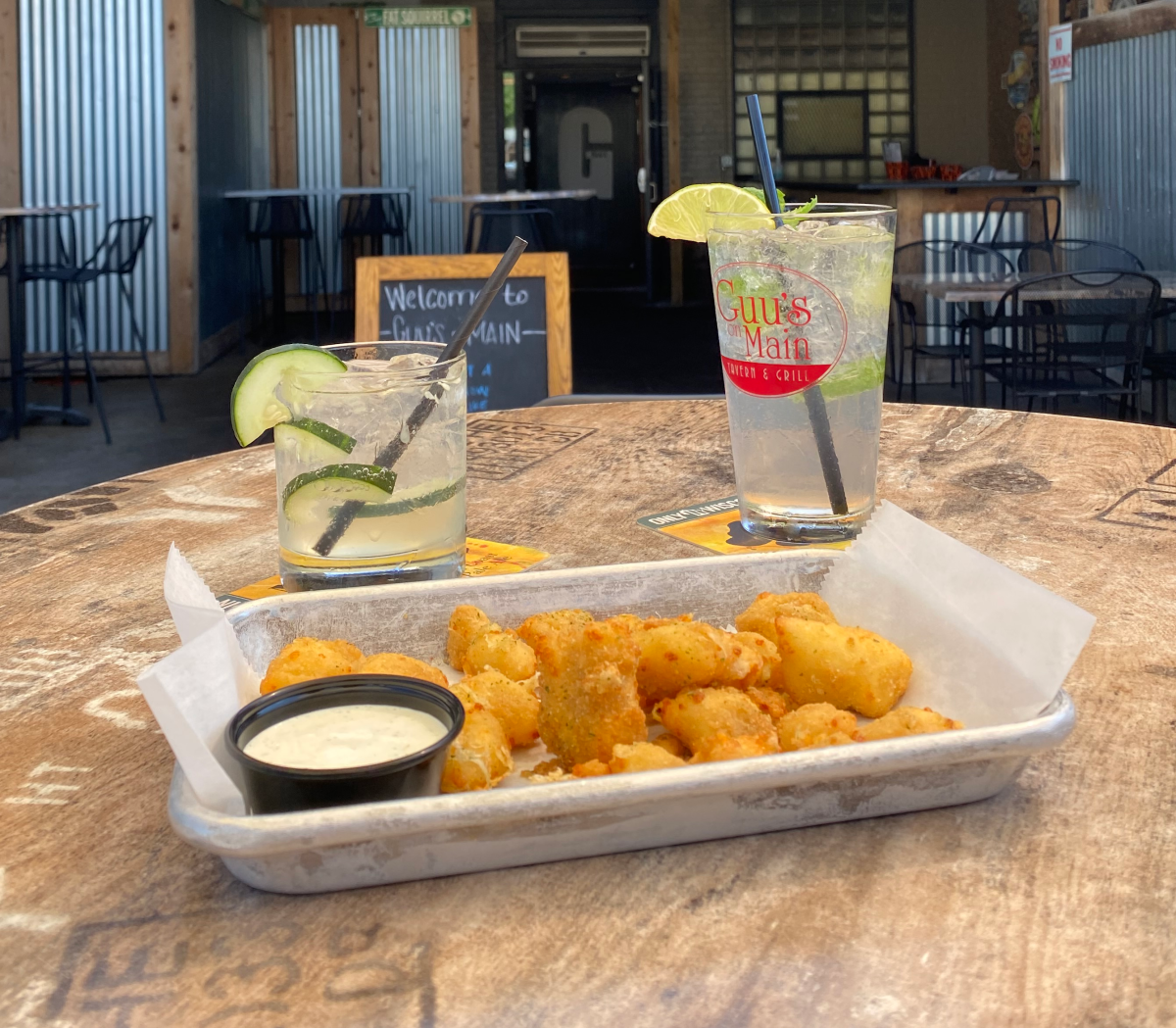 Photo Credit: @bailyy_  
#2 - PJ's 
Go on over to PJ's at SentryWorld and try their fresh cheese curds. PJ's has a great dine-in atmosphere that offers a comfortable place to gather and enjoy a delicious Wisconsin-inspired menu. They also offer take-out options for nights you want to enjoy good food from the comforts of your own home. 
Address:  601 Michigan Ave N, Stevens Point, WI 54481
Website: PJ's at SentryWorld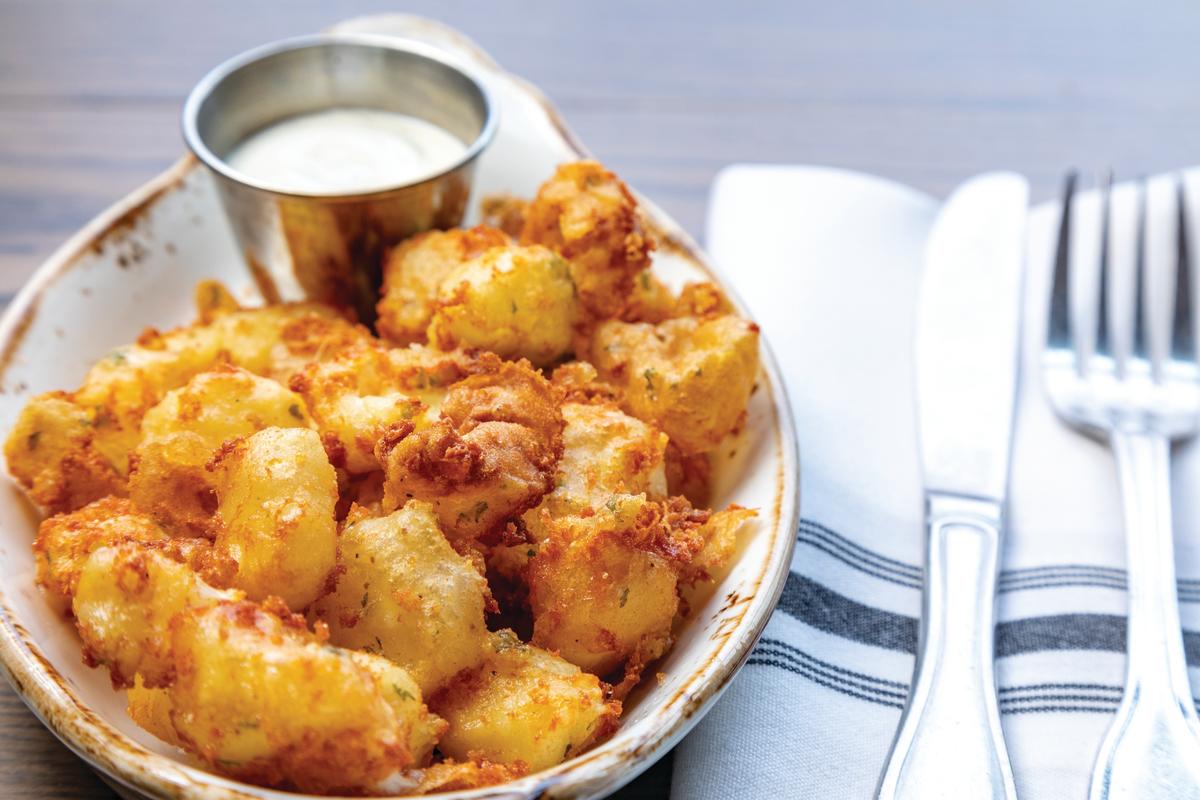 Photo Credit: @SentryWorld  
#3 - Feltz's Dairy Store
Feltz's Dairy Store is another perfect option to take home some deep-fried curds to enjoy. Here you'll find blocks, fresh cheese curds, spreads, and cheese trays made from fresh Wisconsin Cheese. Of course, you can always grab a scoop of ice cream while browsing their selection of meat, pizzas, ice cream, and milk!
Address: 5796 Porter Dr, Stevens Point, WI 54482
Website: Feltz's Dairy Store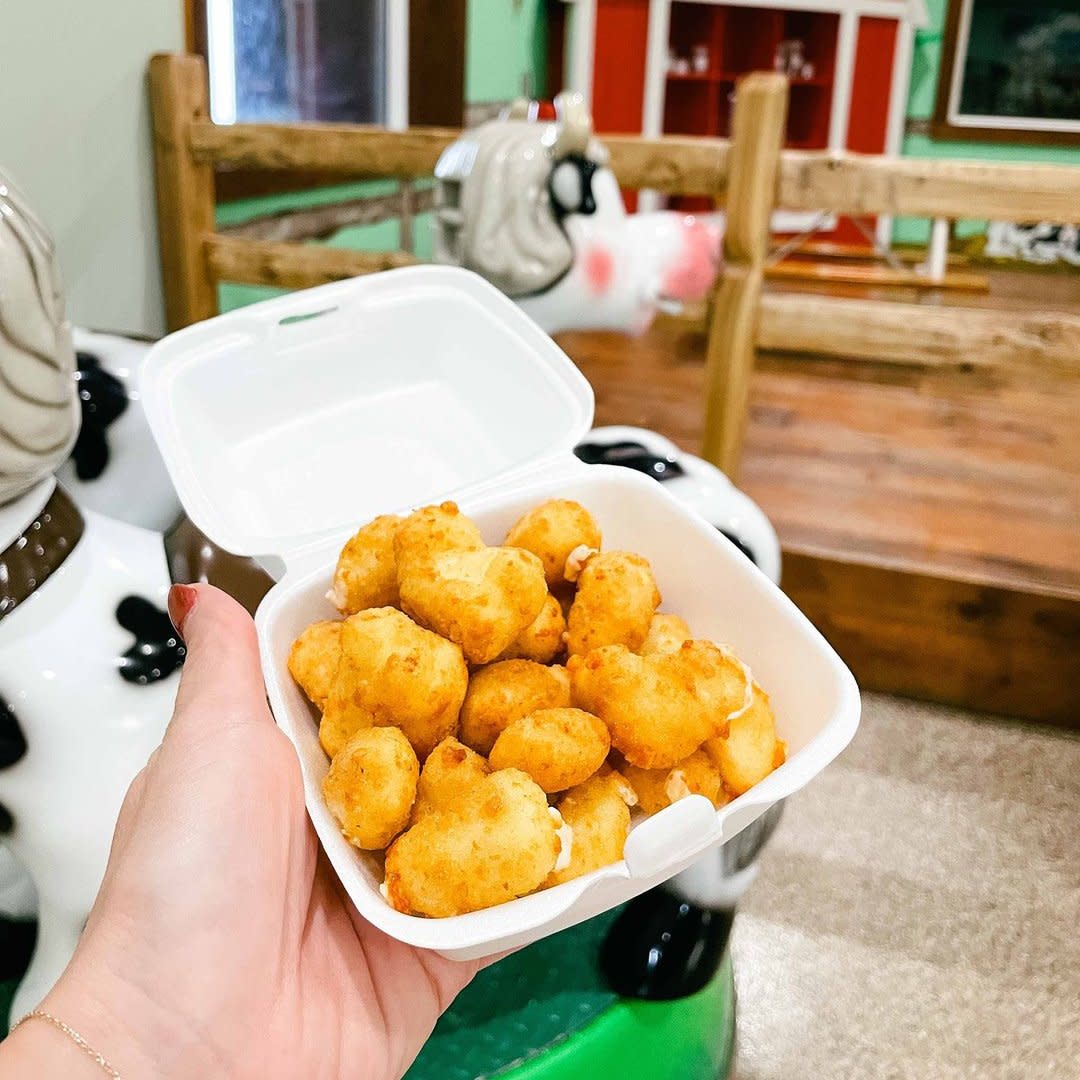 Photo Credit: @ilovebeerfromhere.travels.mn  
#4 - Hilltop Pub & Grill
Hilltop Pub and Grill also has delicious curds to try in a fun, casual atmosphere. Battered and fried with white cheddar, every order of curds is served with ranch. And while you're there, top your meal off with a craft beer on tap from Central Waters Brewing or Point Brewery. You will not be disappointed!  
Address: 4901 Main St, Stevens Point, WI 54481
Website: Hilltop Pub & Grill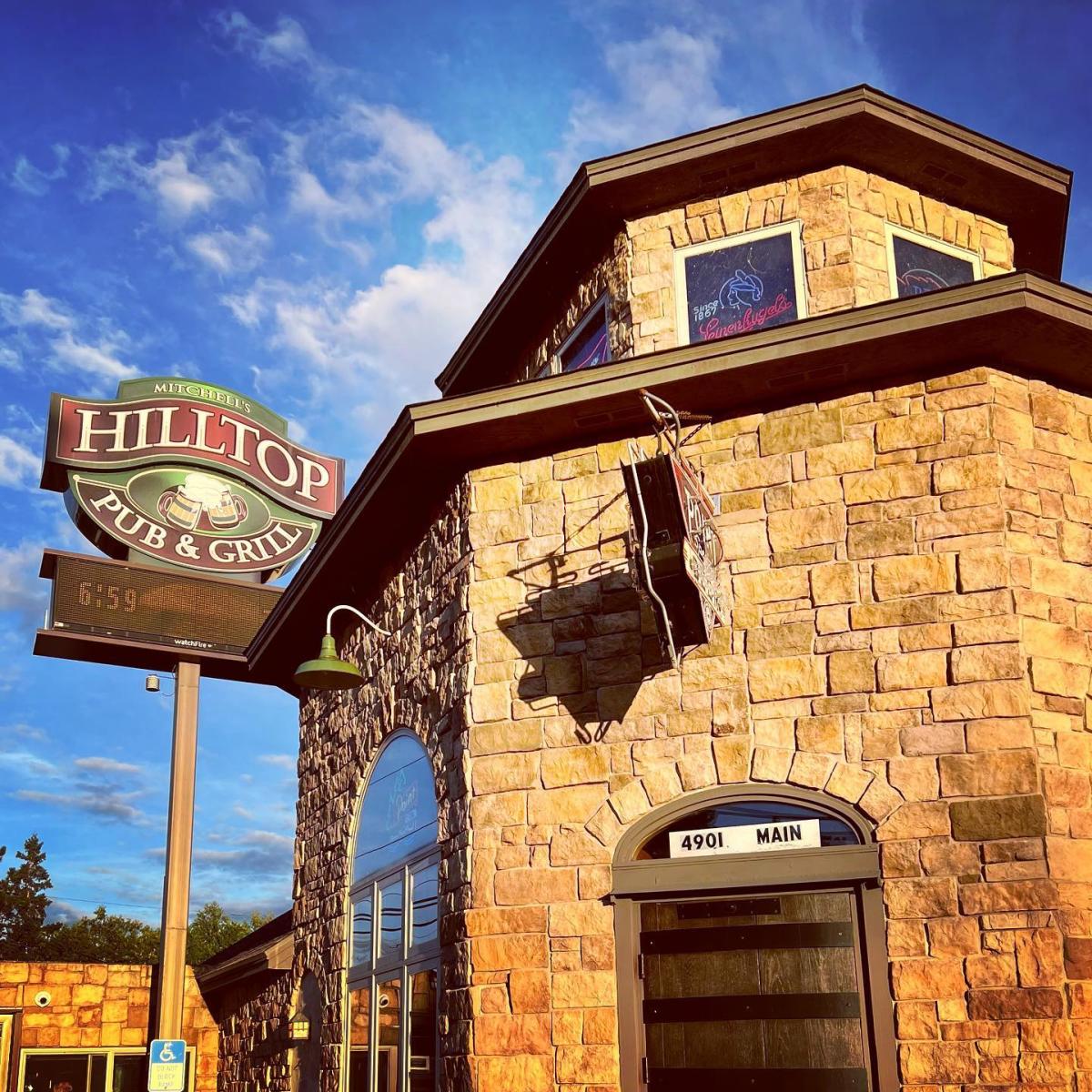 Photo Credit: @emily.apell  
#5 - Point After
Point After is an excellent option for your cheese curd needs, offering white or yellow curds served with a side of ranch. They have a great dine-in atmosphere as well as take-out options. Check out their $2.50 old-fashioned from 3-6 pm to sip along with your delicious curds!
Address: 801 2nd St, Stevens Point, WI 54481 Website: Point After Bar & Grill
#6 - Mikey's Neighborhood Bar & Grill
Mikey's Bar & Grill has delicious house cheese curds served with savory cranberry chutney. Beyond the curds, you'll find plenty of other delicious offerings at this full-service restaurant - including an impressive drink selection. Known as a beer-lover hub with 67 tap lines, they also have an impressive cocktail menu (including mocktails!). 
Address: 3018 Village Park Dr, Plover, WI 54467
Website: Mikey's Bar & Grill
#7 - Ambrosia Pub & Grill
This staple tucked in downtown Amherst has been serving up comforting (and delicious) fare for decades. They are known for their generous portions - and their curds are no exception! They offer dine-in as well as take-out options (perfect for a stop at Central Waters Brewing Company!)  
Address: 192 S Main St, Amherst, WI 54406
Website: Ambrosia Pub & Grill
#8 - Mullins
This spot is known for cheese of all kinds - it is a cheese factory after all! Head to the Mullins Cheese retail store to get a taste of their take on the deep-fried favorite - serving them up to order fresh, hot, and gooey. Try them - and some other locally made cheeses for yourself - at this family-owned cheesemaker. 
Address: 204000 County Rd DB, Mosinee, WI 54455
Website: Mullins Cheese
Vote for your Favorites + a Chance to Win!
Top
Get in the action, enter for a chance to win, and vote in head-to-head challenges here. Vote each week for more chances to win the delicious cheese-stuffed prize package.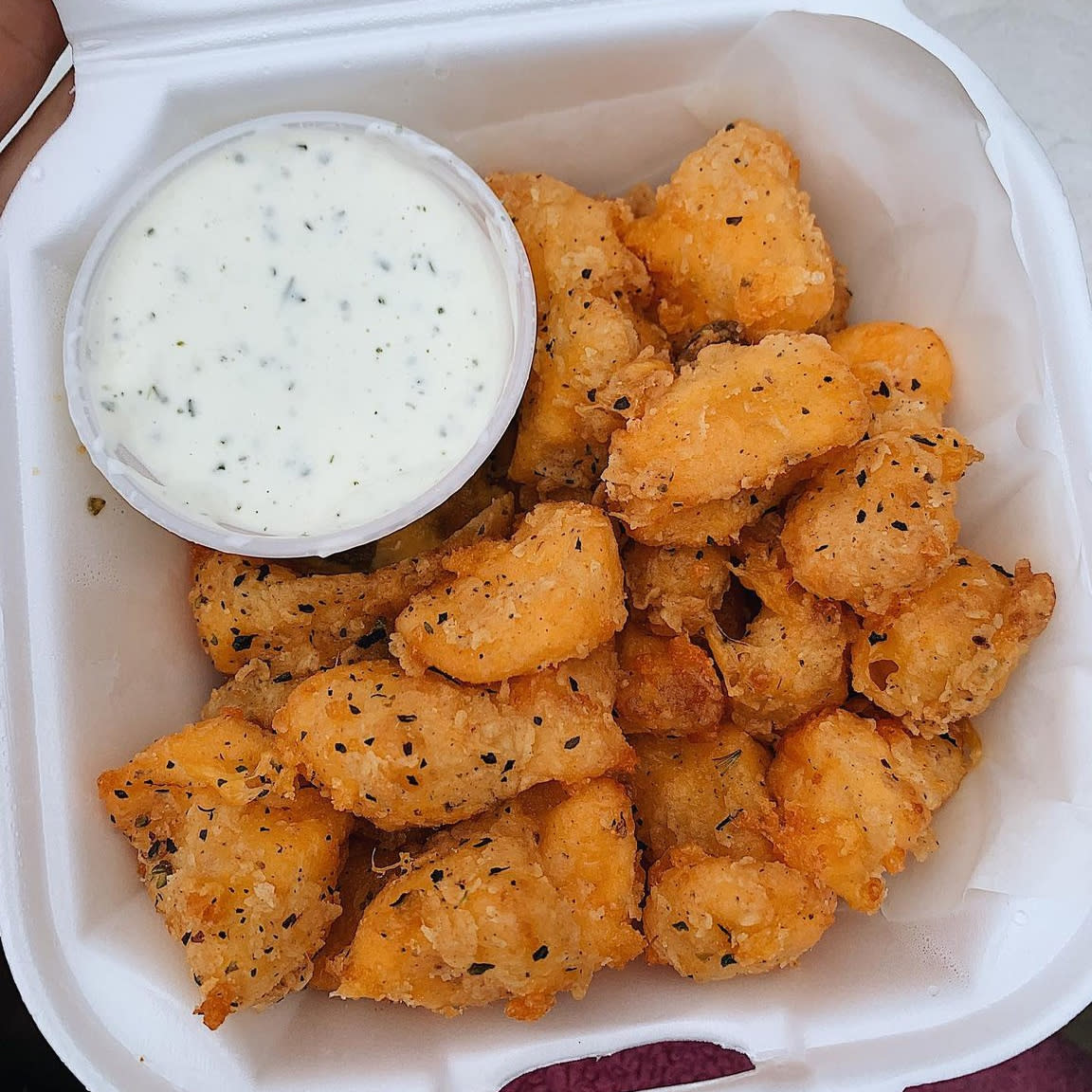 Photo credit: @curdqueen
 
Curd Crown Honorable Mentions
Top
Hundreds of votes were cast to name the top curd spots in the region. While these spots might not have made the top 8, they received nods from many voting in the contest. Check out these honorable mentions that are still worth a stop. 

Amber Grill
Tucked into the Holiday Inn Hotel & Convention Center, you'll find this cozy spot. Offering a full menu, packed with flavorful options - including some curds with serious street cred, the Amber Grill also offers a full bar and a solid menu including pasta, burgers, and a great Friday fish fry. Check out their happy hour and their live music on the patio (seasonally). 

Arbuckles
Cheese is the star at this comfortable and family-friendly spot in the Stevens Point Area. Located in downtown Stevens Point, Arbuckles serves up some highly recommended curds, along with a wide variety of classic American fare. Here you'll also find their popular Italian Fries (mounded with mozzarella) and the Marathon of Beers - aimed at the beer lover. 

Monk's
This casual spot in Plover is a great spot to grab curds in the Stevens Point Area. Monk's is a great place to catch a game with friends or enjoy a casual family dining experience. Order one of Monk's World-Famous half-pound burgers, loaded mac & cheese options, fresh salads, and of course cheese curds!

Kuby's Bar and Grill
Serving up delicious food with a laid-back vibe, Kuby's Bar & Grill is known as a hometown corner tavern. Tucked just behind Skipps Bowling, this spot is known for delicious burgers and curds that deserve a try. If you order up their curds, kick them up with a side of jalapeno ranch!  

Two Lakes Supper Club
Since 1949, Two Lakes in Almond has served up a classic Wisconsin supper club experience. While they may be known for their signature items, like the Drunken Chicken and Shrimp Pizza - the curds have a following of their own. Open from April to October, be sure to try out this menu item - before or after some of their other popular favorites.

Sky Club
Another supper club staple in central Wisconsin - with crowd-pleasing curds is Sky Club Supper Club in Plover. While they may be known as the home to the very first refrigerated salad bar and pour an incredible old-fashioned (with their own mix Shifty's) - don't pass up their curds!  

Partner's Pub
This popular college hang-out is open 365 days a year. Partner's is known for their daily drink specials and events (from Trivia to Volleyball), but don't overlook this spot for cheese curds in the Stevens Point Area. Stop in for a drink and a side of curds - to see where they rank in your personal favorites. (They serve curds daily 10am-close!) 

Graffiti's
Located in the heart of downtown Stevens Point, Graffiti's is a popular pub serving up food and drinks just off of the square. Order up the curds on the menu here, with your choice of seven sauces - to rank them for yourself. 

Bullheads Bar and Grill
Nestled on the Wisconsin River, Bullheads offers classic Wisconsin dishes with a twist. Come by boat (or car) for a flight of cheese curds featuring regular, ranch-seasoned, and Nashville Hot curds. Then stick around for axe throwing and live entertainment!

Jordan Bar
While they may have been voted the top spot for a fish fry in the Stevens Point Area, Jordan Bar and Grill has serious curd cred, too. Serving up some popular staples, in addition to curds - you'll even find Brunch here on Sunday mornings. 

Other Picks: