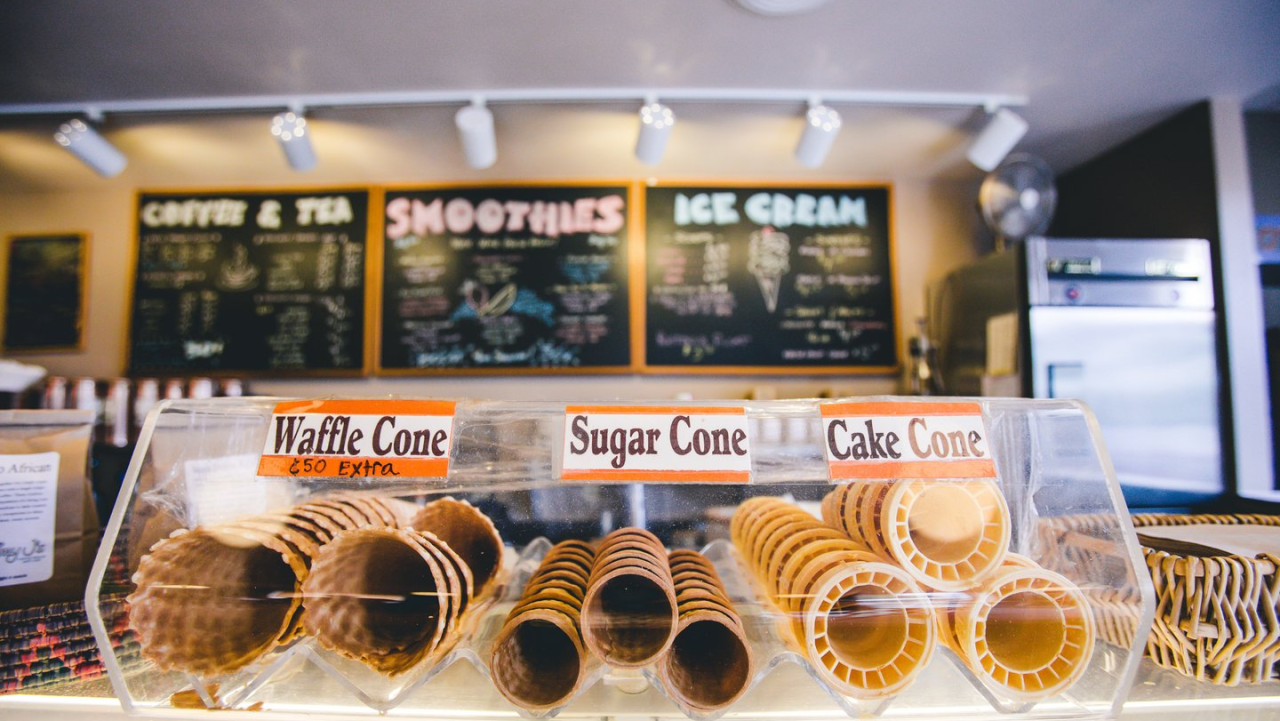 Have the ultimate sweet tooth? Learn more about how to get your sweets fix in the Stevens Point Area, with our insiders guide to the best spots. Dive into tasty spots from ice cream and coffee to baked goods and bites to eat in this blog. Then, plan your visit to try each for yourself!   
Open for the season, from March to October, you'll find plenty of sweet treats at Belt's Soft Serve. Not for the faint of heart, they serve up one of the biggest portions with the large cone on the menu. But, if you are looking for a bit of a smaller portion, with some tasty housemade baked goods, opt for the Brownie Sundae. Or take it up a notch with one of their belt buster options, from turtle to cookie dough.
In Amherst you'll find The Village Hive a small shared bakery and kitchen offering sweet and savory treats. On one side, you'll find the Swarm, serving up fresh meal options. On the other, you'll find this buzzing community kitchen space, serving up a giant variety of options - where you can order everything from beautiful (and edible) vegan roasted vegetable sourdough bouquets to local farm goods. For the sweet tooths, check out the cranberry orange walnut scones or the classic peanut butter cookies.
Insiders Tip: Just across the street, you'll find The Landmark. While they are a great coffee shop and restaurant, don't miss their brownie truffle cake or lemon bars. 
With different types of sweets available depending on the day of the week, Main Grain Bakery is the perfect place to indulge a sweet tooth. Each week brings something new, and new items are always being added. Check out their newest addition, salted caramel nut bars or the boozy Coffee Liquor Mousse Brownies (featuring Ruby and Great Northern Distilling). 
4. Ruby Coffee Roasters
Ruby offers two locations, including a cafe in downtown Stevens Point that serves up plenty of sweets and delicious coffee. From their sweet or buckwheat crepes to espressos and coffee, Ruby has sweets that any lover will want to indulge themselves in. Our favorite is the housemade nutella, banana, and walnut crepe!
Insiders Tip: If you just can't get enough of their coffee, plan a stop at their tasting room in Nelsonville that is open on the weekends.
Stop in at King Cone and choose from more than 40 rotating flavors of ice cream for your sweet tooth. Try a single dish, cone, shake, sundae, or if you want a little taste of your all of your favorites try the sampler tray! With many options from the salty caramel truffle or lemon pie to pirates booty or butter pecan kruncher, find your favorite or try ours!
Insiders Tip: 16 different flavors of local King Cone ice cream are served at Feltz's Dairy Store year-round. Try an exclusive flavor to Feltz's is the Feltz's Cow Pie!
A family-friendly environment that offers a wide range of coffee and other tasty treats like a fresh fruit smoothie and hard-scooped ice cream is at Emy J's.  Or, enjoy their cafe where you can enjoy breakfast specials where you can enjoy a sweet bite to eat such as the Spunky Monkey. Two pancakes topped with bananas, granola, and topped off with local maple syrup and almond butter!
In Plover, Mission Coffee House is a community-driven coffee shop filled with many sweet treats. From smoothies and coffee to iced teas and ice cream. They have 12 flavors of ice cream for all cravings! Be sure to check out the Nitro cold brew or a local favorite -- Mocha Frappe!
Next to the campus of UW Stevens Point is Zest Bakery! Cookies, cakes, and pastries fill Zest with sweets perfect for any craving. With a theme that changes every so often is a menu filled with featured treats to match. Don't miss out on the cookie sticks for dipping in tasty lattes! 
9. Heavens to Betsy
Try a sundae, ice cream cone, or a malted that features premium Gilles frozen custard at the small, family-owned ice cream parlor Heavens to Betsy. In addition to their delicious ice cream and custard flavors, they partner with other local companies to create creative, mouth-watering bites like their ice cream sandwich that uses cookies from Earthcrust Bakery! 
Want More?
For more sweet treats in the Stevens Point Area, check out the Insider's Guide: Ice Cream and more restaurants here. Be sure to find your inspiration at local stops and share your favorites by using #stevenspointarea on Instagram!