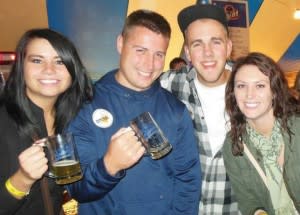 Mark your calendars for these great fall events in the Stevens Point area during the weekend of Sept. 20-21!
 45th Annual Art in the Park 10 am-4 pm Saturday, Sept. 20 Pfiffner Pioneer Park
Visit arts and crafts vendors and enjoy children's activities and more fun for the whole family at Art in the Park. This family-friendly event, sponsored by the Children's Art Program and the Stevens Point Parks Department, has no admission charge.
 
14th Annual Woodcarving Show 9 am-5 pm Saturday, Sept. 20, 9 am-4 pm Sunday, Sept. 21 Holiday Inn Hotel & Convention Center
For more art, check out the Wisconsin River Woodcarving Show, which is the largest in Wisconsin. This event features more than 100 artists, and this year's show will highlight the works of carver Ron O'Kray. Demonstrations will be offered on both days, and admission is only $3 per person (children 12 and under are free).
 
3rd Annual Pointoberfest 4-8 pm Saturday, Sept. 20 Stevens Point Brewery
Then, head to the Stevens Point Brewery for Pointoberfest, an annual celebration of great beer, German food, and live music. You'll find samples of all Point craft beers and Ciderboys hard ciders and a souvenir mug. Tickets are $20 in advance and $25 at the door. Advance tickets can be purchased online. Proceeds from the event benefit Pints for Prostates.
 
11th Annual Dozynki Harvest Festival Noon-8 pm Saturday, Sept. 20 Noon-6 pm Sunday, Sept. 21 Moose Family Center
 
Finish the day with Dozynki Harvest Festival, complete with polka and Polish food. Dance the polka (competitively or just for fun), snack on a ponczka, and enjoy Polish food and craft beer. Plus, hear live music from Cynor Classics and Norm Dombrowski's Happy Notes on Saturday and Keith Stras and Polka Confetti and Benji's Polka Pak on Sunday.
 
Want more fall events? Check out the full events calendar here.