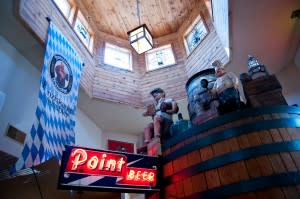 After a day of strolling through local art galleries or engaging in adventure-packed activities on Portage County trails, grab a bite to eat. These restaurants pack a flavorful punch while incorporating unique, local flavors!
 
This family-owned and operated pub and grill is known for its famous Italian fries and the Marathon of Beers. Featuring nearly 30 Wisconsin brews, the Marathon of Beers is a crafty way to sample the best brews that Wisconsin has to offer. Located in a historic building in downtown Stevens Point, Arbuckles Eatery & Pub is an appropriate food stop to quench your thirst while fulfilling your pub-food cravings. While in the area, don't forget to check out the historic murals peppered throughout the downtown district.
 
Looking for authentic Italian flavor without breaking the bank? Grazies Italian Grill is an affordable way to eat fresh, made-from-scratch Italian-inspired dishes. While there, don't forget to try their signature dipping oil alongside a savory pasta dish. Or indulge in a fresh-from-scratch pizza with dough made with honey and beer.
 
#3 – Hilltop Pub & Grill
Enjoy a casual atmosphere mixed with good food, spirits, and Wisconsin beer. Walk through a historic beer vat from the Stevens Point Brewery to enjoy local favorites. Try a char-grilled burger with a bottle of Point Root Beer. Or order Hilltop's famous Wisconsin fish fry and pair it with a regional brew on tap. Looking for a place to stay overnight after a day of appreciating the arts in Portage County? Hilltop Pub & Grill is within walking distance of multiple lodging options.
 
#4 – PJ's Restaurant
PJ's Restaurant in SentryWorld offers an inviting, comfortable place to gather while enjoying delicious dishes. PJ's menu features the best of Wisconsin comfort foods (think mac-n-cheese, grilled cheese sandwiches, warm apple pie, and more) but adds a unique twist to popular classics. Pair your dish with an Old Fashioned or local brew on tap for the ultimate foodie experience.
 
Nestled on the banks of the scenic Wisconsin River, Rusty's Backwater Saloon is known for perfecting the art of a tasty bloody mary. They feature classic Wisconsin bar food in a relaxed atmosphere, which makes customers feel right at home. During the warmer months, Rusty's also offers canoe and pontoon boat rentals.
--Megan Larsen