In a community where the visual, performing and brewing arts are practiced with mastery, it's not surprising that the culinary arts are also alive and well. The excellence of the restaurants in the Stevens Point area is surprising.
Enjoy fine dining at the creatively named @1800, a restaurant featuring extraordinary cuisine as well as artwork by Picasso and Chagall. The wooded views and elegant setting complement the food perfectly.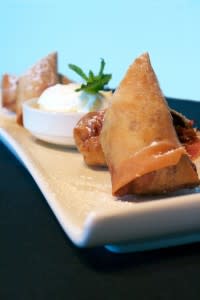 Christian's Bistro presents the culinary creations of chef Christian Czerwonka and includes fish flown in daily. Czerwonka also has a commitment to buying local ingredients. Everything at this restaurant is fresh.
Father Fats Public House serves up small-plate creations and sensational cocktails. The plates are designed to be shared and the atmosphere invites conversation.
And, Michele's offers succulent steaks and creative cocktails. The restaurant has been serving up great food and drinks for more than 30 years.
Next time you're in the Stevens Point area appreciating the outdoor sculpture, art galleries, live music and dance performances, check out what's happening in the culinary arts – you won't be disappointed.