Enjoy the beauty of the outdoors while helping protect the environment with a green getaway to the Stevens Point Area. Relax and have fun while experiencing natural artistry, outdoor adventure, and environmental education.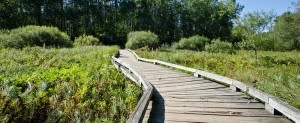 Where to Stay: Try the Artha Sustainable Living Center in Amherst, one of the highest-ranked Travel Green Wisconsin businesses in the state.
 
Morning: For the best place to explore locally grown foods, start your day at The Market on Strongs (an indoor farmers' market) located in historic downtown Stevens Point. Or take a tour of Central Rivers Farmshed to get an inside glimpse into sustainability and the best ways to eat locally.
 
Break: Visit Iverson Park and take a stroll on the nature trails. Take in the park's winged wonders – more than 200 species of birds call this park home.
 
Lunch: Grab a bite to eat at Hilltop Pub & Grill, located just blocks away from Iverson Park. See how a recycled Stevens Point Brewery beer vat has been transformed while chowing down on a char-grilled burger or famous Wisconsin fish fry.
 
Afternoon: Check out the Midwest Renewable Energy Association to see 20 demonstration systems including solar electric, solar thermal, wind, and alternative construction.  Then head to the Schmeeckle Reserve Visitor Center. Catch a glimpse into the history of sustainable practices in the area at the Wisconsin Conservation Hall of Fame. Or visit the Museum of Natural History on the UW-Stevens Point campus to learn about geology, anthropology, and more.
 
Evening: Travel to Central Waters Brewing Company in Amherst, open Friday and Saturday evenings. Learn about the art of brewing with a tour of Wisconsin's first green-powered brewery.
 
Extras: Look for Shine On, made with Wisconsin-grown, organic barley before visiting O'so Brewing Company's Tap Room for more Wisconsin flavor.
 
Dinner: Sample the carefully crafted daily special at Christian's Bistro near O'so Brewing Company in Plover or eat at Father Fats for upscale food with an artsy culinary twist.
 
Unwind: Watch a live performance by the Central Wisconsin Symphony Orchestra at the @1800 Theater, take an evening walk through the Stevens Point Sculpture Park, or relax with a glass of wine from Sunset Point Winery in downtown Stevens Point.
--Megan Larsen