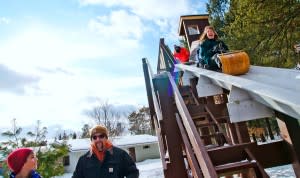 Winter in the Stevens Point Area means abundant opportunities for skiing, snowmobiling, snowshoeing, and more. Or is sledding, tobogganing, skating, or ice fishing more your style? Whatever you're interested in, we've got you covered. This itinerary includes a list of winter adventures along with prime seasonal spots to explore.
 
Here's the breakdown:
Iverson Park
Sled, toboggan, cross-country ski, ice skate, snowshoe, or hike for hours of family fun. Stop in their warming house for a cup of hot cocoa.
 
Stevens Point Sculpture Park
Snow-dusted art installations are dotted throughout a walking path covering 20 acres of natural beauty. Added bonus? The sculpture park trail connects to more than 26 miles of additional trails.
 
Standing Rocks County Park
Want an added challenge? Standing Rocks is the local hotspot for advanced-level downhill skiing. A trail pass is required for all users, available at the trailhead.
 
Schmeeckle Reserve
Looking for a rugged experience? Trails within this 280-acre nature reserve are not groomed during the winter months.
 
Ice Age Trail
We recommend snowshoeing the Skunk or Foster Lake segments. Also, check out the Hartman Creek segment.
 
Green Circle Trail
Features 12 distinct segments that comprise 26 miles of trails circling the Stevens Point area. Here's something worth celebrating: 2016 marks the 20th anniversary of the Green Circle Trail!
 
Tomorrow River State Trail
Spans 24 miles between Plover and Manawa. A trail pass is required, available at the trailhead or the Portage County Parks Department.
 
Ice fishing
Hotspots include Lake Helen, Sunset Lake, Mc Dill Pond, Lake DuBay, and Lake Emily. Proceed with caution and use discretion when going out on ice as conditions vary.
 
Ice skating
Play an impromptu hockey game or perfect your triple lutz. Outdoor rinks typically operate from mid-December through the end of February, depending on accumulated snowfall and weather conditions.
 
Horse-drawn sleigh ride
Stop by Wild West Campground and Corral in Amherst for a seasonal ride through freshly fallen snow.
 
Winter equipment rentals
Are you itching to try these winter adventures but are left wondering where to get the necessary gear? Equipment rentals are available at Nature Treks, Standing Rocks County Park, and Iverson Park.
 
Snowmobiling
Take advantage of over 300 miles of snowmobiling trails in Almond, Rosholt, Junction City, Amherst, Nelsonville, Amherst Junction, Dewey Marsh, and Jordan Park.
 
Indoor fun
Escape the cold outside with a family-friendly excursion. We recommend the Central Wisconsin Children's Museum, the Museum of Natural History at UW-Stevens Point or the Wisconsin Conservation Hall of Fame (located in the Schmeeckle Reserve Visitor Center).
 
Craft Collective tours
Schedule tastings at local breweries, wineries, or distilleries to warm yourself up from the inside out. Central Waters Brewing Company, Fresar Winery, Great Northern Distilling, Kozy Yak Brewery, O'so Brewing Company, Stevens Point Brewery, and Sunset Point Winery make up the Central Wisconsin Craft Collective. Please drink responsibly and arrange alternative transportation if necessary.
 
Celebrate the arts
Celebrate the abundance of artistic talent in the Stevens Point area. Catch a live performance, walk through local galleries, enjoy culinary creations, and more.
 
Rest and relax
Sit back and relax! The Stevens Point Area offers a wide variety of lodging options, whether you're looking for a quaint bed & breakfast, a luxurious suite, a hotel with a pool, or a secluded cottage.
-Megan Larsen