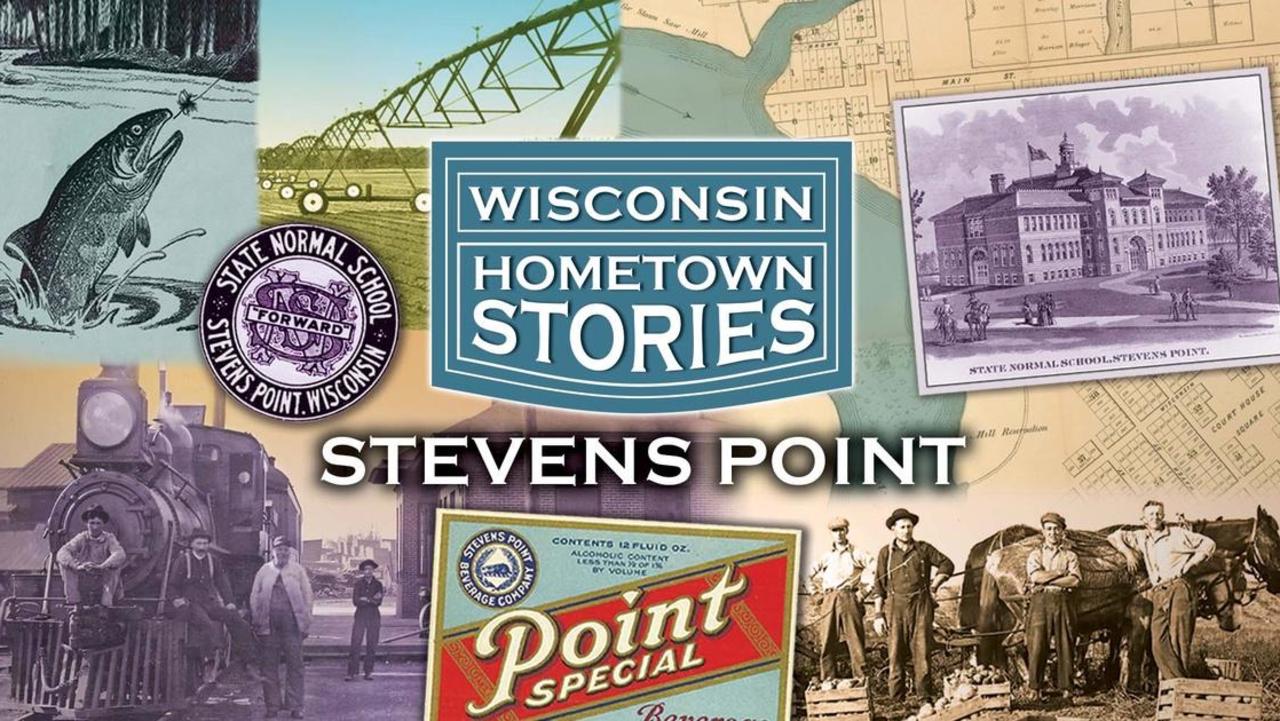 Sit back and discover Steven Point's rich history in this episode of Wisconsin Hometown Stories, brought to you by the Wisconsin Historical Society and PBS Wisconsin. The story of this river city at the heart of Wisconsin contains many unique chapters, from the earliest Native American inhabitants to the development of the area's most prominent businesses. Learn about the people, events, and unique geography that made the city what it is today.
Ready to dive in? Here's a look at some hometown story highlights you won't want to miss and more ways to appreciate Stevens Point's rich history. 
The Menominee and Tension Zone
When the Menominee people inhabited central Wisconsin they referred to the area as the tension zone because it was the middle of two ecological regions that provided essential resources. Explore Stevens Point's earliest history in this hometown stories segment.
Want more Native American history? Check out the Menominee Clans Story sponsored by UW-Stevens Point. 
Lumber Industry and George Stevens
Today the Wisconsin River is a popular place for leisure activities such as fishing and paddling, but for lumbermen like George Stevens, the river served as a way to transport the abundance of white pine in central Wisconsin. Explore the later years of Stevens Point's early history, deemed for the booming lumber industry, in this hometown stories segment.
FUN FACT: Stevens Point is named after the point on the Wisconsin River where George Stevens stored materials for the mill he was building. 
Want a closer look into river history? Rivermen, a mural located in Downtown Stevens Point, illustrates the early logging days on the Wisconsin River. Check out more murals depicting the area's history. 
Polish Heritage
In the 1800s, affordable farmland and availability of jobs brought many Polish immigrants to the area, which soon became the home to the largest per capita population of Polish Americans in the country. What did they bring with them? Potato farming, Catholicism, and polka, of course! Discover Polish roots in the Stevens Point Area by checking out this hometown stories segment. 
Want more polish history? Learn about Polish Heritage by exploring the Polish Heritage Trail. 
Point Brewery
As Europeans continued to stream into the region, they brought their traditions and tastes. For Frank Wahle and George Rudar, this taste inspired new recipes for beer. In this hometown stories segment, discover how Stevens Point Brewery survived Prohibition, local competition, and consolidation in the market to become one of the country's oldest breweries.
FUN FACT: Mike Royko, a Chicago writer, did a blind taste test of American beers in 1973. He named Point Beer the #1 beer in the U.S. and #2 in the world!
Want more Point Beer history? Tour Point Brewery or check out the Point Brewery History Tour by Portage County Historical Society.
Paper Making, Insurance, and Education
With people came new ideas, and with access to river power and the Wisconsin Central Railroad, these ideas developed into new industries in the region. In this hometown stories segment, discover how furniture factories, book publishing companies, higher education, and the insurance industry shaped Stevens Point's growing economy.  
FUN FACT: The UW-Stevens Point campus got its start as a State Normal School, a place to train teachers for the growing population. 
Fly Fishing and Fly Tying Industry
Stevens Point became known as the Fly Tackle Capital of the World thanks to Carrie Frost, an expert fly-fisher and founder of C.J. Frost Fishing Tackle Manufacturing Company. In this hometown stories segment, learn how this women-pioneer revolutionized an outdoor niche in the Northwoods. Then discover more about the fly fishing boss in this Wisconsin Biography by PBS Wisconsin Education. 
Enjoy fly fishing or want to try it? Check out what Fall Line Outfitters Co. has in store, from apparel and gear to guided trips and classes. Great Northern Fly Fishing also has fly fishing guide services.
Central Sands Region and the Irrigation Revolution 
Stevens Point is part of the Central Sands Region, an area known for its infertile soils consisting of rock, sand, and boulders. While this landscape was perfect for potato growing, it created challenges when drought led to a decrease in potato yields. Farmers had to get creative. With the development of irrigation systems and the discovery of a large aquifer, agriculture in the region changed forever. In this hometown stories segment, discover how the region became one of the largest vegetable producers in the country.
FUN FACT: Students enjoyed a potato vacation. Schools took two weeks off during potato harvest so children could help in the fields. 
Love locally grown food? Shop from a variety of locally grown produce at the Stevens Point Farmers Market. 
Green Circle Trail and Schmeeckle Reserve
Ever wonder where Stevens Point parks got their names? In this hometown stories segment, discover who contributed to the development of Stevens Point's most popular parks and natural areas, including Iverson Park and Schmeeckle Reserve. Then learn how Bukolt Park, the Green Circle Trail, and Stevens Point Sculpture Park grew to connect people to nature and art over the years. 
FUN FACT: The University of Wisconsin-Stevens Point created the first conservation major in 1946. Today it's the 3rd largest natural resources program in the United States. 
Looking for more outdoor recreation opportunities? Discover endless things to do outdoors in the Stevens Point Area.
WANT MORE?
Keep exploring Stevens Point Area landmarks and local history. Find a unique collection of murals and endless outdoor recreation opportunities in the Stevens Point Area.  Then, share the fun of your next adventure by including @stevenspointarea on Instagram or use #stevenspointarea!