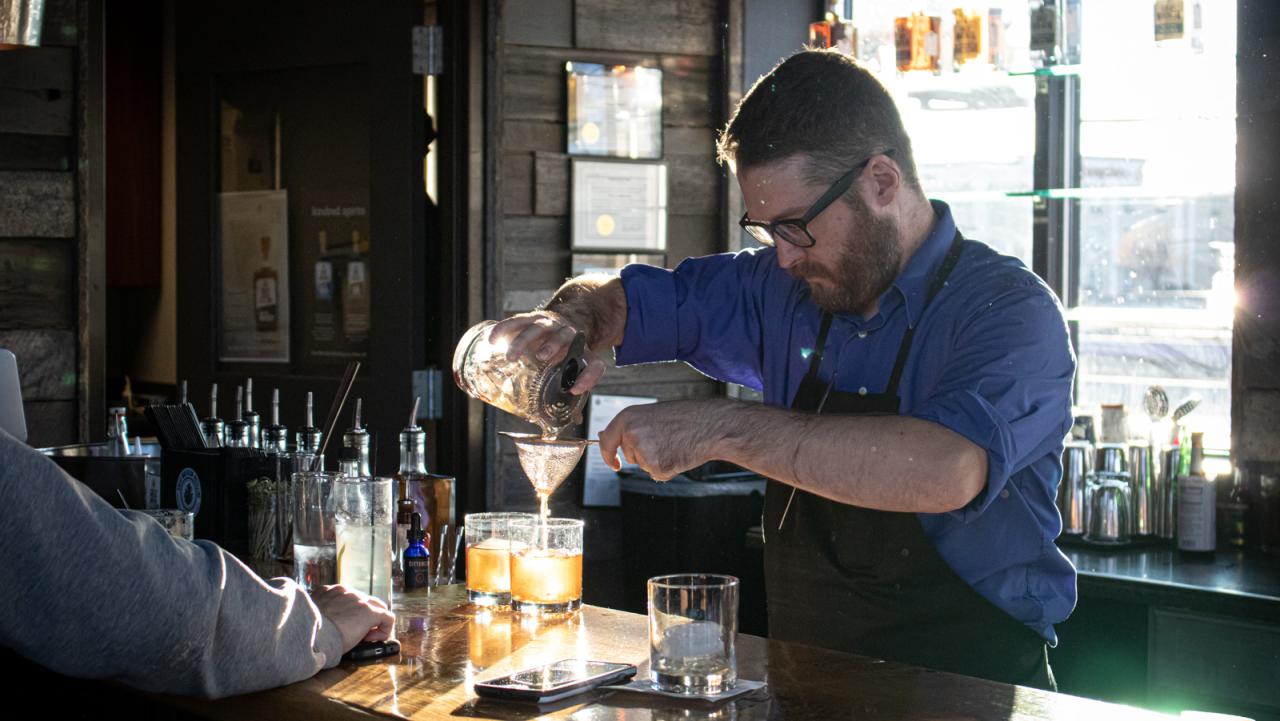 Stay warm this winter with the Central Wisconsin Craft Collective. Grab a seat at a brewery or in a winery (whichever you prefer) and sip on a seasonal drink. From a sweet cran grape glass of wine at Sunset Point Winery to a Point Bock Run-inspired beer at the Stevens Point Brewery, you can be sure to find the perfect taste for a winter sip. 

Header photo from @aleadventuresmn at Great Northern Distilling. Editors note: While you can't currently sit their mixology bar, watch for future updates on their new space!   
Central Waters Brewing Co.
This drink's name says it all - "Pretty Fly for a Maple Rye". The imperial stout balances the spicy characteristics of malted rye with a touch of sweetness from brown sugar and real Wisconsin maple syrup. Central Waters is brewed in Amherst, known for being environmentally sustainable, and has a taproom just for tastings! 
Stevens Point Brewery
Just can't wait for the Point Bock Run? Now you don't have to by grabbing a Point Bock Beer this season. With toasty malt sweetness, full-bodied flavor, and a rich roasted aroma, you're gonna want to grab this drink while you can! Stop in the Point Brewery for a tour and tasting or check out their Point Patio when the weather warms up. 
Sunset Point Winery
For a sweeter taste, grab a glass of the Blackberry Midnight wine at Sunset Point Winery. Take a seat in the swinging chairs in the tasting room and sip on a tasty glass that is merlot infused with blackberries that produce an easy-drinking sweet red wine. 
O'so Brewing Co.
Try one of the latest releases from O'so Brewing - the Narcissist. They offer two options, one being aged in bourbon the other in rye whiskey. Don't wait to try these great drinks, head over to their expansive taproom and pair one an O'so beer with live music, comedy, trivia, and other fun events.
McZ's Brewpub
Made for the winter season, take a sip from a Brown 25 North from McZ's Brewpub. The drink is a delicious brown ale with a sweet blend of rich malts and hops. Surround yourself with the warm ambiance at McZ's and don't forget to try one of their mouthwatering pizzas!
District 1 Brewing
Recently celebrating their 2nd anniversary, District 1 released a handful of new brews! Try any one of them from the Pitmaster Porter - a full-bodied porter with cherrywood smoked malt - to the Citra Razz Down - a  delicious IPA with raspberry, vanilla, and lactose.