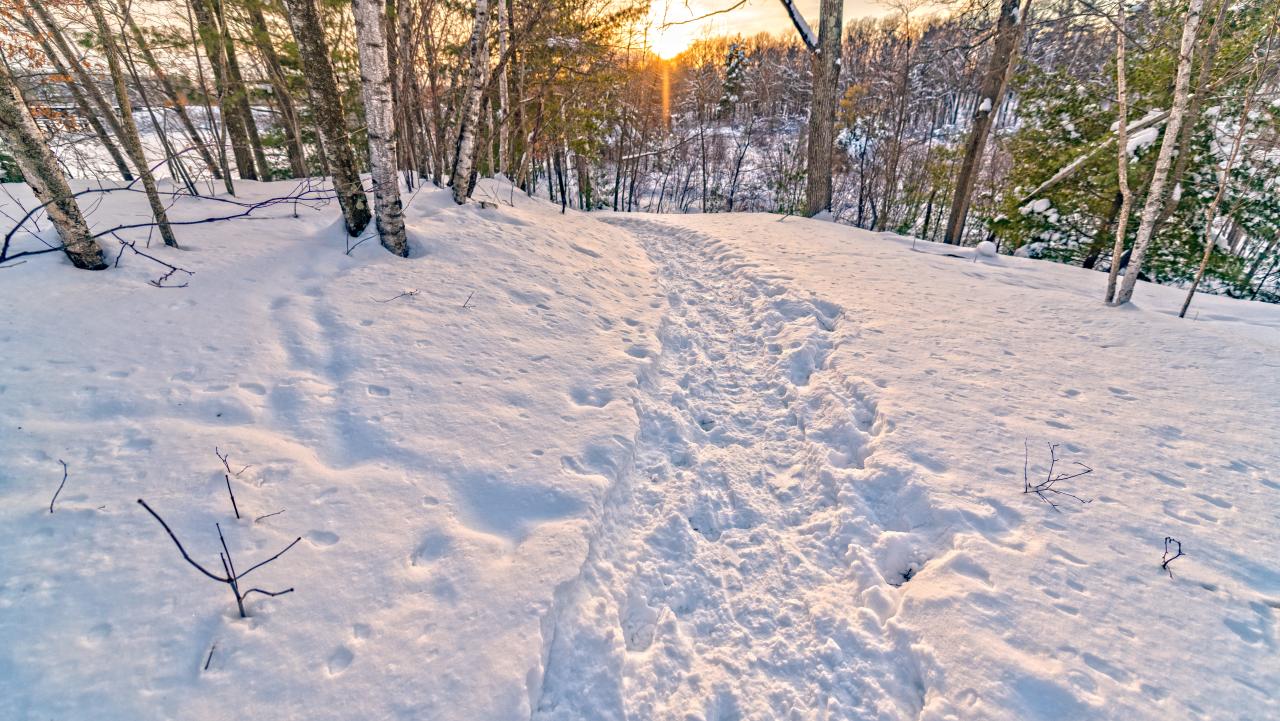 Looking for a scenic spot to snowshoe in the Stevens Point Area? Check out the top snowshoe areas and trails in the region, with our guide to snowshoeing in central Wisconsin. Then grab your snowshoes, and get ready for a day of unbelievable winter views and plenty of fun. 

Header photo by Daniel Acker Photography
 
GEORGE W. MEAD WILDLIFE AREA
The George W. Mead Wildlife Area, the largest wildlife area in Wisconsin, is home to 80 miles of hiking trails which in the winter turn into undesignated snowshoe trails on the 33,000-acre property. One stand-out snowshoe trail worth exploring is The Ephemeral Trail and Boardwalk. It's a 2-mile trail interpretive trail where you can explore a variety of habitats, transitioning from wetlands, grasslands, and forest.
Distance: 

All of the Mead: up to 80 miles
The Ephemeral Trail and Boardwalk: 2 miles

Parking: There are many different parking areas depending on where you're exploring, pick the best fit, with the map, noting parking areas. 
Difficulty: Easy-Moderate
Photo credit: @jessicapressica  
GREEN CIRCLE TRAIL
Snowshoeing is allowed on most segments of the Green Circle Trail except the Plover River and Iverson Park Trail as they are designated cross country ski trails in the winter. This popular trail offers nearly 20 miles of trails that are open to snowshoeing in the winter. The best part? The Green Circle connects to additional trails worth exploring, offering shorts loops for beginners and longer strides for those looking for hours of snowshoeing. 
Distance: 18.3 miles
Parking: There are multiple different access/parking areas, depends on what segment you're exploring.  Pick the best fit, with the map, noting parking areas.
Difficulty: Easy-Moderate
Explore the connection between the Green Circle Trail and the half mile Sculpture Park Trail. The 20-acre park is a great spot to snowshoe in the winter with stunning views of artwork. Pair the trail with the Brickyard trail segment of the Green Circle for a great 1 mile beginner loop. 
Photo credit: @today.on.the.tomorrow  
ICE AGE TRAIL
There are three different segments along the Ice Age Trail that display the incredible glacier-made landscapes. The trails vary in length as the shortest trail is 2.5 miles, another trail is 5 miles long and the longest trail is 7.6 miles. 
The Skunk and Foster Lake Segment
The Skunk and Foster Lake Segment is 2.5 miles long. The trail is moderately difficult to snowshoe as there are many hills, but the trail is well defined, easy to follow and gives unremarkable views of the forest and lakes. 
Distance: 2.5 miles
Parking: From Stevens Point take Hwy 10 East approximately 18 miles, Turn on Foley Dr, two miles to parking lot on west side of road. If lot is not plowed out, park along the road.
Difficulty: Intermediate-Expert
Emmons Creek & Hartman Creek Segment
If you're an avid snowshoer and you're looking to add some miles under your belt, try the combined 8.2 miles of the Belmont, Emmons-Hartman Creek trails. It is a scenic, rustic, moderately easy hike with some hills. 
Distance: 8.2 combined miles
Parking: From Stevens Point, take I-39 South to Highway 54 West. Then south on County D, which becomes Stratton Lake Road, parking will be on the right.
Difficulty: Moderate 
New Hope-Iola Ski Hill Segment
Looking for a peaceful, serene place to snowshoe? Then the 5.6 miles of trails on the New Hope segment is the perfect place as it is home to one of the largest and least disturbed northern dry-mesic forests remaining in Central Wisconsin. 
Distance: 5.6 miles
Parking: From the intersection of State Highway 66 and County Highway A just east of Rosholt, go south on A 1.5 miles, then east and south on County Highway T 1.3 miles, then south on Sunset Lake Road 1.5 miles to a parking area off of the road.
Difficulty: Easy-Moderate
Photo credit: Bob Mosier  
LAKE EMILY COUNTY PARK
Located at the 143-acre Lake Emily County Park, is a 1.5-mile trail through a wooded area of the park, which is great for snowshoeing. Depending on where you choose to park, keep the hike a mile and a half or add some miles and double it making the trip around 3 miles. The park is popular all year long known for camping and its proximity to the Tomorrow River State Trail, just south of the park. 
Distance: 1.5 miles (3 miles round trip)
Parking: One of the easiest spots to park for snowshoeing is by taking Lake Emily Rd and turning onto Lake Drive into the park. Find the best parking options with the map.
Difficulty: Easy
Note: The roads are not plowed during the winter so be prepared to put it in four wheel drive! 
NELSONVILLE COMMUNITY SANCTUARY
Just east of Stevens Point, along the beautiful Tomorrow River, you'll find the community of Nelsonville. Snowshoeing can be done in the 33-acre Nelsonville Sanctuary which offers a 0.75 mile trail. This spot is highly wooded which makes for incredible scenic winter views. 
Distance: 0.75 miles
Parking: Available along the road on Cty Hwy SS, near the entrance. 
Difficulty: Easy
Photo credit: @dja0309  
SCHMEECKLE RESERVE
With 5 miles of combined, ungroomed snowshoe and ski trails, the Schmeeckle Reserve is the perfect place for a morning or afternoon walk. Walk around, or across (when conditions exist), Lake Joanis or explore boardwalks through the woods, and be sure to be on the lookout for all the different wildlife in the area. You'll also find the Menzel Pavillion, and a year-round restroom facility, as part of the Trailhead project for the Green Circle Trail, near the parking area off of North Point Drive. 
Distance: 5 miles
Parking: Free parking available at the visitors center off of North Point Drive and along Maria Drive by the lake. 
Difficulty: Easy-Moderate
STANDING ROCKS COUNTY PARK
Near the Behnke Olson Outdoor Recreation Center (BOORC) at Standing Rocks County Park, you'll be able to access two options for snowshoeing, offering a 1 mile marked and a 2 mile marked snowshoe trail. Never been to the park before? Standing Rocks is a picturesque park offering plenty of hills, formed from the glacial remnants that formed the land here. All year long, this popular park is well-used, and in addition to snowshoeing, in the winter you'll find cross-country ski and fat tire biking trails. Learn more about available rentals (including snowshoes and skis) and trail fees to use the facility, before heading out.
Distance: 1 or 2 miles
Parking: Available off of Standing Rocks Road.
Difficulty: Easy-Moderate
Photo credit: @grawendels  
STATE NATURAL AREAS
There are 11 different state natural areas within Portage County and each has plenty of enough space for snowshoeing. While there are no designated trails, you can pave your own path and enjoy the picturesque views of any state natural area. Find one that best suits what you're looking for here. Distance, parking, and difficulty vary on which area you choose. 
STEINHAUGEN RECREATION AREA
Located in northeast Portage County, the Steinhaugen Recreation Area has 1.5 miles of unmarked snowshoe trails. The trail is nestled deep in the woods which allows for a peaceful trip with breathtaking winter landscape views. Just be sure to grab a map before you go! 
Distance: 1.5 miles
Parking: Available off of Bentley Road
Difficulty: Moderate
MAP OF SNOWSHOE AREAS
Here's a handy tool to help you find all of the best spots to snowshoe in the Stevens Point Area.
SNOWSHOE RENTALS
Don't have your own snowshoes? No problem. In the Stevens Point Area, you'll find multiple spots that rent snowshoes. Below is a list of outfitters that offer rentals of snowshoes in the winter (some of which serve up other options for outdoor gear all year long.). Click on the links to check out prices, book rentals, or contact them for more information.