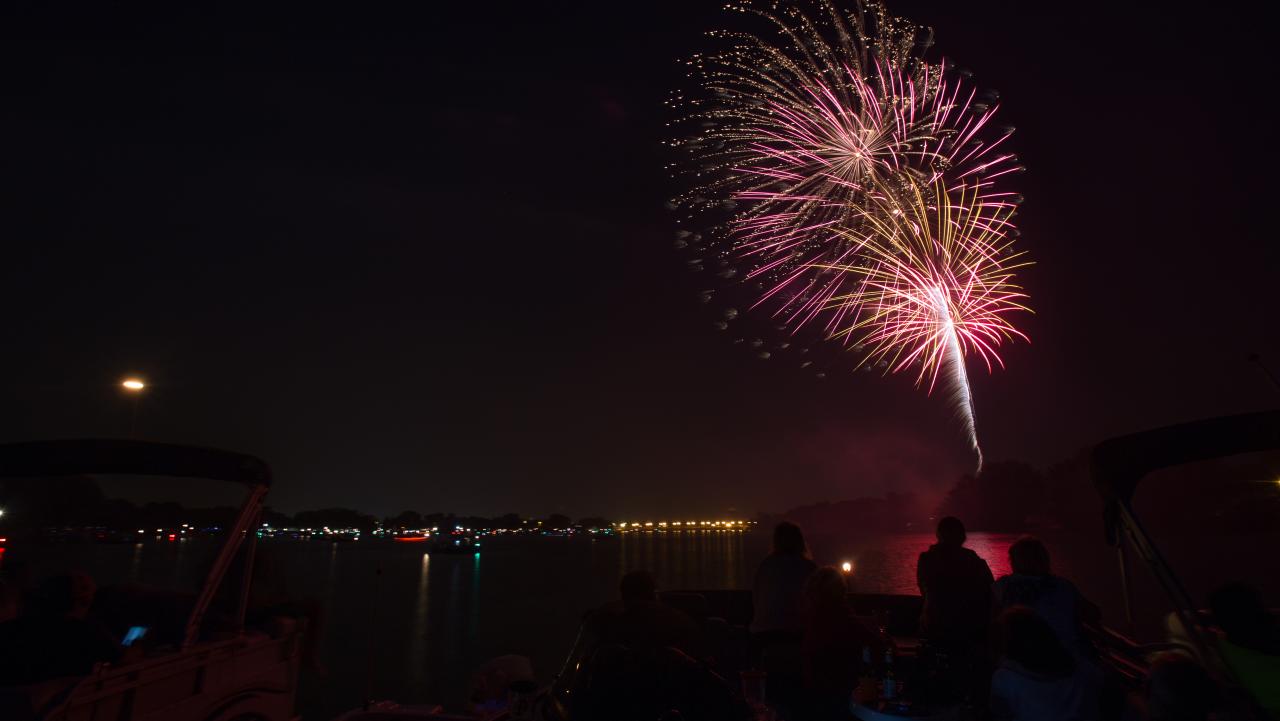 Looking for fireworks in central Wisconsin this year? While Riverfront Rendezvous in Stevens Point and Celebrate Plover may be canceled for 2020, it doesn't mean you can't take in fireworks in central Wisconsin this summer. Check out our list of spots offering them, to find the perfect place to enjoy a show!
Amherst 
Amherst will hold their annual 4th of July celebrations at the Amherst Fairgrounds starting at 11 am with the Lion's Chicken Dinner. For 2020, they will be offering drive-through service only. At dusk, head back to the fairgrounds to watch the fireworks show. Those attending the fireworks are being asked to stay in their car to enjoy the show. 
When: Saturday, July 4, 2020
Where: Amherst Fairgrounds, 4504 Fairground Rd., Amherst
Learn more.

Lake DuBay
You can kick off the weekend with a fireworks show at Bullheads Bar & Grill! Fireworks are lit from across the river. Head out early for live music, and a fish fry before the show! 
When: Friday, July 3, 2020
Where: Bullheads Bar & Grill, 3368 Campsite Dr., Stevens Point
Learn more.
To find more live music and fireworks, check out Tiki Beach Bar & Grill's Fourth of July Party, featuring Rising Phoenix. Anyone under the age of 21 must be accompanied by an adult. 
When: Saturday, July 4, 2020
Where: Tiki Beach Bar & Grill, 1117 County Hwy DB, Mosinee
Learn more.
Rosholt
Rosholt will be hosting fireworks, as part of their Independence Day Celebrations at Rosholt Fair Park. Thanks to the generous donation of additional space from Specialty Potatoes, the fields just east of the park will allow for additional viewing space following distancing protocols. More than 500 20' x 25' tailgate spaces will be available asking $10/car on a first-come, first-served basis. (Gates open at 6pm.) Simply, park your car and put out your lawn chairs - and enjoy the show! (Before the fireworks, you'll find carnival games, traditional fair food for purchase, and a softball game (entrance donation suggested $5/family).   
When: Saturday, July 4, 2020 (Rain date: Sunday, July 5) Where: Rosholt Fair Park, 186 W Forest St., Rosholt Learn more.
Marshfield
In Marshfield, you'll catch a fireworks show from Marshfield Fairgrounds Park. The public is invited to view the display from their car, or the grassy areas (while social distancing). No grandstand seating, refreshments, or restrooms will be available. 
When: Saturday, July 4, 2020 Where: Marshfield Fairgrounds Park, 513 E. 17th St., Marshfield Learn more.
Mosinee
Mosinee will be hosting their annual July 4th Festival & Parade, following guidance from the Marathon County Health Department. The events include the Firecracker 5k Run/Walk at 9 am, food trucks, beverage vendors, kids activities, horseshoe tournament, parade, and fireworks. The fireworks kick off at dusk and are lit off from just west of River Park. For those looking for more space to watch the show, there is parking near the football field at the High School where the show will also be visible.
When: Saturday, July 4, 2020
Where: River Park, 1070 Armory Rd, Mosinee
Learn more.
Wisconsin Rapids
Wisconsin Rapids has postponed their Fourth of July fireworks until Labor Day. 
When: Saturday, September 5, 2020
Where: Downtown Wisconsin Rapids