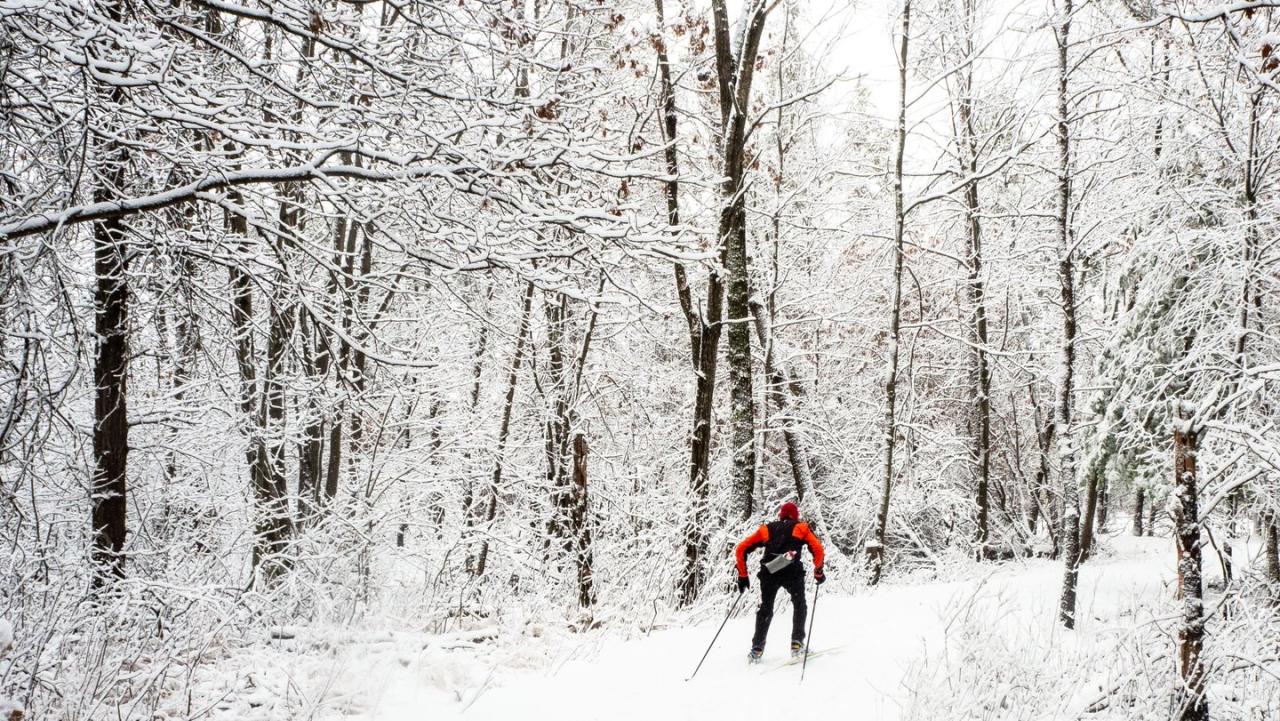 Looking for a new spot to cross-country ski in the Stevens Point Area? Grab your skis and get ready to hit the trail armed with the list of all the best places to cross-country ski in the central Wisconsin area. Whether your style is skate or classic, here are the places you'll want to check out. 

Header photo by Bob Mosier  
GROOMED SKIING TRAILS
Looking to hit the trail for some classic or skate-style cross-country skiing? Here are places you'll want to add to your list for a great day on the trail, all winter long.  
STANDING ROCKS COUNTY PARK
If you're looking for a place that has a little bit of everything, Standing Rocks County Park is the place to go. The park has a man-made snow loop (1km), an easy green trail (3km & lighted), an intermediate red trail (7km), and a very difficult blue trail (12km). The park offers rentals and requires a trail pass, with day passes and season passes available for purchase. 
Distance: 23km total
Parking: Available off of Standing Rocks Road.
Difficulty: Easy-Expert
Requires paid trail pass
Note: The Behnke Olson Outdoor Recreation Center is open weekdays from 11 am - 4:30 pm and on weekends from 8:30 am - 4:30 pm. It additionally is open 24/7 for lockers, restrooms and a warming center. 
ICE AGE TRAIL
The New Hope-Iola ski hill segment of the Ice Age Trail has 9km miles of cross-country ski trails available. Currently, this section of the Ice Age Trail has been rerouted due to high water, and the section between CTH T and Krogwold Rd is currently closed, but the trail is still open for use. Just be sure to check out trail alerts for the Ice Age Trail before heading out. 
Distance: 9km
Parking: There are three different areas to park at, you can find them here on this map.
Difficulty: Moderate-Expert 


PLOVER RIVER TRAIL
One of the most well-known ski trails in the area, the Plover River Trail segment of the Green Circle Trail offers a 10km classic only loop of groomed cross-country ski trails as well as multiple other shorter loops. The trails are wooded and run along the Plover River allowing for spectacular views of the river and the classic Wisconsin forest landscape. 
Distance: 10km & other smaller loops
Parking: You can park in the lot off Hwy 66.
Difficulty: Easy-Moderate
IVERSON PARK
With 4km of groomed and tracked trails along the Iverson Park Trail segment of the Green Circle Trail, this short loop is great for beginners or those looking to just ski for a morning or afternoon. Iverson Park itself offers 6.4 more km of tracked, unlighted trails. Ski near the Plover River that runs through the area or enjoy some of the other winter activities at the park such as sledding and ice skating.
Distance: 4 - 6.4km total
Parking: Turn off Hwy 66 onto Sunrise Ave then onto Hillcrest Drive to reach the winter access of Iverson Park.
Difficulty: Easy
Photo by Daniel Acker Photography
BACKCOUNTRY SKIING AREAS
If you're looking to blaze your own ski trail, you'll want to explore the backcountry skiing areas that the Stevens Point Area offers. From the state's largest wildlife area to small county parks, these ungroomed spots serve up plenty of variety. 
GEORGE W. MEAD WILDLIFE AREA
The Mead Wildlife Area, which is the largest wildlife area in Wisconsin, offers over 80 miles of trails within the 33,000-acre area, which makes for a one-of-a-kind skiing experience. While there are no designated ski trails, all areas are open for anyone. It is also a great spot to check out the wildlife in the area as over 273 different species of birds have been documented. 
Distance: Varies
Parking: There are many different parking areas depending on where you're exploring. Pick the best fit, with the map, noting parking areas.
Difficulty: Moderate-Expert
LAKE EMILY COUNTY PARK
Located at the 143-acre Lake Emily County Park, there is a 2.4k trail that swerves through the woods and is a perfect spot to ski. While the trail is ungroomed, you can make your own path and enjoy the scenic, breathtaking views within the park. 
Distance: 2.4km (4.8km round trip)
Parking: There are 6 different parking locations within the park, see a map of them here. 
Difficulty: Moderate
Photo by @deedeeswiecki  
SCHMEECKLE RESERVE
Located on the University is the Schmeeckle Reserve, which has 8km of ungroomed ski and snowshoe trails. Do a loop around Lake Joanis, explore the surrounding woods taking in all the beauty that the reserve showcases, or view the multitude of birds, squirrels, deer, and other wildlife at the feeding stations on the backside of the visitor center. 
Distance: 8km
Parking: Free parking available at the visitors center off of North Point Drive and along Maria Drive by the lake. 
Difficulty: Easy-Moderate
STEINHAUGEN RECREATION AREA
Looking for an ungroomed trail to pave your own way in? The Steinhaugen Recreation Area is a great spot as they have 7km miles of ungroomed cross-country ski trails available. The 270-acre property near Jordan Park features a diverse landscape with the Plover River, hardwood forests, pine plantations, and open fields within the area. 
Distance: 7km
Parking: Available off of Bentley Road
Difficulty: Moderate-Expert
MAP OF CROSS COUNTY SKI AREAS
Here's a handy tool to help you find all of the best spots to cross country ski in the Stevens Point Area.

CROSS-COUNTRY SKI RENTALS
There are multiple places to rent cross country skis in the Stevens Point Area. Their websites are all linked below where you can look at prices, book rentals, or call for more information.