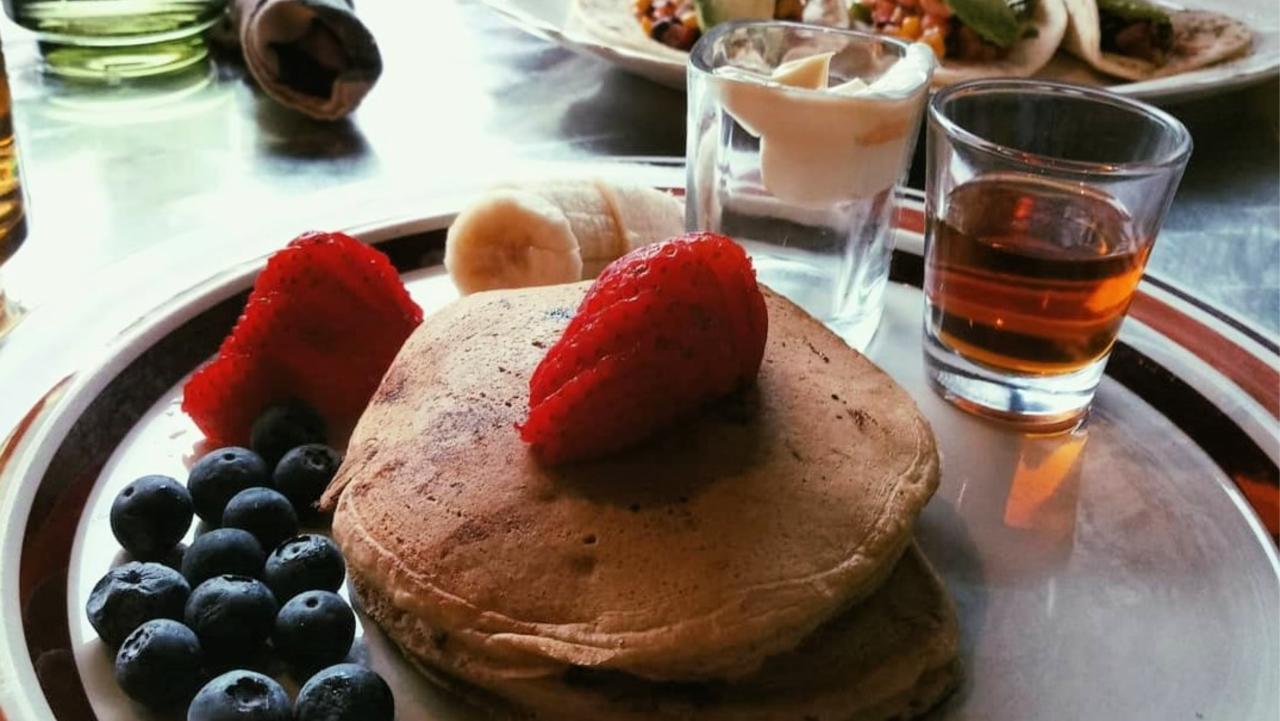 For ages young and old, pancakes and french toast are staples for a satisfying breakfast! In no particular order, we've gathered the best pancakes and french toast options throughout the Stevens Point Area. Read this must-try list, then head out to find your favorite!
Pancakes
Banana Walnut Pancakes from Wooden Chair: Stop by this popular breakfast location in downtown Stevens Point to try three tasty homemade pancakes piled high with bananas, walnuts, and maple syrup!
Blueberry or Raspberry Buttermilk Pancakes from Cozy Kitchen: Pick your flavor of delicious buttermilk pancakes at Cozy Kitchen, which is Stevens Point's longest established restaurant for a reason! 
Pecan Pancakes from Rock-n-Roll Cafe: At Rock-n-Roll Cafe there's a flavor for nearly every pancake lover, including pecan, almond, walnut, blueberry, cranberry, or chocolate chip. We recommend the sweet and salty pecan pancakes!
Spunky Monkey from Emy Js: On the cafe side of Emy J's be sure to try the Spunky Monkey for breakfast, which is two pancakes topped with bananas and nuts and served with local maple syrup and almond butter. 
Cinnamon Roll Pancakes from Polonia Cafe: The Polonia Cafe is the perfect spot for a cozy meal. Satisfy your sweet tooth with their famous Cinnamon Roll Pancakes! 
Potato Buttermilk Pancakes from South Point: With a variety of pancake options available, South Point will be sure to have your favorite flavor. Try the Wisconsin favorite, the potato pancake! Better yet, you can curb your pancake craving at any time of the day or night at South Point. 
Vegan Banana Pancakes from Wicked Willow: In the words of Wicked Willow: who said pancakes are just for breakfast? Stop in this vegan restaurant in downtown Stevens Point to try their banana pancakes. Pro tip- add chocolate chips for even more flavor!
French Toast
Stuffed French Toast from Amber Grill: This traditional favorite consists of layers of French Toast, cream cheese, and freshly sliced strawberries, then is topped with whipped cream and powdered sugar- talk about stuffed with flavor! 
Homestyle Cinnamon French Toast from Olympia: Satisfy your craving for flavor with four pieces of homestyle cinnamon French Toast from this hometown favorite!
Father Fat's French Toast from Father Fats: This delicious dish is complete with cranberry preserves, maple syrup, and candied bacon crumbles. Be sure to check Father Fat's Facebook Page for their weekly brunch menu, as this dish is not available every week. 
Bonus
Buckwheat Crepes from Ruby Cafe: Whether you're looking for sweet or savory flavors, Ruby Cafe in downtown Stevens Point offers both traditional crepes and buckwheat crepes. We recommend the maple sausage and potato buckwheat crepe, complete with an egg on top, for a full range of savory flavor! 
Want more?
For more restaurants and dishes to try, check out our blog on the dozen best diners in the Stevens Point Area, where to get your sweets fix, and Insta-worthy restaurants to visit. Even more food blogs can be found here. Check out more about area makers, including Ruby Coffee, with our Local Makers series! Be sure to tag @StevensPointArea and use #StevensPointArea on your Instagram photos for a chance to be featured!
Header image courtesy of @bforbutch