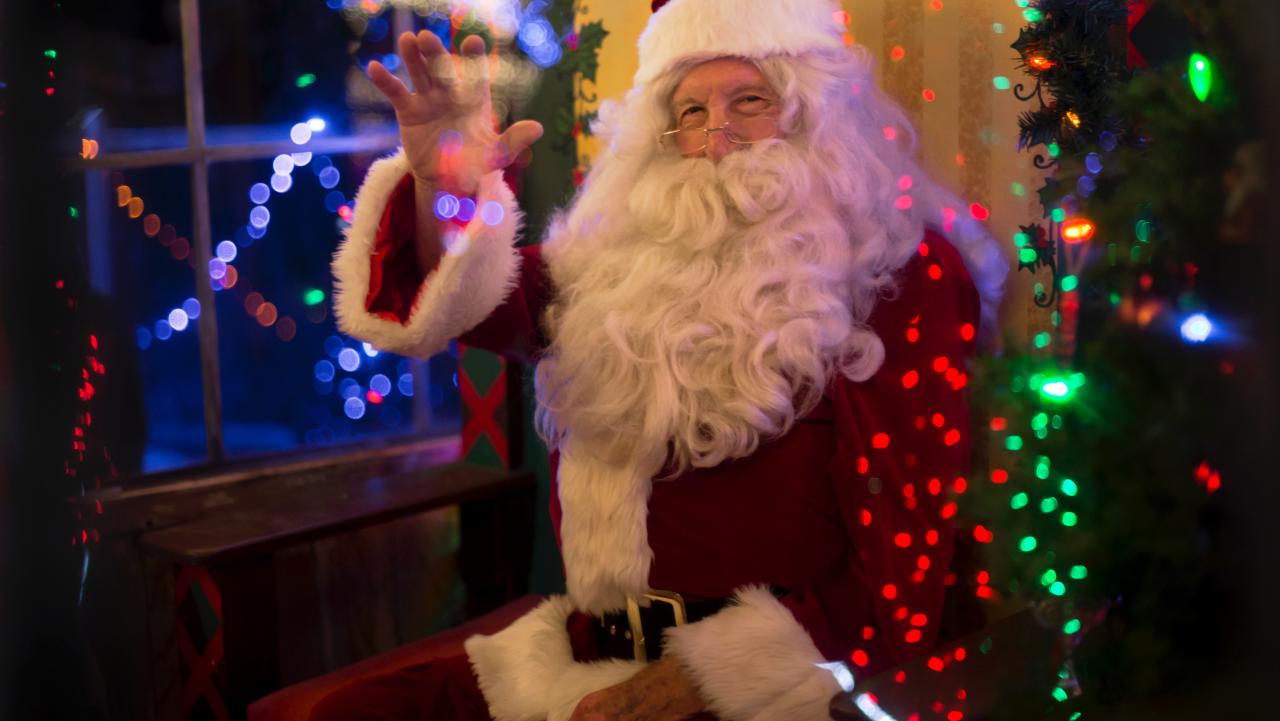 This holiday season might be different, but that doesn't mean Santa isn't making any early appearances in central Wisconsin! Check out where you can find Santa in the Stevens Point Area, with our guide to Santa Sightings for 2020. Read on to learn more about places you can safely see Santa this season!
AMHERST
Tomorrow River Christmas Parade
Bundle up and head outdoors where there is plenty of room to spread out and find a spot to watch the Tomorrow River Christmas Parade. Some elves let us know that Santa will be making an appearance during the parade! 
When: December 5, 6:30-7:30 PM
Where: Starts at St James Catholoic Church and ends at The Tomorrow River School District
Learn more.
PLOVER
Ransbottom's Christmas
Drive up and enjoy a free computerized light show set to music (with the one-and-only Rockin' Elf). On weekends, you can even see special appearances from Santa! Donations are collected on-site to support the VFW's Local Veterans Relief Fund.
When: Weekend appearances, times vary
Where: 2570 Truman Avenue, Plover, WI 54467 
Learn more.
A Very Plover Christmas
Drive through the newest holiday light display in the region, and drop off your letters to Santa. At Little Plover River Park, he'll be personally picking up the letters and waving to all the good boys and girls who visit! Santa asks that everyone stay in their cars, and be sure to thank the Fireman's Auxillary for helping, too.
When: December 5, 6, 11 & 12, from 5pm-7pm
Where: Little Plover River Park, Plover
Learn more.
RUDOLPH
Rudolph's Country Christmas
Safely celebrate the holidays outdoors this year at the Rudolph Christmas Market. Enjoy your time outdoors with craft and food vendors, a pop-up bar, live music, a hot chocolate bar, and Santa visits (all socially distanced)! Then, don't miss the 6 pm parade that is followed by fireworks!
When: December 12, 3-8pm
Where: Main Street in Rudolph, WI
Learn more.
STEVENS POINT
Gepetto's Workshop
Join the fun and catch Santa at Gepetto's Workshop this holiday season! Santa Claus will be visiting to collect the local children's Christmas letters. Be sure to wave to Santa through the big storefront windows while delivering your letters!
When: December 5, 12, 19 from 10am-2pm
Where: 1121 Main Street, Stevens Point, WI 54481
Learn more.
Central Wisconsin Children's Museum
Register & get tickets to a winter mini session with Van Dreel Photography. Each session includes a 10-minute mini session and 2 digital negatives. 50% of the proceeds from both the session fee and any additional product purchases will go to support your local Central Wisconsin Children's Museum.
When: December 5, 10am-3pm
Where: Bukolt Park, Stevens Point, WI 54481
Learn more.
SURROUNDING COMMUNITIES​
WAUSAU
Clean Slate Coffee House
Join the Christmas in July Charity and Clean Slate Coffee House for a visit with Santa! There will be two stations set up: one indoors at the coffee house and one outdoors for those that feel most comfortable in the fresh air. Pictures will be taken and emailed to you or take your own! They will be collecting toys and taking free-will donations for the children at the Marshfield Children's Hospital.
When: December 5, 10am-1pm
Where: 1027 E. Grand Avenue, Rothschild, WI 54474
Learn more.
Chet & Emil's
With Santa staying safe at the North Pole this year, Chet & Emil's are letting the kids come in and drop off their letters to be mailed to Old Saint Nick. Kids can even get a return postcard from the North Pole back!
When: December 6, 12-2pm
Where: 388 Main Street, Birnamwood, WI 54414
Learn more.
Drive-Thru Visit with Santa
Drop off a letter in Santa's mailbox in downtown Wausau, grab a specially prepared gift bag, a craft for later, and bring the kids to see Santa from the safety of your vehicle!
When: December 6 10:30am-12pm
Where: Parking lot on the corner of 4th St & Washington St in downtown Wausau
Learn more.
Holiday Gift Guide
Looking for a gift inspired by Wisconsin to bring a smile to your friends and family? From maple syrup inspired by the classic Wisconsin cocktail to a classic box filled with the best flavors of Wisconsin, we've compiled the best picks in our... View More