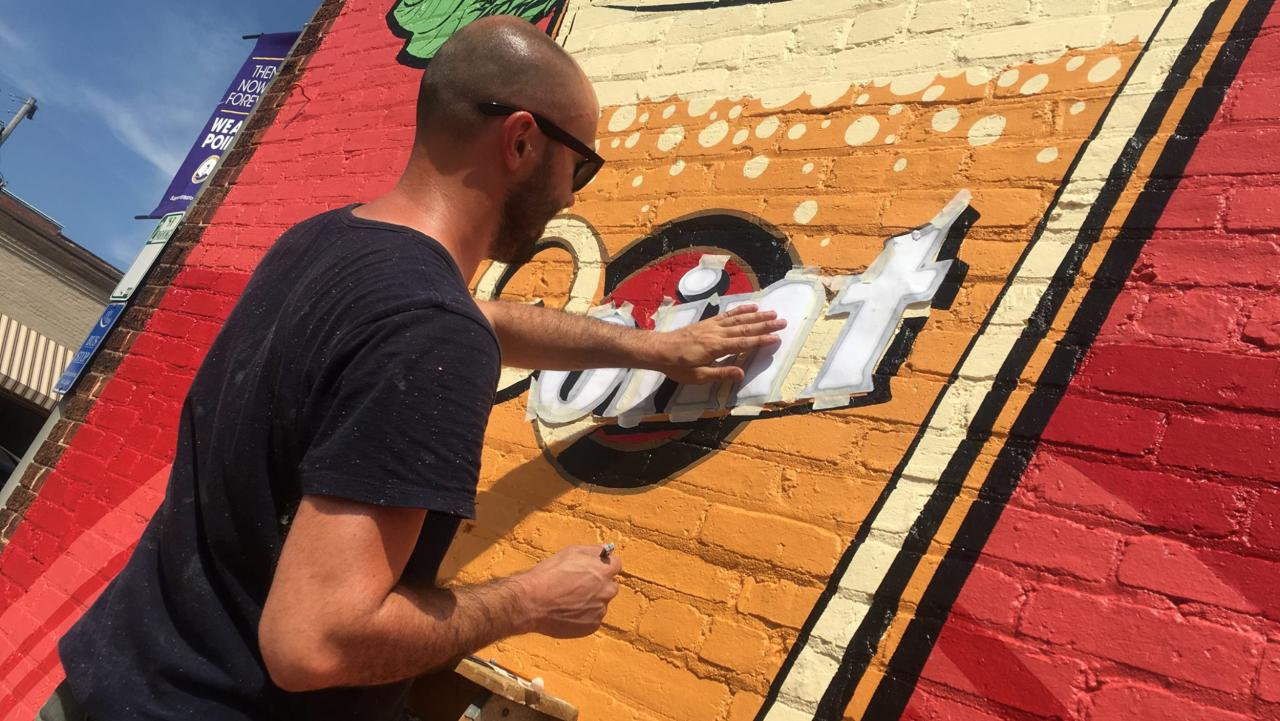 In the Stevens Point Area, public art takes many shapes and sometimes it goes BIG. Whether you are an art fanatic or just want to spend a day with the family, there are many locations in and around Stevens Point to explore. Make sure to bring a camera on your trip—you won't want to forget this art! 
E Pluribus Unum
Measuring a massive 150 wide by 50 feet high, "E Pluribus Unum" is made up of more than 280,000 individual pieces and is an icon on campus. Want to learn more about this mural? Learn more about how it came to life on campus. 
Where to find it: Trainer Natural Resources Building, 800 Reserve Street, Stevens Point
Bonus: While you are there, stop to see the Pointer Dog Sculpture by local artist August Kochanowski near the College of Professional Studies building.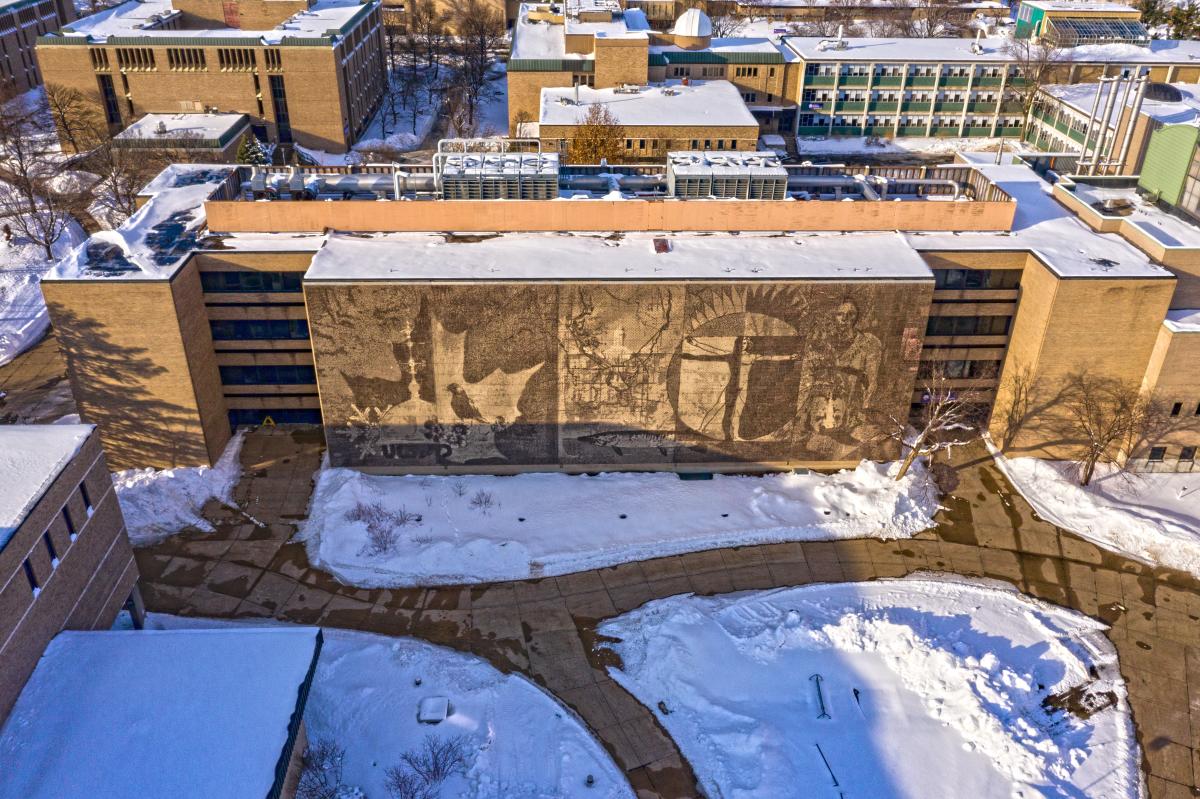 (Photo by Daniel Acker Photography)
A Sand County Bench
Stroll through the Stevens Point Sculpture Park to explore works of art along a recreational trail. Don't miss Jacob Brault's "Sand County Bench", a giant take on Aldo Leopold's classic bench design. 
Where to find it: 901 Second Street North, Stevens Point.
Bonus: More than 40 sculptures are on display and are available year-round in this 20-acre park. 
Okay Family Farms
Art and agriculture collide on the Okray Family Farms mural, paying homage to the local agricultural industry and the family's 100th anniversary. The mural depicts its founding fathers on the warehouse building. 
Where to find it: 3001 River Dr., Plover. 
Bonus: Potatoes are big business in the Stevens Point Area! Sip a potato vodka cocktail from Great Northern Distilling, just a few minutes from the mural.

(Photo by John Morser)
Korean War Memorial
Larger than life-size sculptures are on display at the Korean War Memorial of Wisconsin, including a Nurse, Amy and Marine Infantrymen, Air Force Pilot, and a Sailor. The statues face the est and stand in the memory of all veterans who serve our state. 
Where to find it: Lake Pacawa, 1505 Maple Dr., Plover
Bonus: Heritage Park, not too far away in Plover is a historical village of buildings from the early days of Portage County and portrays community life and rural and unique structures from the county.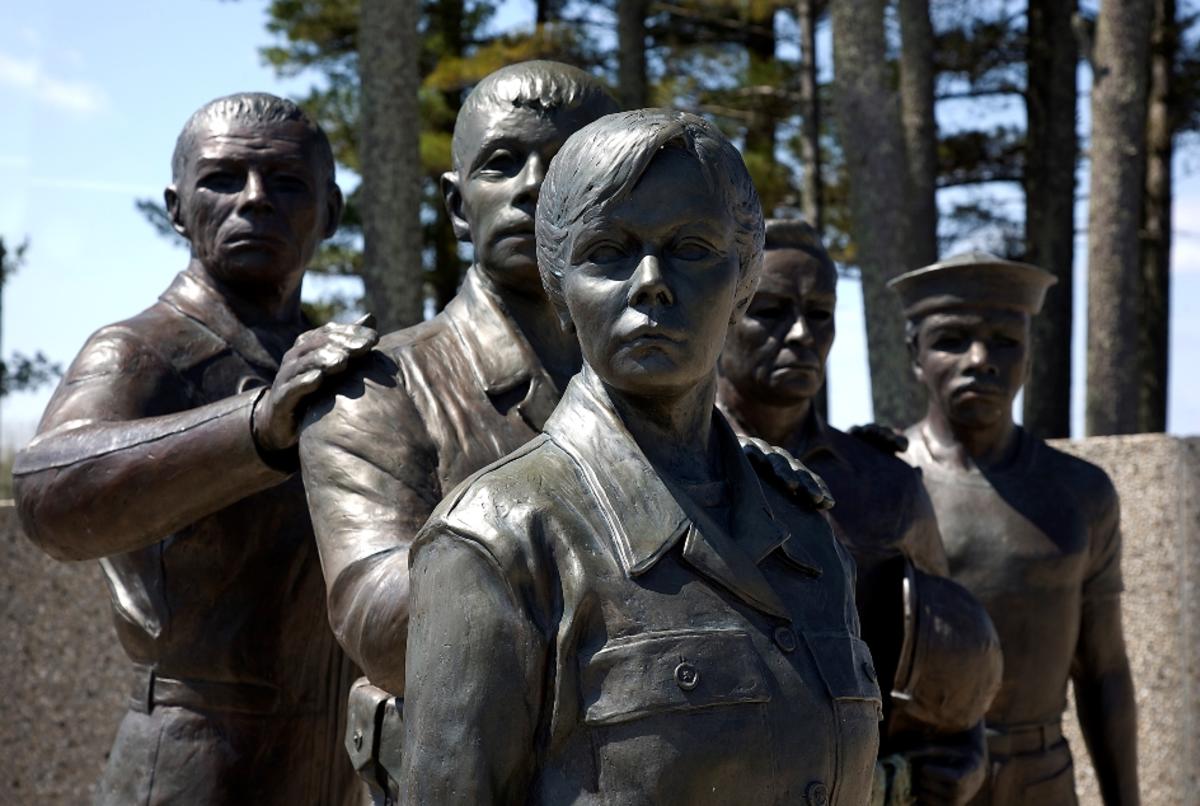 (Photo by John Morser)  
#GrabTheGlass Mural 
Dotted throughout streetscapes in downtown Stevens Point are colorful additions in Artisan Alley- don't miss the #GrabTheGlass Mural that celebrates Stevens Point Brewery since 1857. Learn more about the mural in this blog! 
Where to find it: 925 Clark Street, Stevens Point. 
Bonus: Head to the Market Day Mural by heading west on Clark Street and turning right on 2nd Street. Notice the uneven and jutting bricks that are undetectable from the front. Then, walk to the opposite corner for a selfie with the Polish Chicken Mural. Learn more about the murals of Downtown Point here! 
Want more?
Next time you are downtown, be sure to check out the Scarabocchio Art Museum, Q Gallery, and the Riverfront Art Gallery for more public art. Be sure to take a peek at the garbage cans scattered throughout downtown as even those are painted bright by local artists! To learn more about the Trash Canvas project and to view active art maps, check out this site by CREATE Portage County! 
Additional museums can be found on-campus at the Carlsten Gallery and Schneider Student Gallery. which each hold exhibitions throughout the year.
Be sure to tag @StevensPointArea and use #StevensPointArea on your Instagram photos for a chance to be featured!
(Header image courtesy of
CREATE Portage County
)