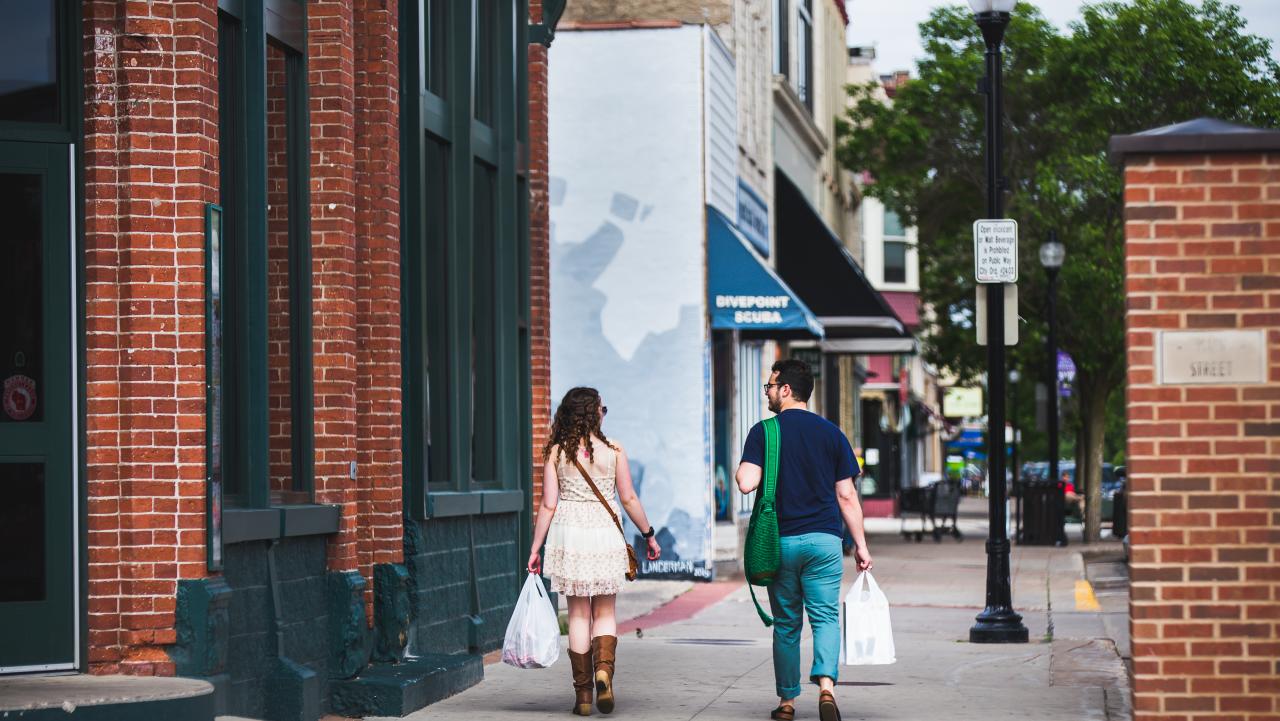 Learn more about shopping in the Stevens Point Area, as retail shops vie for the top spot during Merch Madness! Learn more about the match-ups, and use this as your guide to small businesses that can only be found in central Wisconsin. Then, visit these Stevens Point Area shops in person (or online). 
THE TOP 16
Wondering what the match-ups will look like? Check out our breakdown of the 16 top shops, going head-to-head for Merch Madness. 
#1 - Sweet Tea Clothing Co.
Sweet Tea Clothing Company is a unique and fun boutique that specializes in clothing, footwear, and accessories for women. Located in Plover, you can browse their stock in-store and on their social media channels as they add clothing and accessories of all kinds. 
#2 - Point Area Bicycle Service (PABS)
This full-service bike shop is more than meets the eye. Here you'll find all of the standard bike fare, with beer (and soda), too. Specializing in a wide variety of products, they focus on building community - along with bikes. You'll want to check out their group rides and live music events - when in-person traditional events make their triumphant return.  
#3 - Girls In Pearls Boutique
Girls in Pearls is a popular boutique in downtown Stevens Point. This spot is perfect for classic, timeless clothing and accessories as they are known for their one of a kind pieces. Check out their assortment of items like scarves, leggings, and handbags. (They closed due to retirement in March of 2021).

#4 - Shippy Shoes
Shippy is not your typical shoe store. Offering more than 70 brands, they specialize in specialty foot care, with board-certified pedorthists on staff. Runners and walkers frequently head to the store, for gait analysis and foot screenings to ensure the best fit. Did you know? This store was started in 1914 as a leather goods store.
#5 - Real Deals on Home Decor
Real Deals on Home Decor is known for its "must-have" home decor that is offered at great prices, located in Downtown Stevens Point. Here you can find items such as clocks, mirrors, floral, ceramics, wall art, and signs. Of course, the shop also features clothing for women of all ages with items from sweaters to jewelry. 
#6 - Rose House Gift Shop
If you've been in the Stevens Point Area for long, you'll recognize the home of this new shop that was built in 1925. Once home to the Belmont Hotel and the Hot Fish Shop, today this vintage space with lots of charm hosts events and a gift shop - and plenty of goodies for sale including handmade and vintage finds. On select days, you can even order pizza and donuts!  
#7 - I Do, Too
This small bridal boutique specializes in wedding dress consignment, operating a shop in what is known as Artisan Alley in downtown Stevens Point. Opened in January 2020, this spot is open by appointment to find the perfect dress, in addition to veils and bridal belts, as well as sell your wedding dress. 
#8 - Fall Line Outfitters 
This fly fishing gear and supplies shop has become a staple in the region. The perfect place for gear to head outdoors, it's also a great spot to tell your fishing stories - or hire a guide to help you find one! From big-name brands like Patagonia to their own branded gear and delicious coffee, Fall Line is way more than fly fishing. 
#9 - Diversi-Tea
If you're looking for the best tea or to up your cooking game - this specialty shop is for you. They offer more than 170 traditional and specialty teas from countries around the world, along with a wide assortment of flavored oils and kinds of vinegar.  
#10 - Assembly Shop
Founded in 2016 by Minneapolis transplant, Quyen Hom, this intimate boutique is all about curating pieces for the modern woman. Here you'll find classic pieces from clothing and jewelry to scarves and diffusers. You'll also find the shop giving back to the community, through their Be All The Things Scholarship in partnership with UW-Stevens Point.
#11 - Bria Bella & Co
Bria Bella is on a mission to make all women look & feel amazing. Inside, you'll find a selection of dresses, tops, bottoms, outerwear, and accessories. Their mission is to show off strong, beautiful women. Here you can shop online, in-store, or opt for their Style Box - for hand-selected items curated and delivered to your door. 
#12 - Radio Kaos
Video may have killed the radio star, but nothing has toppled this classic record shop in Stevens Point. If you still need your music in a tangible form, on vinyl, CD or DVD, you'll want to venture into this Stevens Point staple. Serving up music of all kinds, they specialize in independent, import, and limited release. 
#13 - Adeline's Closet Boutique
Adeline's Closet Boutique is a new addition to the region, opening up to customers in downtown Amherst in 2019. The boutique specializes in women's clothing in sizes small to 3XL, as well as accessories and children's clothing. You can check out the items online, or via their Facebook page - to see what's in stock.
#14 - Hostel Shoppe
This staple shop has been in the region for decades. Known for their bikes, their location is a must-see for any outdoor enthusiast. The Hostel Shoppe is full of goods from bikes to seasonal clothing (including snowshoeing and cross-country skiing.) Learn more about the woman currently at the helm of the shop here. 
#15 - Galaxy Comics Games & More
Galaxy Comics is part community hub and part gaming hang-out. Here you'll find comics, card games, collectibles, darts, disc golf, board games, and more. Stop in to browse their large selection of items, then stick around to enjoy a bite to eat at The Hidden Cafe (when it reopens). Outside, you'll want to snag a photo of the #GrabtheGlass mural. 
#16 - Stevens Point Area Co-op
The co-op has been a staple in the Stevens Point community since 1972, focusing on local producers, ethical food, and a system that puts people over profits. Never been? Inside you'll find a wide variety of bulk goods, organic produce, and even Earth Crust Bakery - serving up delicious baked treats from breads to pastries. 
VOTE FOR YOUR FAVORITE
Get in the action, and download your own bracket - and vote in the head-to-head challenges here.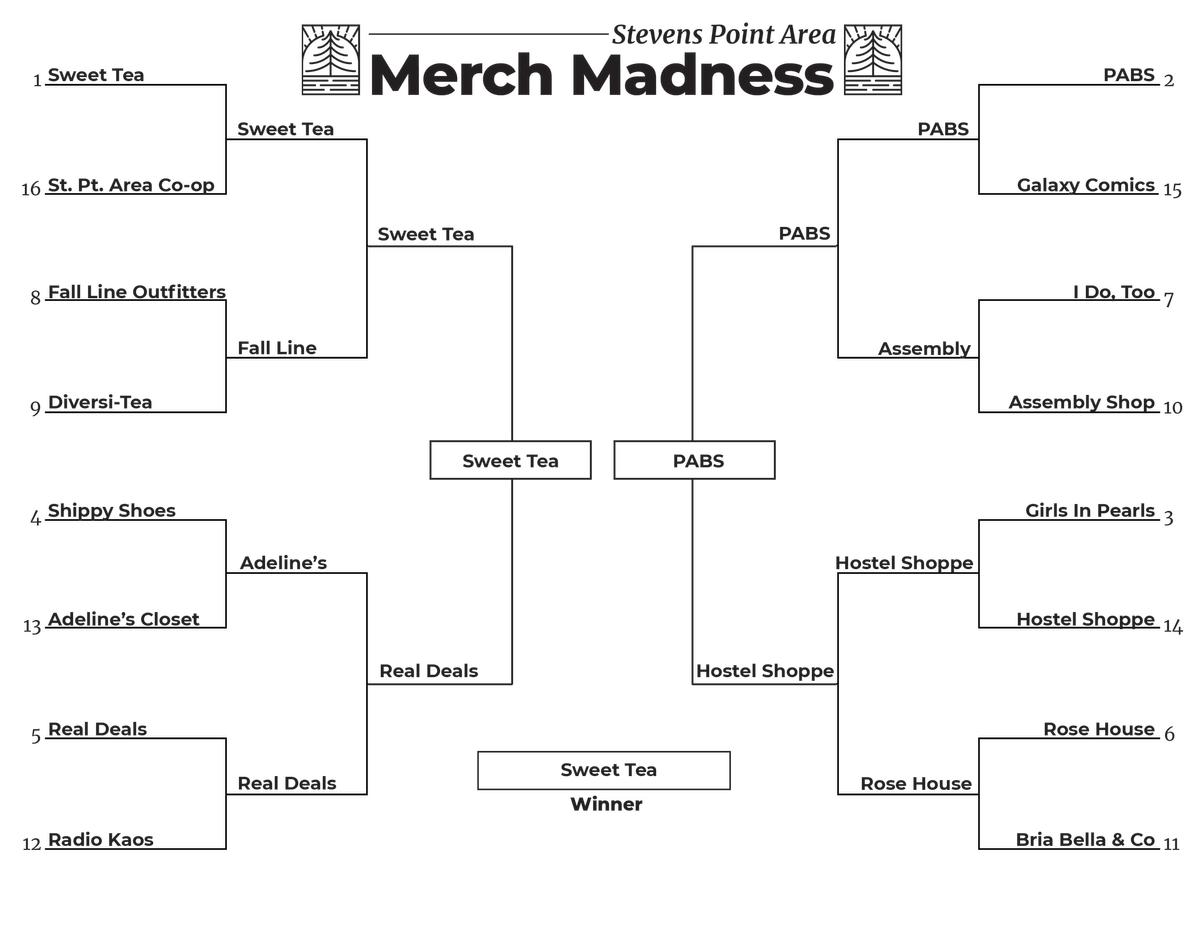 HONORABLE MENTIONS
Hundreds of votes were cast to name the top shops in the region, to find the top 16. While they might not have made the top 16, these shops received nods from many voting in the contest. Check out these honorable mentions that are still worth a stop (in-person and online). 
Agora
Agora is a local makers market in downtown Stevens Point that showcases the creative spirit and makers throughout Central Wisconsin. This shop has a wide variety of items from jewelry, soaps, ceramics, clothing, maple syrup, art and so much more!
Bottle Stop
The Bottle Stop specializes in beer, wine, and spirits, with a twist. Inside you'll also find Taps and Tackle - a unique take on a place for a beer with a side of fish-focused conversation. Of course, you can also purchase one-of-a-kind custom tackle to use on your next musky fishing adventure. 
Call it New, Call it Antique
This three-story store is filled with part consignment shop (Call it New), and part antique shop (Call it Antique). Home to more than 60 dealers and more than 25,000 square feet you'll find plenty of items to browse.
Central Waters
In Amherst, you don't want to miss this popular stop. While they serve up delicious beer by the glass, as well as crowlers and growlers - they also have an assortment of goods - from cycling jerseys to buffs. 
Companion Shop
Companion Shop has all of the best for your best friend, from chew toys, pet food, and special treats! Inside you'll also find a Do-it-yourself Pet Wash - as well as a large assortment of Companion Shop Bakery and special treats - we're looking at you liver ice cream!
Hungry? You will be after going to Feltz's Dairy Store. Here you'll find unique Wisconsin gift boxes, and plenty of tasty cheese with blocks, curds, spreads and trays made daily from fresh Wisconsin Cheese. While you're there don't overlook the meat, ice-cream, and milk!
Hometown Pharmacy
While the sign may say Pharmacy, they offer much more than medical supplies and prescriptions. Here you'll find a unique mix of gifts, home decor, in addition to the pharmacy staples.
O'so Brewing Company & Point Brew Supply
These two spots go hand in hand. Point Brew Supply is the region's largest home brewing and winemaking store - with everything you need to make it at home. If you prefer to order up the finished product instead - simply head to the Tap Room at O'so (or order curbside pick-up) including crowlers and cases to take home.
Precision Cellular & Sound
Whether you want to put in a home theater, security cameras or add some lighting to your boat, Precision Cellular & Sound is worth a stop. Never been? Customers love their snack and beverage bar - and treats for your furry friend, too. 
Turquoise on Main
This shop brings southern style to the forefront in this one-stop-shop for home decor accents. The owner believes everyone needs a little cowhide and turquoise - and you'll find that and more one-of-a-kind pieces in this shop.
Main Grain Bakery
The Main Grain Bakery is the perfect spot to find some local flavor, from its wide assortment of sourdough breads, scones, pretzels, cakes, cheesecake, and granola (just to name a few). Order up your favorite online - including take-and-bake options like cookie dough logs and frozen scones.   
The Market on Strongs
What started as an idea for a year-round farmers market, evolved into the shop known as The Market on Strongs. In the store today, you'll find a wide mix of farm products, including meat, produce, spices, pasta, baked goods, along with soaps, lotions, jewelry, and repurposed fabric goods.  
Village Hive
For a truly home-town experience, check out Village Hive in Amherst! This small bakery and local foods collective features sweet and savory treats, fresh vegetables, local eggs, and everything in between. With a menu that changes with the seasons, you'll find deliciousness all year long. 
Mullins Cheese
It doesn't get more Wisconsin than cheese, and Mullins has you covered! As the largest family-owned and operated cheese factory in Wisconsin, Mullins has established a itself as a must-stop for all things cheese, and have even expanded their retail store to include ice cream, sausages and gourmet gifts, and Wisconsin souvenirs. 
Stevens Point Brewery Gift Shop
It doesn't get more iconic than the Stevens Point Brewery! Venture to the where the magic has been brewing since 1857 - and plan to come back for a tour (when they resume). Inside the gift shop you'll find plenty of unique gifts including various apparel, glassware, swag, and of course, beer, cider and soda. 
Divepoint Scuba 
For all things adventure, Divepoint Scuba is a must-stop! Apart from offering equipment repair and kayak adventure tours, Divepoint offers various scuba, snorkeling, kayaking, swimwear and climbing equipment. 
Gepetto's Workshop
For all things toy, Gepetto's is the place to be! Spark imagination that will last a lifetime with unique, new, and classic toys that kids will cherish forever.
Other Picks:
Want more?
Check out other ways to explore shopping in the Stevens Point area here. Be sure to tag @StevensPointArea and use #StevensPointArea on your Instagram photos for a chance to be featured!