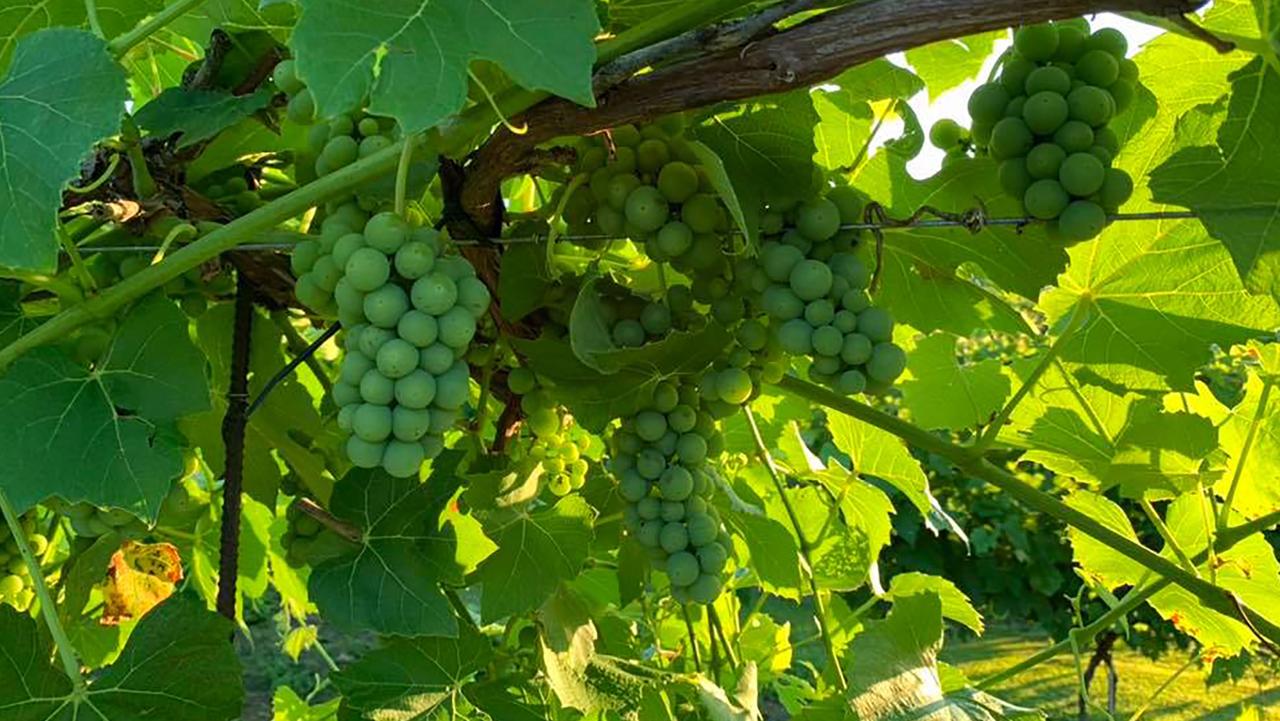 Move over Lucy! If you're looking to venture into a vineyard and become a part of the winemaking process, check out this farm in central Wisconsin. While you won't be stomping the grapes, this hands-on experience is the perfect way to spend a morning or afternoon in the Stevens Point Area. We've compiled all of the details, from what to expect to where to find the farm, in our guide below. 
Hand-Picked & Full of Fun
Everyone knows the joys of a pick-your-own farm, from strawberries to blueberries in season, but you won't want to miss the chance to experience this at Rock Ridge Vineyard. Go behind the scenes in the vineyard - and help harvest grapes in the early fall - for this one-of-a-kind experience in the Stevens Point Area. 
This free agritourism experience puts you in the fields where wine begins its journey at Rock Ridge Vineyard. Typically harvest begins in late August through September, but it depends on a number of factors. Last year, over 20,000 lbs of grapes were harvested and in fact, grapes are harvested when they have reached their optimal pH and sugar content.
Did you know: Brix is the unit of measure to determine sugar level – and the resulting potential alcohol content.
Once you're in the vineyard, you'll find rolling hills and rows of vines filled with grapes. The grapes varieties grown here include Marquette, Saint Croix, Brianna, Petite Pearl, and Frontenac Blanc. Mixed in among the vines, you might even find a special surprise – as the family occasionally hides goodies as treats. Wondering if you can taste the grapes? You can certainly try one in the vineyard. However, be aware these are not your typical table grapes from the grocery store – and they have seeds.
Experience it for Yourself 
Think you have what it takes to pick? The ideal picker is 10 years of age or older, is able to sit and pick (or stand and pick – especially for the taller Brianna vines) and be comfortable holding a clipping tool. The vineyard will provide the clippers, rubber gloves (to help prevent your fingers from staining), and masks (if needed). In addition to the experience of harvesting in the vineyard, all pickers will receive a t-shirt, beverages (including wine for those 21+), and food. Restrooms will be available on-site with port-a-potties, as well as hand sanitizer stations.
What to Expect
It's Free!
There is no cost to participate, but space is limited so reservations are strongly encouraged. The vineyard provides all the necessary gear, from clippers, rubber gloves, and masks (if you don't have your own).
10+, Please. 
Ideal pickers are 10 and older. For those 21 and older, wine is served as a beverage option - and some lucky pickers will receive a bottle of wine (as part of a drawing) to take home!
What to Wear?
The best accessory is comfortable shoes, that can get dirty. You'll be on your feet walking through the vineyard which may be wet. For the rest, dress for the weather with layers ready for cool mornings but warm afternoons. 
Motivated by Snacks?
The vineyard provides food and beverages to the harvest helpers - in addition to a t-shirt, and prizes. Of course, the best part is the camaraderie in the vineyard. There is also a shed in the vineyard for equipment and treats for pickers. 
When can we pick?
Picking usually begins in late summer and early fall, between August and September depending on weather conditions. The picking schedule will be announced soon and it's always best to watch their Facebook page or call to confirm the schedule!

Join the fun!
While reservations aren't required, they are strongly encouraged. Picking begins at the vineyard at 8 am, with a light lunch around noon and dinner at 5 pm (if picking isn't completed before then). Pickers are free to come and go as their schedule allows, but it works best to call the vineyard ahead of time to make sure they are ready to welcome you and your group. When you arrive, you'll see signage at the end of the driveway, with directions to park closest to the vineyard for easy access.
Want to make it a weekend? Check out places to stay in the Stevens Point Area, and plan a visit to local craft beverage makers - including the Sunset Point Winery - to extend the experience!
From Grapes to Glass
Wondering what grapes end up where? At the Sunset Point Winery, located in downtown Stevens Point, you'll find several varieties from Rock Ridge Vineyard in use. Sip sweet wines, including the sweet fruity Blazin Brianna, made with the vineyard's Brianna grapes or the Polka Stomp, which makes a fantastic white table wine, featuring their Frontenac Blanc grapes. For a dry wine, try Explorer, a deep red wine made with Marquette grapes, or coming soon, try the Standing Rocks Red Blend that is made with a mix of Marquette, St. Croix, and Petite Pearl grapes. Learn more about all of the wines offered by Sunset Point Winery here.
Did you know that Rock Ridge helped Sunset Point destem and process a load of grapes into juice last year?
About Rock Ridge Vineyard
The vineyard started small, with two rows of Marquette grapes, established in 2012 by Shawn and Cary Kottke with the help of their mom and dad, Don and Judie. Today, you'll find more than 1,800 plants with four different varieties of grapes Marquette, Saint Croix, Brianna, and Frontenac Blanc. Rock Ridge Vineyard currently sells their grapes to Sunset Point Winery in Stevens Point and Rock 'n' Wool Winery in Poynette, Wisconsin. Rock Ridge also has a brother vineyard known as Three Oaks which is producing Petite Pearl and Itasca grapes.
While you're on the grounds, you might also notice some other familiar plants – including apples and pumpkins. The vineyard also has an apple orchard and pumpkin patch and offers both pumpkins and apples available for purchase, when in season. Last year they grew over 50 pumpkins to give to their picking crew.