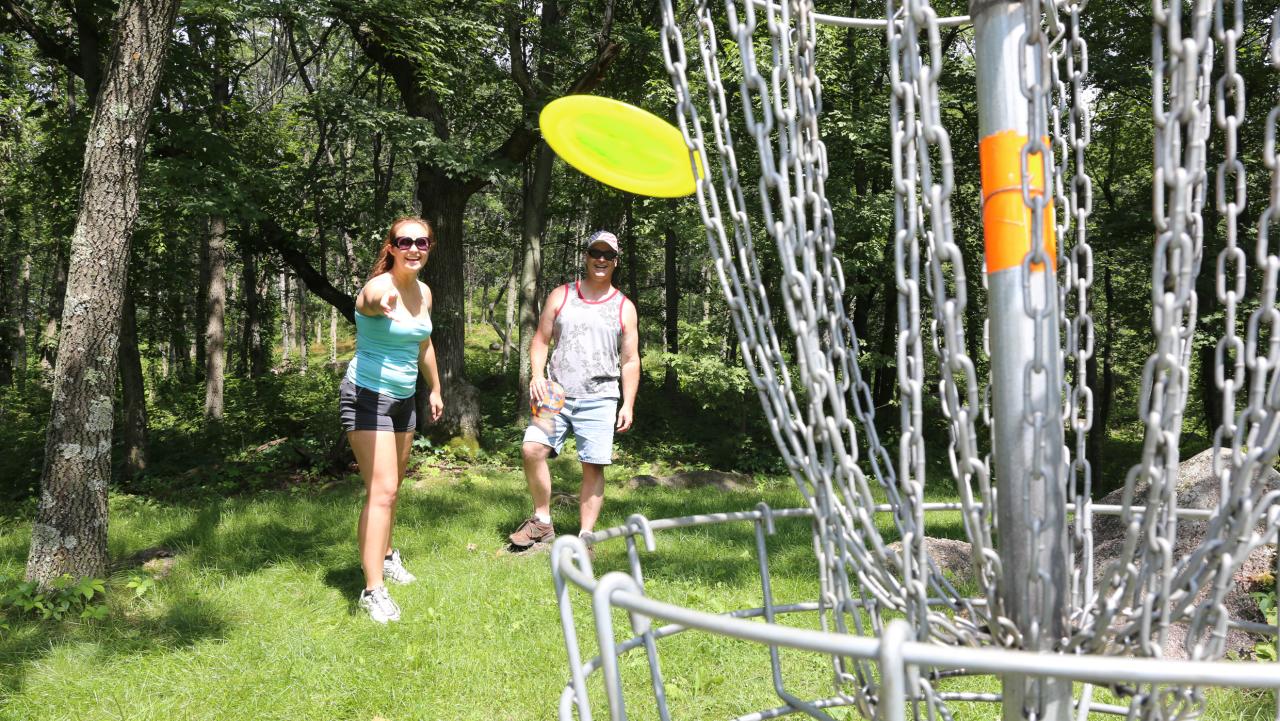 Looking for the perfect spot to play disc golf in the Stevens Point Area where you can show off your skills, incorporate strategy, compete with friends and be in nature? From Standing Rocks County Park to McDill Pond, read more about the disc golf courses in the region. Then, grab your discs and head out! 
Mead Park 
Head to Mead Park for a scenic game of disc golf! Mead Park is the perfect course for beginners, as the holes are generally shorter and easier to play. This 9-hole course sits in the urban park along the west bank of the beautiful Wisconsin River, providing you with a gorgeous backdrop as you play. The park is located close to downtown Stevens Point, and is also home to the popular K.A.S.H. Playground making this a great spot for families.
Location: Mead Park

1201 W Whitney Street 

Stevens Point, WI 54481
Standing Rocks County Park
Test your abilities and get your steps in at Standing Rocks Park. This course offers a true challenge with valley shots, tricky greens, and elevation. With 33 holes, it is the biggest disc golf course in the Stevens Point Area. The course is scenic and heavily wooded, known for its challenging shots and picture-worthy scenery. Plan for a $4/day fee or a $30/season pass.   
Location: Standing Rocks County Park

7700 Standing Rocks Road 

Stevens Point, WI 54482
McDill Pond 
If you're looking for a quick round of disc golf, head to McDill Pond and spend an hour or two. McDill Pond offers intrigue with its variety of open and wooded holes, challenging elevation levels, terrain changes, and views of the water as you navigate the course. McDill is a short 9 hole course, but if you have more time, play the course twice.
Location: McDill Pond

3899 Patch Street 

Stevens Point, WI 54481
Yulga Park 
Challenge your skills at Yulga Park. The course design utilizes current course design concepts of risk/reward, balance, play options, challenge, fair length, maintainability, and aesthetics. Yulga's 18 holes lie on flat terrain, with most holes being surrounded by scenic trees and a variety of other vegetation. Yulga Park has 3 tees per hole, making the course more versatile and appropriate for any skill level. Add on an extra mile or two onto your disc golf escapade and hike through the Moses Creek segment of the Green Circle Trail which passes right through Yulga.
Location: Yulga Park

4708 Chickadee Lane

Stevens Point, WI 54482
Want more?
More outdoor fun is waiting in the Stevens Point Area. Check out more outdoor recreation in the area for more ideas for you and your family.  Be sure to share your photos by including @stevenspointarea on Instagram, or using hashtag #StevensPointArea for a chance to be featured.