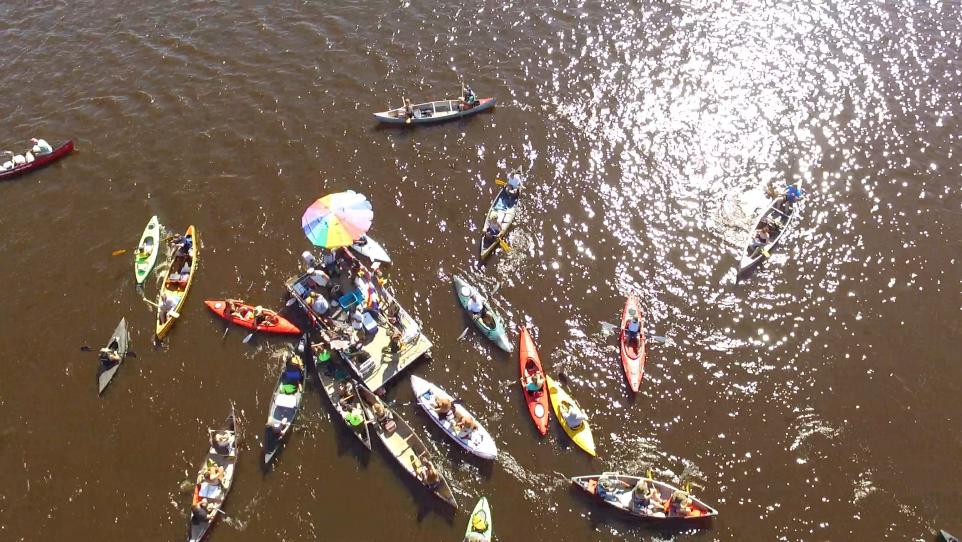 Looking for an adventure? Check out Paddlequest, a paddling-based adventure with games and scavenger hunts that provide new challenges around every corner. Geared to all skill levels and ages, the event offers two days of fun in August, where canoeing meets Comic-Con (with a side of conservation). Some call it pirate LARPing while others call it an eco-adventure. This event is in its 18th year, and it's even been featured in Rolling Stone magazine! Here's everything you need to know to play like a pro. 
Register online by July 15th, here. Space is limited so register as soon as possible! 

This is a team event. Co-ed teams of three will be in Class A, and teams of two will be in Class B. Registration fees are the same for each class.

Paddle equipment is not provided. Don't own equipment? Not a problem! Canoes, kayaks, and paddleboards can be rented at any of these locations: Nature Treks,  Divepoint Scuba Paddle & Adventure Center, Bahamas Bar. You must have a life jacket in order to quest! 

Pack the night before.  Bring a bag to keep your tokens and treasures secure. You will also want gloves, a hat, water, and snacks to help you power through your day. 

Be prepared to ask questions and interact with others! Always ask the staff (Heroes) for magic items and ask questions to ALL characters at a stop-- someone may have items or information you need!

The river is too big to spend time waiting in line. If there are multiple teams ahead of you at any given stop, move on and come back later. This will help you advance in the game quicker. Look for wooden PQ signs for your place to queue up. 

Just do your best, enjoy the quest, and have fun your first time out! If you start to feel overwhelmed, just relax and explore! Remember, the goal is to celebrate and protect local waterways with games and adventure.