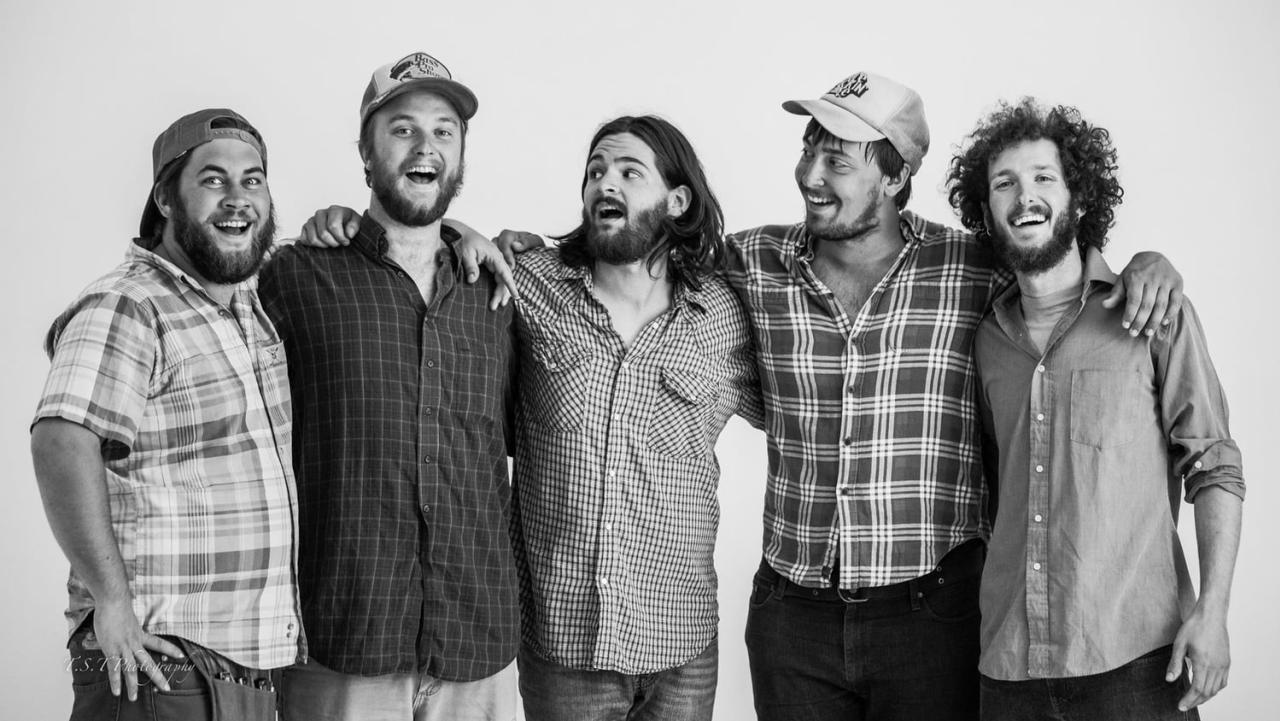 "As we've traveled around, it seems like every show has at least a couple folks who come up and have a story or some connection to Stevens Point," said Adam Greuel, guitarist and vocalist of the band Horseshoes & Hand Grenades (HHG). Bluegrass band Horseshoes & Hand Grenades, known for their innumerable sold-out shows, three albums, and infectious energy is proud to come from Stevens Point, or as they lovingly call it Point-town!

A big thanks to T.S.T Photography for the header image.  
Right On Time
Horseshoes & Hand Grenades' "powerhouse quintet" made up of David C. Lynch, Collin Mettelka, Russell Pedersen, Adam Greuel and Samual Odin met at the University of Wisconsin – Stevens Point (UWSP). Their "big ol' group of friends" seemingly all fell into place right on campus. It started as friends gathering to make music and before they knew it they were performing shows all over the state, before expanding to a national scale in 2013. HHG attributes bluegrass jam on Wednesday nights at Northland Ballroom as a springboard for uniting the band. This weekly event became a tradition in which a party bus was hired to tote all of HHG's friends to the event. This opportunity led to the ability to learn from local bands like Sloppy Joe and Art Stevenson & Highwater.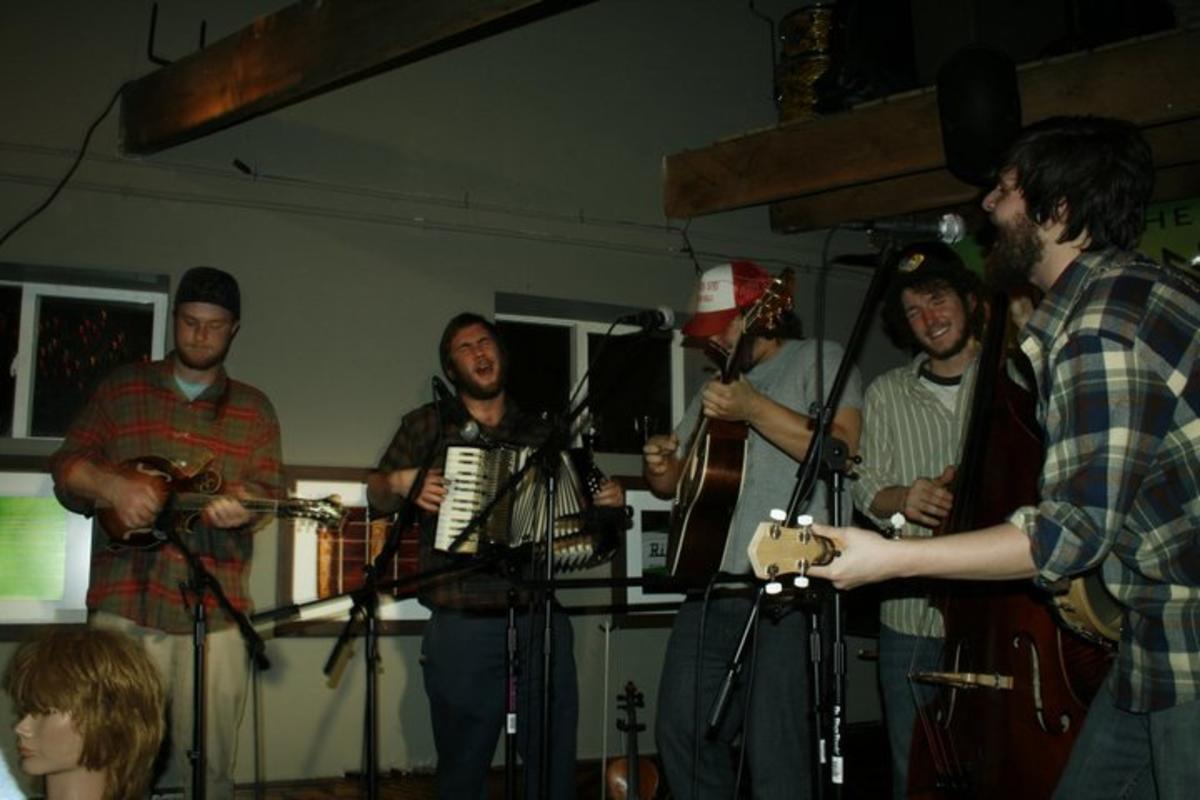 Photo by Horseshoes & Hand Grenades 3/29/2011

Horseshoes & Hand Grenades described the University of Wisconsin-Stevens Point setting as conducive to their overall growth. With the member's majors ranging from English, Social Science, Natural Resources and "who even knows what", they each learned to apply their studies to the music they were creating. The unique interests and creativity of all five songwriters add to the collective sound of HHG.
Life In This Old Town
With a variety of great venues in the area, it may surprise you that one of HHG's first shows was held in the UWSP Library, before moving up to the mainstage of the UWSP Encore and eventually downtown. In their college years, they could be found at venues ranging from the intimate setting of the Elbow Room and impromptu venues like Buffy's Lampoon. What does the band want you to know about the Stevens Point music scene? HHG summarized the community spirit by saying, "People are generally pretty darn welcoming wherever you find yourself. 'Midwest Nice' is definitely a thing here".
HHG's love of Stevens Point also extends beyond the music scene. With many of HHG's songs referencing Wisconsin waters, it is no surprise they are also self-proclaimed "river rats". Whether it's hanging out on the sandbar, taking a swim, or fishing; there is always a reason to gather a group of friends and head out on the water. As for their favorite spot on the river, that is a secret they will never tell. "My favorite spot is my favorite spot because no one's there. Point and the Wisconsin River are so good for that. I've always said that this community is just big enough for there to be lots of fun stuff to do, but not too big that it's an overwhelming place where you can't find some peace," said Greuel.
Given Stevens Point's central location the region brings together a diverse fan base; From young professionals, college students, to rooted families, everyone joins in the love of the Horseshoes & Hand Grenades bluegrass experience. The members of HHG have taken pride in the community that they've built with their music over the years. Fans, endearingly known as the "Horseshoe Crew", have formed an extended family.  
Is HHG Still Stuck On Your Mind?
To find HHG performing in the area, head east of Stevens Point to Amherst to find Central Waters Brewery. The award-winning, solar-powered brewery has been host to an annual Horseshoes & Hand Grenades show for many years. Their long-running affiliation and shared passion for sustainability even garnered a beer in HHG's name. The HHG Pale Ale was inspired by their music and is "best enjoyed with friends old and new while playing or dancing to their favorite tunes". Which is exactly what you'll be doing at HHG's Central Waters gig. The spirit of this event can be summed up as a combination of great beer, exciting music, and about 1,250 closest friends.
As is tradition, Horseshoes will also be back for their Halloween show at Central Waters, October 31, 2020.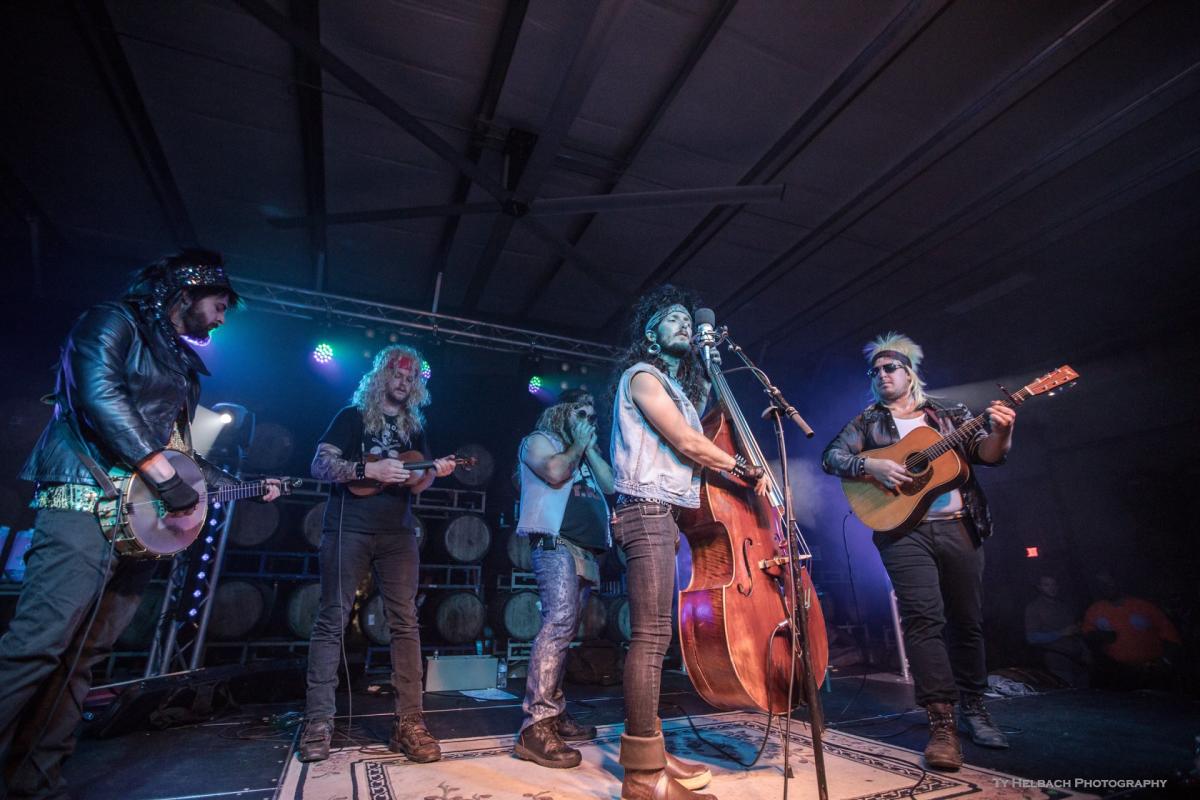 Photo by Ty Helbach Photography