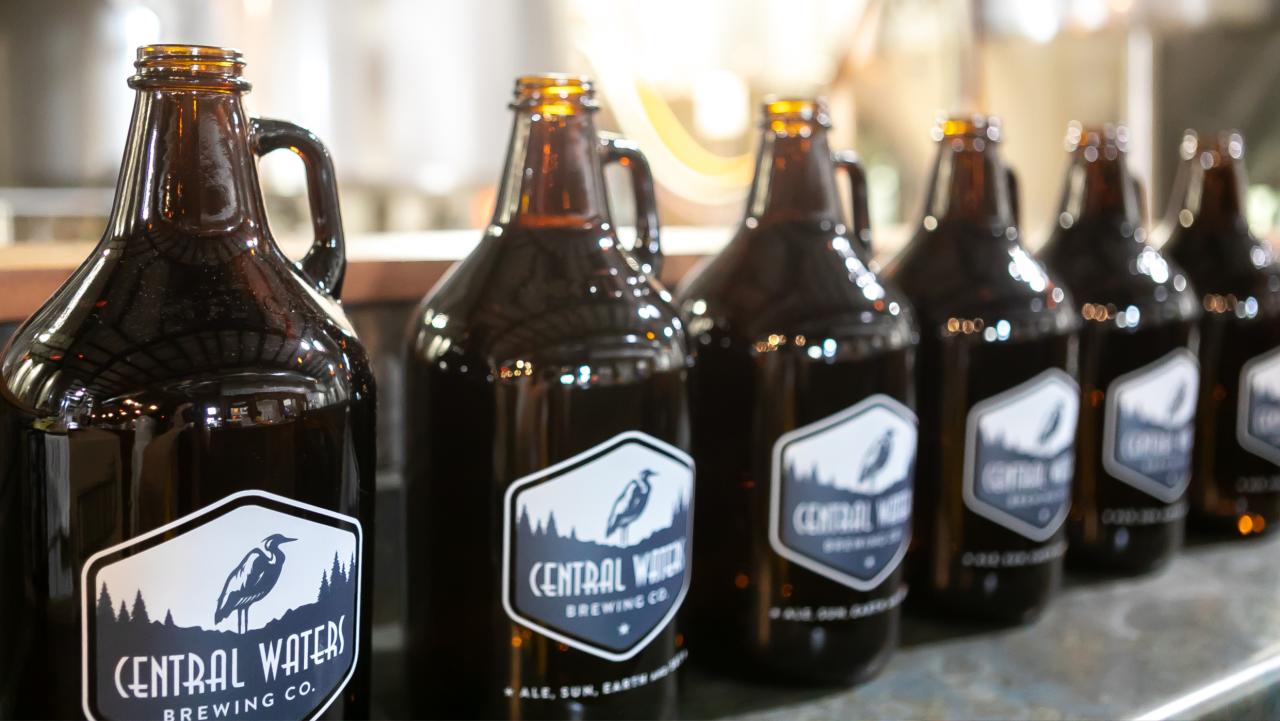 Homebound doesn't mean you can't still enjoy some local beverages handcrafted in the Stevens Point Area! The region, known for the Central Wisconsin Craft Collective, is full of craft beverage makers that are perfect to sip while we all stay in. Read on to learn who is offering curbside pick-ups and discover a few recipes to up your homebound beverage game! 
Local Makers
Grab your favorite glass get ready to sip the delicious goods from the local businesses behind the craft beverage movement in the Stevens Point Area. While breweries, wineries, and distilleries have closed their tasting rooms, you can still enjoy the fruits of their labor from the comfort of your home. 
Point Brewery
Point Brewery has certainly seen its way through more than a few trying times. This brewery has been rolling out the barrel since 1857 providing beer for troops during the Civil War, and even surviving Prohibition. Today, they've shifted their operations to offer curbside pick-up. Find out more here.
Central Waters
Central Waters may have closed its taproom where beer and people came together, but they haven't stopped serving up the beers brewed from their facility in Amherst. You can check out the tap list on their website, or call them directly at 715-824-BREW, during the hours for carry-out and they will share a beer and a smile from afar. Find out more here.
O'so Brewing
O'so Brewing isn't slinging beers behind the bar, but they continue to serve up curbside options for beer enthusiasts. Simply call ahead to 715-254-2163 and they'll walk you through the process. Bonus: If you order two packages, you'll get a choice of a 6-pack of Sweet Lady Stout OR a roll of T.P. for free. Find out more here.
Sunset Point Winery
Sunset Point Winery may have temporarily closed their cozy tasting room (sadly, that means no more hammock swing sitting for the time being) but you can still purchase bottles of wine from their location. Hours will be limited, but you can grab your favorite to take home to enjoy. Find out more here.
McZ's Brew Pub
McZ's Brew Pub is still serving its delicious pizza and beer but has now added kombucha to its list of offerings for carry-out. They'll be open for limited hours for pick-up and growler fills in Downtown Rosholt. Find out more here.
District 1 Brewing
District 1 Brewing is the newest addition to the Central Wisconsin Craft Collective. While this spot is normally a great beer hall (+pinball) to hang out with friends, it has shifted to offering growler sales and live streaming events in the interim. Find out more here.
Great Northern Distilling
Great Northern has closed their Mixology Bar and suspended tours. While they aren't currently offering any curbside pick-up options, you can watch a video and check out recipes straight from their mixologists of how to craft the perfect cocktail drinks at home, or this video creating the perfect Old Fashioned!
Check out the full list here of businesses still offering curbside pick-up and delivery here. 
Perfect Pairings
Check out these delicious ideas, to create a great hand-crafted drink at home, with these local favorites. 
Rusty's Backwater Saloon
On any normal day, Rusty's doesn't serve up their iconic Bloody Mary anywhere but their hidden spot along the Wisconsin River. However, due to the current situation, you can pick up a gallon of what is known as one of the best bloody mary's in Wisconsin - complete with the option to add in the fixings on the side! Now, Rusty still won't tell you what makes up his secret recipe, but here's what to do with the goods, once you get them home.
Rusty's Bloody Mary
1 clove of garlic
1 slice of lemon 
Hearty dash of Celery salt (+ extra for the rim of the glass)
Garnishes: Pickle spear, pickled mushroom, stuffed green olive, banana pepper, pepperoncini, beef stick, and cheese whip (or string cheese)
Rusty's Bloody Mary mix
1-2 oz. Vodka (optional)
Take the lemon slice and rub along the rim of the glass (a chilled glass mug with a handle is closest to the original, although a pint glass works, too). Sprinkle celery salt in a shallow dish, then place the rim of the glass to collect the salt. Crush garlic and add to glass. Add ice to the glass and squeeze the lemon in. Add vodka of your choice (roughly 1-2 ounces based on your preference). Pour bloody mary mix over the top, leaving roughly 1 inch at the top, to account for add-ins. Stir (or shake) to mix well with ice. Add desired garnishes. Serve with a beer chaser (bonus points if it is in a jelly jar). 
Siren Shrub
Normally, you'll find Siren Shrub on the drink menu around town. While that isn't an option at the moment, this locally-made sipping vinegar offers a wide array of flavor options perfect to craft cocktails (or mocktails) or use to elevate a dish. To help spread joy, they are even hosting virtual happy hours. (Find out more here.) 
Siren Shrub Tip: add a spoonful of jam to your Siren drink. 
Jamming Drink with Siren Shrub
1oz Siren Shrub
1oz lemon juice
+ a spoonful of JAM.
Shake it up with ice. Strain into a glass and top with seltzer.  
Find more information on ordering (for delivery) and recipes here.
Tapped Maple Syrup
This popular maple syrup is the perfect addition to Wisconsin's classic Old Fashioned. But, don't stop there. It is also a great sweetener in coffee including the maple-spiked coffee at the Mission Coffeehouse or the Maple Latte at Ruby Coffee, where drive-up and pick-up are still available. If you'd prefer, you can order directly from their website to ensure a sweet supply of your own to use for baking, grilling, or drinks. 
Maple Limeade (inspired by theKitchn.com)
1 cup freshly squeezed lime juice
1/3 cup Tapped Maple Syrup
Pinch of kosher salt
3 1/2 cups water

Combine lime juice, maple syrup, and salt in a pitcher. Stir to combine. Add water and stir. Chill for at least 1 hour. Serve over ice.
Can't get enough local flavor? Assemble at-home cocktails, with all the fixings, available from Chef's Kitchen. Find local Food available through Agora Local Makers Market, venture to the social distancing farmers market, or go straight to the source using the Central Rivers Farmshed's Farm Fresh Atlas. 
Want more?
Keep the fun going by taking a virtual tour of the Central Wisconsin Craft Collective on this two-day trip. Then start planning your happy hour outside the house in the Stevens Point Area (when the time comes), with our guide to the top spots. Until then, be sure to tag @StevensPointArea or use #StevensPointArea on Instagram to tell us your favorite local flavors!
Cocktails in Place
Friday, April 3, 2020
Staying #saferathome and looking to up your craft cocktail game? Check out this #CocktailsinPlace series featuring weekly cocktail themes (and videos) in partnership between Great Northern Distilling, Copper & Pines Cocktail Co., Siren Shrub... View More