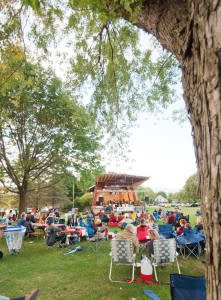 The many arts organizations, performers, galleries and local artists make the Stevens Point area a great place to enjoy the arts year-round.
A number of the Stevens Point area's annual events celebrate the arts. Don't miss the Riverfront Jazz Festival, August 30-31, the largest outdoor jazz festival in central Wisconsin. The 9th Annual Central Wisconsin Film Festival brings great movies to the region October 24-25 and November 7-8. The Hidden Studios Art Tour runs October 3-5 and showcases artists working throughout central Wisconsin. You'll have a chance to meet artists in their studios and see them at work.
No matter when you're visiting the Stevens Point area, you'll find a wealth of arts offerings.