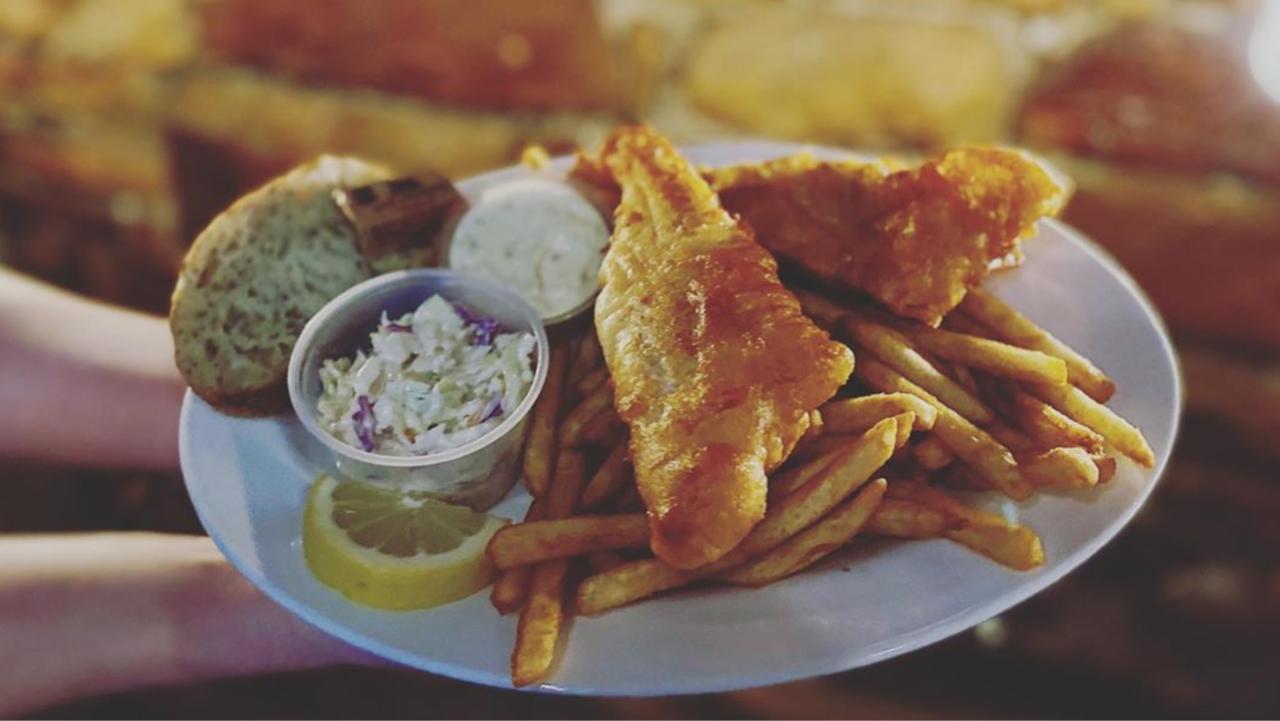 Finding the perfect Fish Fry is a serious business in the Stevens Point Area. With countless restaurants serving up their take on the classic Wisconsin staple, from cod to smelt - we're here to help! We've compiled some of the region's favorite Fish Fry spots, that are serving up the goods for take-out, curbside, and in some cases delivery! Check out the list of what's available, broken down by category - then order up to enjoy the delicious fare from the comfort of home! (Ps. Don't forget the Old Fashioned's and Bloody Mary's to-go, too!)

Header photo from @mstpoint  

Explore the options and jump to specific categories, using the list below:
Supper Club Staples
Michele's - At this classic Wisconsin Supper Club, you'll find a Haddock, Perch, Walleye and Shrimp on their list of Friday specials. A popular favorite is the beer-battered walleye, using a hometown classic Point Amber (and comes with your choice of potato, baked beans, coleslaw, and a roll). Or, go rogue and order up one of their popular supper club entrees, like the Parmesan Garlic Filet Mignon (and a bottle of wine - to go!). Call 715-341-3363 to order, starting at 1pm on Friday, with curbside pick-up beginning at 4pm.  
Sky Club - The Sky Club, known for the first-ever refrigerated salad bar, is a classic Wisconsin Supper Club. While you can't grab an Old Fashioned at the bar before dinner, you can still order to-go, offering classic Wisconsin Fish Fry options including family-style options like their Buckets of Fish. But, you can never go wrong with the Pan-Fried Walleye and the Haddock Parmesan, too! Place an order online or call 715-341-4000.
Two Lakes - Tucked along the shores of two lakes, this classic spot has been serving the region for 70 seasons in 2020! While you can't sip a cocktail on the back deck while you wait for a table, you can still order up their popular dishes to enjoy at home. On Friday, their specials include the seafood plate, fried or broiled Haddock, and breaded Bluegill. Don't skip the antipasto - an in-house favorite - to experience the full supper club experience at home! Place an order online or call 715-366-2479. 
Delicious Diners
Cozy Kitchen - Order from Stevens Point's oldest restaurant, including all of the Friday Fish Fry staples. Try the grilled Haddock or their take on the classic Fish Fry. They'll also be serving up potato pancakes. Insider tip: If they have pie available - don't skip it! Call 715-344-8620 to order.
Olympia Family Restaurant - Lots of options are standard fare at this popular diner in the Stevens Point Area. While people swear by their delicious homemade soup, you don't want to skip the Fish Fry. Options include Baked Haddock, Salmon, Walleye, Perch, Bluegills, and shrimp - in addition to a Fish Fry Bucket, where you can choose from 2 pieces to 50 pieces! Be sure you and your family are hungry, as the buckets are served with bread, potatoes, and coleslaw, too. Call 715-341-2266 to order.
Park Ridge Cafe - For a budget-friendly option, check out their Friday Lunch Box special, offering a fish fry sandwich, french fries and soup for only $7. Or, if you are looking to feed a small army (or a very hungry family) you'll want to check out the Friday Fish 'To-Go' Buckets. Pick the amount of fish you'd like - from 8-50 - and then pick your potato. To make it the full experience add a quart of coleslaw (or soup). Baked fish is also available - as well as limited delivery. Call 715-341-8885 or 715-344-7026 to order.
R.D.'s Diner - This local diner is set to open on May 1, serving Fish Fry options on Fridays from 11am-8pm. Call 715-544-6709 to order. 
Rock 'N' Roll Cafe - While you can't grab a cozy booth, you can still order up for a Fish Fry for take-out on Friday's from this local diner. Go for a classic option, with 1, 2, or 3 pieces of your choice of Haddock, Cod, Shrimp, or Bluegill! For something completely different, try the Fisherman Favorite. Place an order online or call 715-544-6612.
Popular Pub & Grills
Arbuckle's Eatery & Pub - While their menu has been pared back, you'll still find Friday Fish Specials on the list at this popular downtown spot. If you're in the mood for a classic Fish Fry, check out their 3 piece beer battered or 4-piece baked options - in addition to Shrimp, Walleye, and Salmon. While you're at it, don't forget to add the iconic Italian Fries with Mozzarella to your order! Call 715-341-2444 to order.
Brian & Wendy's Hiawatha - At this spot in Junction City, you can choose between Haddock or Catfish for their Fish Dinners. And, you'll want to check out the Catfish, a crowd favorite, in either plain or cajun. Make sure you're hungry because the portions are healthy with choice of potato (go for the baby reds), coleslaw, and rye bread. Call 715-457-2999 to order.
Bullheads Bar & Grill - While dinner orders at this time won't be coming with a side of beautiful views of the Wisconsin River, you'll find plenty of delicious Fish Fry options from 11am-9pm. They'll start taking Fish Fry pre-orders on Thursdays from 10am-6pm. While you are ordering - do yourself a favor and order a slice (or two - we won't judge!) of the housemade cheesecake! Call 715-344-5990 to order.
Club Forest - This spot, located off of Highway 54 between Plover and Wisconsin Rapids, is home to a friendly ghost and some seriously delicious Friday Fish Fry options. They're serving hand-battered cod, broiled cod, and shrimp (or a combo) from 12pm-8pm, with all the typical sides in addition to their homemade tartar sauce. Call 715-345-1220 to place an order.
Graffiti's Sports Pub - Here you'll want to check out the Fish Dinner, with your choice of haddock or walleye, that comes broiled. Be sure you're hungry, because this entree comes with your choice of soup or salad, steamed veggies, a breadstick - and your choice of potato (we're always in for waffle fries or tator tots!) Call 715-344-4450 to order (or order via DoorDash).
Hilltop Pub & Grill - No need to wait for Friday, as this spot serves up their Fish Fry every day of the week. Try the Cod, either beer-battered and deep-fried or a filet that is marinated in lemon, garlic, and butter. Or, order the Walleye, that is lightly beer-battered and deep-fried as well. Call 715-341-3037 to order.  
Jordan Bar - This spot was voted Portage County's #1 spot for a fish fry last year, and it still lives up to that standard. We highly recommend the Fish Fry combo plate here - paired with potato cakes. Of course, if you are looking to keep it budget-friendly, you'll enjoy the Fish Fry options they have priced under $10. Place an order online or call 715-544-6732 to order by phone. 
Kuby's Bar & Grill - This spot, tucked next to Skipps Bowling, is serving up plenty of Fish Fry options. Check out their 3 piece Cod or 10 Piece Redhood Shrimp for only $6.75 or their 4 piece Bluegill meal, all served with fries or potato salad, coleslaw, and bread. Call 715-343-1730 to order.
Matero's - This spot in Polonia might be more well-known for pizza, but you won't be disappointed with the Fish Fry options including shrimp, too. If you find it difficult to get through on the phone (they start taking orders at 2pm, but serving after 4pm) head out and order while you stay parked in your car directly from the parking lot. Regulars will be happy to know they are still serving up Johnny's Old Fashioneds and Bloody's to-go, too. To order, call 715-592-5111.
Mikey's Bar & Grill - If you order up a Fish Fry here you'll get 3 pieces beer-battered cod made with a brew from their neighbor O'so Brewing Company! Of course, it comes with all the usual fixings, but if you want to up your game, upgrade to truffle fries for $2. Another bonus? Check out the crowlers available from their extensive tap list, including several local breweries, like Point Brewery, O'so, and Central Waters. Place an order on Facebook or their website, if you don't want to call 715-544-0157.
Monk's Bar & Grill - They opened their Plover location in June 2019, and have been serving up classic Wisconsin comfort food ever since. On Fridays, you can order their take on the Fish Fry, with beer-battered or grilled Cod, served with chips, coleslaw, tartar sauce, and lemon wedges on the side. Place an order online or call 715-544-6615.   
Point After Pub - This spot will start serving its take on the classic Wisconsin Fish Fry when it reopens on May 7, for to-go orders. Our top pick here? Check out the haddock that can be beer-battered, seasoned-breaded, cajun pan-fried, or lemon pepper pan-fried. (People get pretty committed to their favorite here!) But, if you want to go the non-traditional route - check out their Fish Reuben. They'll also have Bloody's and Old-Fashioneds to-go with your order! Call 715-344-7222 to order - once they open.
Rusty's Backwater Saloon - This spot, west of Stevens Point along the Wisconsin River, serves up Friday Fish Fry's from 11am-9pm, with 2-4 piece options, served with your choice of Rusty's fries or potato salad. Haven't had Rusty's Fries before? These are thin cut local spuds, fried to a golden brown - and definitely worth the pick. Looking for something different? Try their Smelt! Of course, they are most well-known for their Bloody Mary's, complete with extra's from beef sticks to cheese whips, which they are offering up by the gallon! Call 715-341-2490 to place an order.
Smiley's Bar & Grill - While they offer the standard Fish Fry options, you don't want to overlook the Fish Boil (available on the last Friday of the month) for a change of pace that is equally delicious! They also offer family-style options, with buckets of fish available to order, too. Call 715-341-4530 to order.
Tips for a Tasty Meal
Order early to avoid Fish Fry disappointment, and place your order before the dinner-time rush.

Menus and offerings are changing frequently. Call, or check for new updates on their social media channels, if possible.