By Aja Zarling
Visiting the Stevens Point area for this weekend's NCAA Division III Women's Basketball Championship and looking for something to do? Before checking out the action on the court, be sure to enjoy a few of the local favorites around the region.
Check out the good eats at Belts' Soft Serve, home of the large cone, at 2140 Division Street in Stevens Point. And when they say large, they mean it. Be sure to bring your friends along to tackle it. Here's a tip: if you're craving the traditional chocolate and vanilla soft serve, make sure to order what Pointers call a "zebra" instead of a twist. For a more local flavor, order a root beer float made with Point Root Beer from the Stevens Point Brewery, which is within walking distance of Belts'. Overwhelmed by the choices? Check out the UWSP Raw Dawg Flurry, which has a mix of chocolate chip cookie dough and peanut butter cups.  To find the best flurry flavors and mix-ins, visit Belts' Foursquare and Facebook pages.
Need to stretch your legs while in town? Experience some of the best scenic views by traveling the area's numerous recreational trails. Explore the 26-mile Green Circle Trail or the natural splendor of the Schmeeckle Reserve, UWSP's 280-acre nature preserve.  Check out the Wisconsin Conservation Hall of Fame gallery or the conservation exhibits located inside the Schmeeckle Reserve Visitor Center. For more on-campus activities, stop in the James H. Albertson Center for Learning Resources to visit the Museum of Natural History, which will be open from 8am to 4:30pm this week.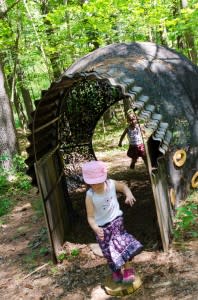 If you want to get in touch with your creative side, visit the Scarabocchio Art Museum or the Q Gallery Artists Cooperative in downtown Stevens Point. For a breath of fresh air, stroll through the ever-changing Stevens Point Sculpture Park or walk downtown to view the numerous community murals.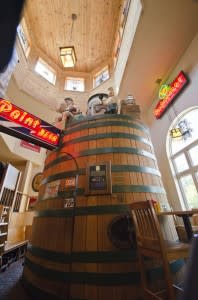 Don't miss the chance to experience the flavor of the area by trying a traditional Wisconsin fish fry at the Hilltop Pub and Grill. Normally reserved for Friday nights, the fish fry is available every day of the week at this popular spot. You'll also find many local brews here. Before heading out to the games, stop by The Wooden Chair—named for the eclectic collection of chairs throughout the restaurant—for breakfast or lunch at this local favorite. Or, try Al's Diner on Saturday morning for the fluffiest pancakes; just be sure you're hungry. For a meal in a beverage, pay a visit to Rusty's Backwater Saloon, known for one of the best Bloody Marys in the area. If you're interested in shareable food with a twist, Father Fats Public House is the place to be.