Ready to ring in the New Year? Let the Stevens Point area play host. Whether you're looking to dance to till the ball drops or tuck the kiddos in at a reasonable hour, there's plenty of options for everyone to celebrate 2016.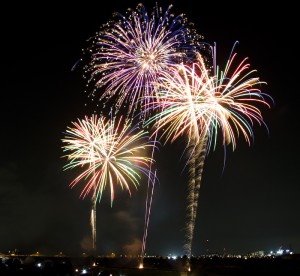 Central Wisconsin Network (CWN) Singles New Years Eve Dance - Dress up and dance the night away while enjoying delectable hors d'orerves and music from 8am-1am. You might even meet that special someone. Tickets are $12 for CWN members, $18 for non-members.
New Year's at Noon - If you have little ones, you won't want to miss this fun family event from 10am-2pm at the Central Wisconsin Children's Museum. Count down to noon and celebrate with a ginger ale toast. Tickets are only $5.
Family New Year's Eve Bash - For another family event, stop by the YMCA from 6pm-9pm. Kids will love the Spiderman Obstacle course, Iron Man and Kiddiepillar, open swim in the Adventure Pool, a countdown with hats and horns, and of course, ice cream! Even better yet, the event is completely free of charge.
Holiday Inn Convention Center New Year's Eve Party - For a classic and rockin' New Year's Eve, join Classic Rock station 103.3 WGLX and local cover band Get Bent for a night of live music at the Holiday Inn Convention Center. The hotel is even offering special room + breakfast packages for the event, so you don't have to plan to travel after the clock strikes twelve. This event is 21+. Advance tickets are $20; tickets at the door are $25.
New Year's Eve Jubilee Jamboree - Enjoy a night full of bluegrass in the Grand Ballroom of Bernard's County Inn. Doors open at 7pm. The line-up includes local favorites Art Stevenson & High Water, Sloppy Joe, and Horseshoes & Hand Grenades. Chef Bernard will be preparing a special pre-show dinner. This is an 18+ event. Tickets are $20.
New Year's Eve at PJ's - Sample food and drinks during the New Year, starting at 5pm at PJ's Restaurant. From 5pm until 10pm, food stations will be available for your tasting pleasure. From 10pm until 12:30pm, wood-oven pizzas will be brought out, along with complimentary champagne at midnight. Reservations are recommended. Lock your New Year's Eve plans down today and call 715-345-1600, ext. 2 to reserve your space. Cost is $25 per person.
And don't forget, if you need a place to crash once the night's over, book a room in the Stevens Point area! Cheers to 2016!