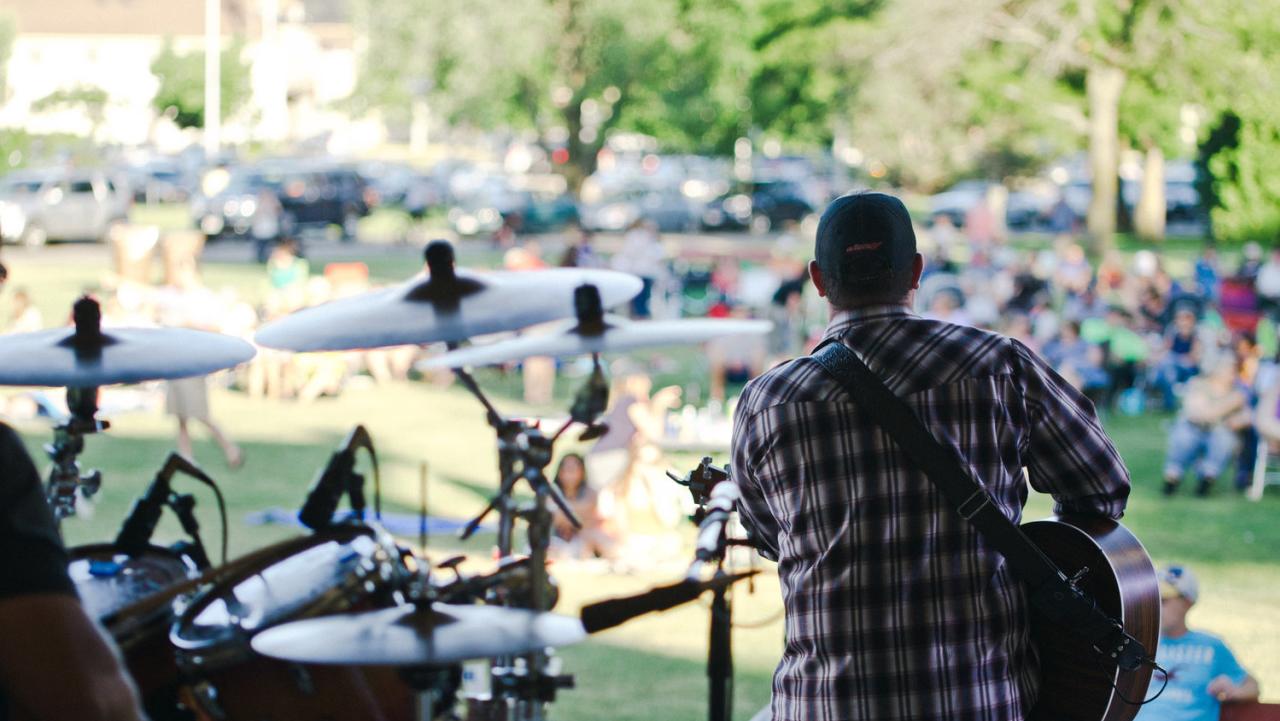 It's officially 2022! To celebrate the turning of a new year, we have reviewed some of the best events that happen annually in the Stevens Point Area. Read ahead for ideas to celebrate each month and plan for a great year full of festivals, food, fun, and much more!
January:
Ring in the new year with some fun annual events in the Stevens Point Area! Start your new year by celebrating the District 1 Brewery Anniversary Party, this year being its 2nd! Get your fill of sports in by watching both women's and men's UWSP basketball, hockey, and swimming and diving. Then get active yourself with Free Ski Day at Standing Rocks Park, for some seasonal fun! 
February:
Spend some time indoors enjoying the arts this February in the Stevens Point Area! Head to the Noel Fine Arts Center on campus for the compelling dramatic triptych - The Shadow Box. Try out a new event this month with District 1's Big Brew Fest where they will feature unlimited sampling of more than 60 craft beers, ciders, and hard seltzers with all proceeds benefiting the Big Brothers Big Sisters of Central Wisconsin. Also, be sure not to miss CWSO's Dinner Concert where you can listen to a beautiful symphony orchestra.
March:
Exercise your body, grab fresh produce, and listen to live music this March in the Stevens Point Area! Wake up your body from winter slumbers with the Point Bock Run, a 5-mile out-and-back road race hosted by the Point Brewery on the first Saturday in March. Think the farmers' market is only for the summer? Think again and visit the winter farmers' market for locally produced items. Then listen to live music with student recitals from the Aber Suzuki Center featuring different instruments from the violin to the harp. 

Photo by @rokusekchris  
April:
April is the month of knowledge and celebration in the Stevens Point Area! Join the World's Largest Trivia Contest, hosted by 90FM every April, complete with a parade on Friday to kick off the festivities! Celebrate, appreciate, and shop for art at the Festival of Arts, which has maintained the reputation of one of the finest quality art fairs in the Midwest in the minds of both participating artists and patrons. Check out EgoCon, the game-related event, for a science fiction fantasy gaming event at the Holiday Inn & Convention Center. Get ready for the return of food trucks with District 1's Food Truck Festival accompanied by live music and family-friendly activities. 
May:
Celebrate local arts and culture in May! Be sure to attend the Cultural Festival, held annually to celebrate Central Wisconsin's rich cultural heritage through the sharing of food, entertainment, exhibits, sales of arts and crafts, and hands-on activities. Join in on the region's largest local food celebration with the Local Food Fair at Pfiffner Pioneer Park. Enjoy live music and delicious local food during the Point Brewery's Point Block Party. Don't forget about mom this month and celebrate at Rivers Edge with their Mother's Day Celebration featuring a multitude of fun activities. 
June:
June is the month to burn off some energy, and conserve some as well! Walk Wisconsin, the premier walking event in the Midwest returns, taking walkers through the scenic Green Circle Trail with 1/4, 1/2, and full marathon options. Walk with a different motivation in mind during the TRBA's Wine Walk and stop at 20 different businesses. Turn that walk into a run and get covered in colored powder at Rivers Edge Campground during their color run and chalk fest event. In an effort to conserve energy, bring awareness about sustainability, and work towards a better future, the Midwest Renewable Energy Association holds the Energy Fair, and it is the longest-running event of its kind! 
July: 
Get patriotic and celebrate in July in the Stevens Point Area! To celebrate the Fourth of July, the Riverfront Rendezvous is held annually at Pfiffner Pioneer Park where you and your family can enjoy exceptional live music, local food vendors, fireworks, and more! For even more celebration, Celebrate Plover is held near the end of July every year with food, crafts, kids activities, and fireworks synced to music! For the car-lover, the Iola Car Show held annually on the second weekend of July brings people from near and far for the Midwest's greatest car show and Swap meet.
August:
August is the month to try new things, and the Stevens Point Area has many opportunities for you! For an adventure, check out Paddlequest - a paddling-based adventure event with games and scavenger hunts that provide new challenges around every corner. Looking for an action-packed event? Check out the Little Britches Rodeo with a handful of different events to watch. Celebrate summer at the Boston School Forest this month with the non-competitive Forest Family Fun Run/Walk. 
September:
September in the Stevens Point Area is full of fairs, festivals, and fun! For fairs the whole family will love, head out to the Portage County Fair in Rosholt or Pacelli Panacea, complete with rides, food, music, and more! To celebrate local art, visit Art in The Park at Pfiffner Park! For live music, the Stevens Point Area holds the Riverfront Jazz Festival every labor day weekend, which is the largest outdoor jazz festival in Central Wisconsin. More active fun can be found at the Pointoberfest and Blubber Run,  starting with a 5k run in your best costume, then followed by beer, music, food, and fun. Also, kick off the start of the Hidden Studios Art Tour that starts on the last day of the month.

Photo by @realdaneg  
October:
Celebrate fall in the Stevens Point Area in October! Appreciate art with the Hidden Studios Art Tour, a self-guided tour through various working studios through Central Wisconsin, which is held every year at the peak of fall foliage. Enjoy the pleasing harmony of Barbershop singing by the Northern Gateway Chorus at the Annual Harvest of Harmony show. Celebrate UWSP this month with Homecoming on campus and all the fun accompanying activities. 
November:
Get into the holiday spirit in November in the Stevens Point Area! Make room for Thanksgiving dinner with the Turkey Trot, a non-competitive 5k held every Thanksgiving morning. Start getting ready for Christmas with the Holiday Parade in downtown Stevens Point, held extra early every year in November, where families can celebrate with local floats, candy, and Santa! Need to get a start on holiday shopping? Let Tinsel Trail inspire you with arts and crafts for sale from hundreds of vendors!
December:
Wrap up the year and enjoy some local winter activity in December! For Christmas shopping, stop by the Tomorrow River Christmas Craft Show, complete with crafts, raffles, baked goods, food, music, and more! Then, let your whole family enjoy New Year's at Noon at the Central Wisconsin Children's Museum. More holiday family fun can be found at the Tomorrow River Lions Club Children's Christmas Party! 

Photo by @rissajean90
 
Want More?
Enjoy the new year to the fullest with fun events every month and find even more events as they add to our calendar. Then while you're out enjoying all the events, be sure to tag us @stevenspointarea on Instagram or use #stevenspointarea!